Related Features
Contribute
Your support helps us cover dance in New York City and beyond! Donate now.
IMPRESSIONS: Summer Memories of the Dance on Camera Festival at Lincoln Center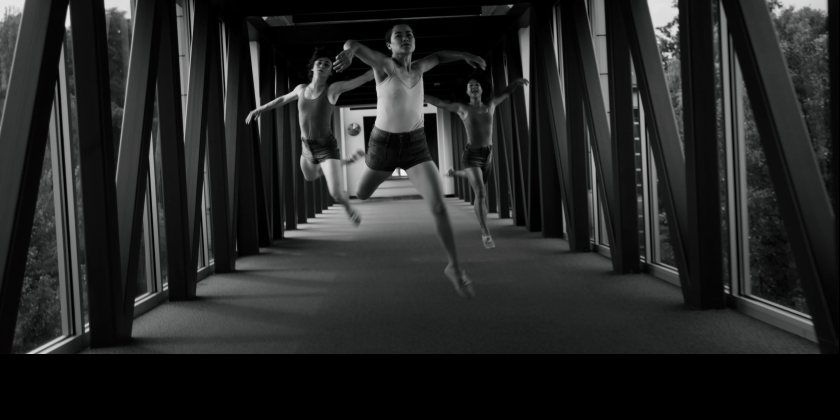 Dance on Camera Shorts Program I and II
July 12-15, 2019
Walter Reade Theater at Lincoln Center
---
The fifteen-minute short SISTERS, made in 2018 by Daphne Lucker with choreographer Emma Evelein, lingers in the mind, months after its screening at the Dance on Camera Festival 2019. The film succeeds as a horror story, balanced by the charm of three young siblings who play in a dark, empty house despite palpable tension and an omnipresent hint of violence. Remarkable is the cinematography by Casper Van Oort; lighting by Daan Bothof; the performances; and the piano, cello, and violin score that pauses with silences or sounds of glass breaking, the crunch of a car in the driveway, and doors creaking or slamming.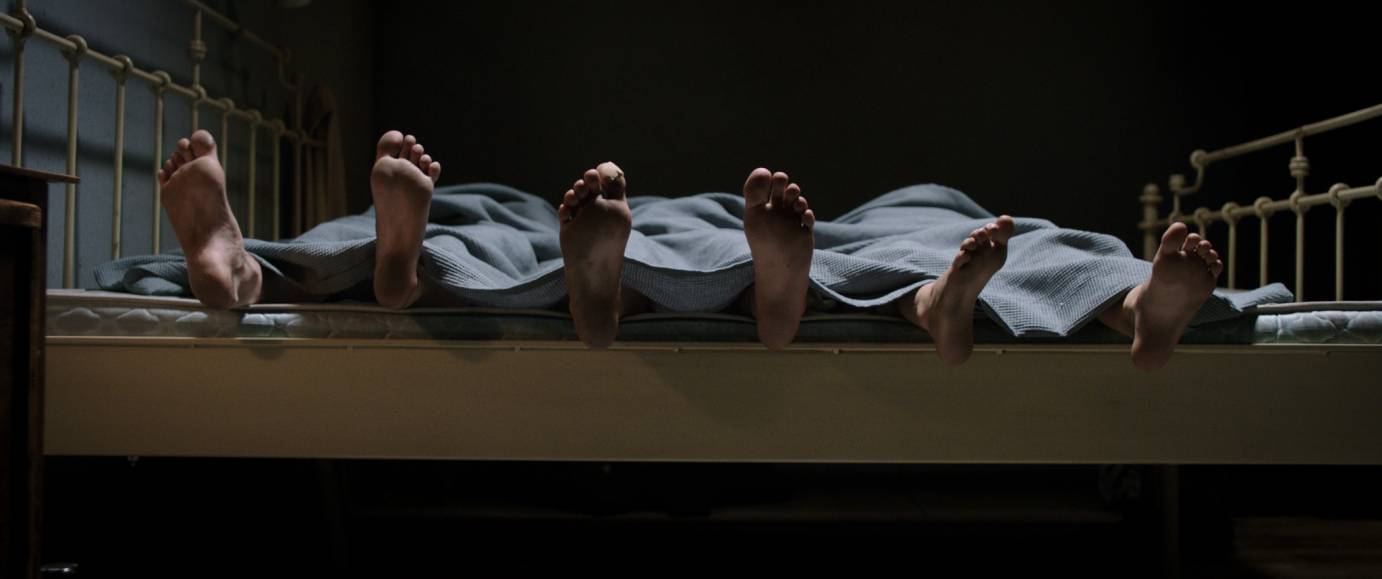 SISTERS; Photo courtesy of Dance on Camera
Imagine the ingenuity of these sisters putting shards of glass on a turntable and dancing with their hands or lying in a rumpled bed to the reflections spinning on the ceiling. Their dance always seems organic, never contrived, whether the girls crouch in fear under the bed or escape with blindfold games, pillow fights, or tickling each other.
Unfolding from the Oregon-based Muddy Feet Contemporary Dance and SubRosa Dance Collective, directed by Dylan Wilbur, is notable for its costume design, made independently by four women in their own spaces. Folding newspapers, Rachel Slater, Suzanne Chi, Lena Traenkenschuh, and Kailee McMurran create ingenious dresses or skirts and tops that flow and flounce when they come together to dance in what appears to be a lumber warehouse.
Kailee McMurran in Unfolding; Photo by Duke Stebbins
But First (made as part of San Francisco Dance Film Festival's annual Co-Laboratory program with the National Center for Choreography at the University of Akron's Dancing Laboratories) is a testament to what can happen when a filmmaker and choreographer have a week to make a dance film. Director Erin Brown Thomas supports Mike Esperanza's choreography with an appreciation of architectural shapes and by playing with and against expectations. Featuring Tiffanie Carson, Erin Love, Sarah Housepian, But First has a spontaneous freshness and contemporary female energy.
Ekman's Concise Guide to Natural Movement is a guileless reminder that no one can top nature for its dancing. Directed by T. M. Rives and produced by Judy Flannery for choreographer Alexander Ekman, it highlights a dancer who felt "fake" and set out with his friends to re-discover his natural corporeal language and rhythm. A delight.
Ekman's Concise Guide to Natural Movement; Photo courtesy of Dance on Camera
Equally unpretentious and memorable is the six-minute documentary Sound and Sole by Cara Hagan about Arthur Grimes, who was born and raised in the Appalachian Mountains. The only professional African-American buck dancer in Boone, North Carolina, Sound and Sole recounts his dance journey as he performs his rhythmically clean art.
Bat-Sheva Guez's In This Life has the most dance celebrities of this year's shorts. Starring Robbie Fairchild, each of the five acts showcases a different choreographer: James Alsop, Warren Craft, Robbie Fairchild, Andrea Miller, and Christopher Wheeldon.
"When there are no words to speak, you sing; when there is no song to sing, you dance," says Fairchild in the press release. "I wanted to take my own grief and put it on film with the hope that we could all feel less alone in our very universal struggle."
T.I.A. (THIS Is Africa); Photo by Matthieu Maunier-Ross
T.I.A. (THIS Is Africa) brings us to the dreams and streets of urban Africa with an immediacy and emotional punch. Conceived, shot, and recorded in 48 hours in Brazzaville (Congo Republic) in October 2013, choreographer and dancer Aïpeur Foundou mixes contemporary dancing with traditional Congolese movements. Ella Ganga narrates an original poem written by Ronan Chéneau.
The Dance on Camera Festival was inaugurated by Dance Films Association's founder Susan Braun in 1971 and has been co-produced by Film Society of Lincoln Center since 1996.
---
The Dance Enthusiast Shares IMPRESSIONS/our brand of review and Creates Conversation.
For more IMPRESSIONS, click here.
Share your #AudienceReview of performances. Write one today!
---
The Dance Enthusiast - News, Reviews, Interviews and an Open Invitation for YOU to join in the Dance Conversation.