Related Features
Contribute
Your support helps us cover dance in New York City and beyond! Donate now.
Impressions of DanceNow Joe's Pub Festival 2014
Produced/ Directed by: Robin Staff, Tamara Greenfield, and Sydney Skybetter
Choreography by: Sydney Skybetter, Gibney Dance, Jane Comfort and Company, Ambe Sloan, Tze Chen Dance Company, Mark Dendy Projects, SCRAP Performance Group, Chelsea Murphy and Madga San Millan, Jamal Jackson Dance Company, and The Bang Group
Festival Production/ Lighting Design by Lauren Parrish
Stage Managed by: Beeny Olk
Impressions of  September 3rd at 7pm
Pictured above: Mark Dendy in Dystopian Distractions! Part 1 (excerpt). Photo: Yi-Chun Wu.
Check out DanceNow Encore Performance on September 13th at 7pm. Click on DanceNow's website for more info.
---
The much-loved annual DanceNow Festival at Joe's Pub challenges New York's choreographers to release their inner adventurer and innovatively confront time and space. Channeling the craft of short story writing, dance makers are given a "maximum" of five minutes to make a clear artistic statement while dancing on a stage that, for most movers, might as well be the head of a pin. (Joe's Pub was designed for cabaret performance, not contemporary dance). But this epic time/space struggle has produced choreographic gems in the past: Doug Elkins' Fraulein Maria, Kyle Abraham's Heartbreaks and Homies, Nicole Wolcott and Vanessa Walter's Alley of the Dolls, and Adam Barruch's My Name is Adam.
Part of this insane fun is the contest.  At the end of the night, it's up to us to decide which artist is the bravest and most successful by voting for our favorite piece. The winner receives a creative residency in Bucks County, PA, and an opportunity to present again on September 13th, the cumulative show for the winners from the prior four nights.
Many works slant toward theatrical entertainment. In Excuse Me, But..., sassy Sean Donovan and Javier Perez are a waiter's worst nightmare. Falsely polite and irrationally demanding, their requests for farm-fresh, cage-free, and gluten-free meals get more and more ridiculous.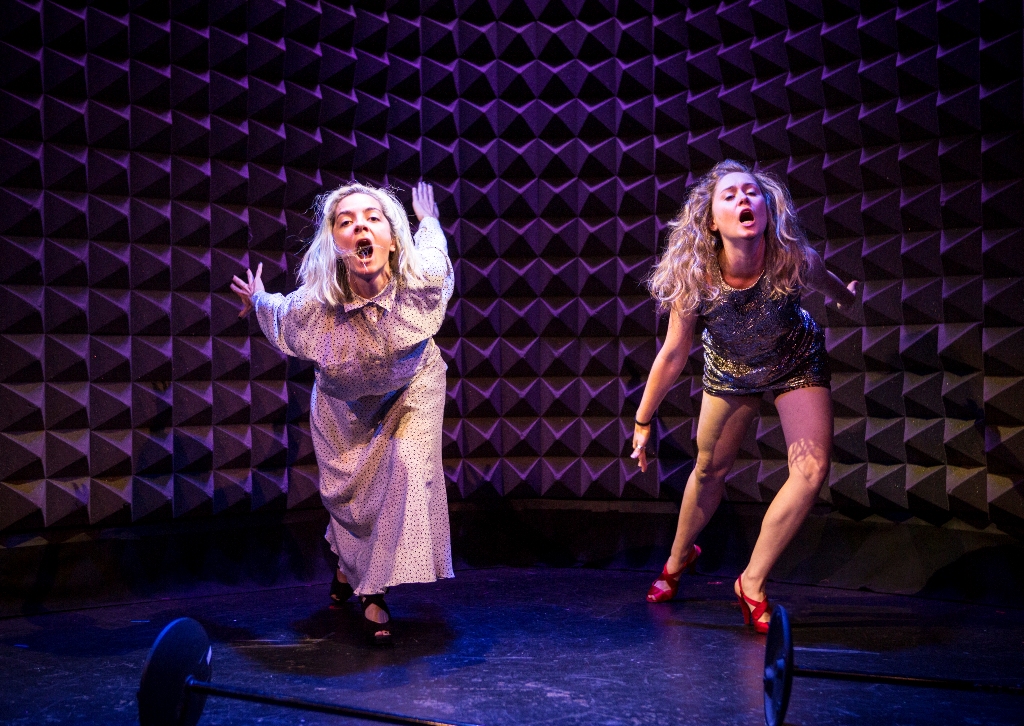 Pictured from left to right: Magda San Millan and Chelsea Murphy in Singer/Songwriter. Photo: Yi-Chun Wu.
In Singer/Songwriter, two brazen gals, Chelsea Murphy and Magda San Millan, yelp songs about modern feminine sexuality into microphones. After each song, they describe the experience they just had performing for us. What begins as a peppy routine becomes increasingly raunchy, sending the audience into hysterics.
Tze Chun Dance Company's With bolts of iron caters to our love of nostalgia. The enchanting Elisa Davis, clad in a yellow dress, uses a large red suitcase as a prop. She combines these geometric shapes and primary colors to take us on a quaint journey that stays with us like a pleasant dream.
Dystopian Distractions! Part 1, a standout of the evening, is both entertaining and politically relevant.  A self-choreographed solo by Mark Dendy, the piece is an animation of a video interview with Donald Rumsfeld in which he describes the time that Sammy Davis Jr. introduced him to Elvis Presley (Rumsfeld prefaces the encounter flippantly, laughing, "Elvis Presley: A lot of his songs were really not my thing").
Dendy's movement exaggerates Rumsfeld's nervous physical tendencies in the video footage: He shuffles in his chair, flaps his large, grotesque hands, and taps his feet. As the interview progresses, it is revealed that Presley was excited to talk to Rumsfeld about what a great experience he had serving in the US army. Wearing an Army uniform and gas mask, Dendy's concealed face intensifies his gesticulations, and reminds us of the faceless soldiers sent to their deaths in wars spearheaded by Rumsfeld. Underneath the situational humour of the conservative Secretary of Defense meeting the king of rock-and-roll, exists a chilling and bizarre satire of popular culture meeting modern warfare.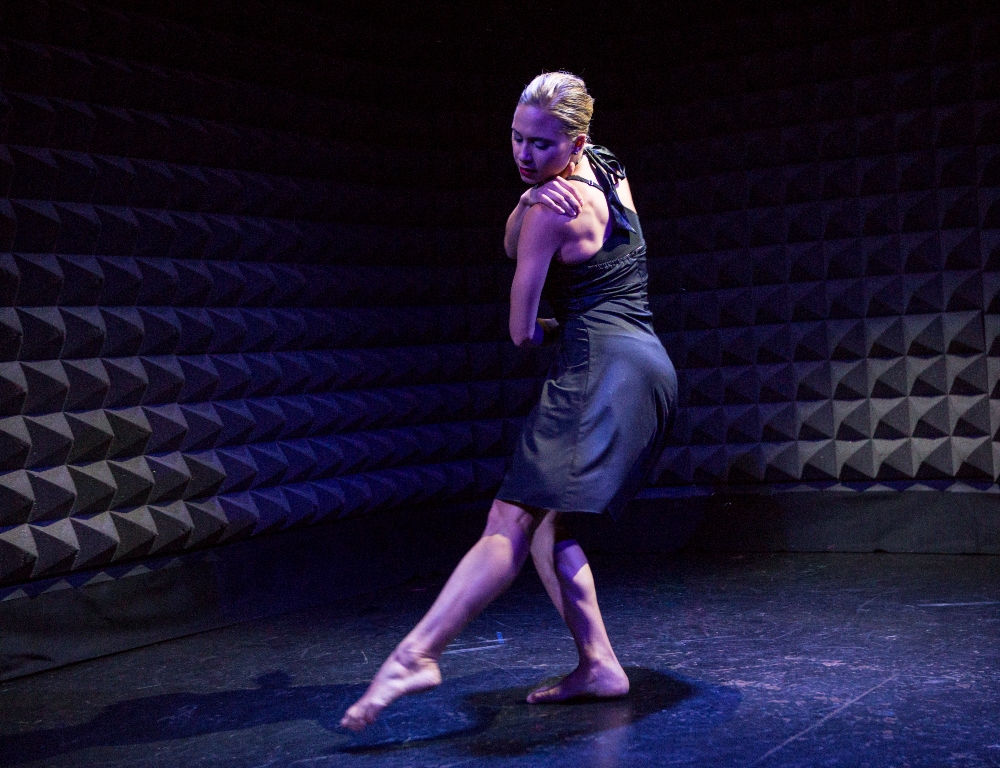 Jacinthe Burton in Jamal Jackson Dance Company's The People Vs. Photo: Yi-Chun Wu.
To ensure their five-minute piece sticks with audience members, most choreographers entertain rather than provoke. However, a few works tackle more daring topics. One is the audience favorite of the evening (revealed the following day on DanceNow's Facebook page) — Jamal Jackson Dance Company's The People Vs. A solo choreographed to the transcript of the verbal evidence from the O.J. Simpson trial spoken by Adrian Jevicki, the work addresses the heinous matter of domestic violence with sensitivity and optimism. Elegant Jacinthe Burton snakes and writhes through every corner of the small space; she reacts to the violent deeds which unfold in the transcripts as if being beaten by an imaginary offender, yet, she is never completely defeated. As the piece progresses, Burton methodically takes off her clothing, starting with her luxurious white fur jacket. Jamal Jackson Dance Company scripts a new ending to the tragic OJ Simpson case; when Burton  faces us in her confidently underwear at the end, she embodies strength.
The ultimate goal of a dance work is to connect to its audience, and it is refreshing to see an accumulation of work that has our interest in mind. DanceNow proves that introducing limitations can spark a wide range of creativity.
DANCENOW Joe's Pub Festival ENCORE:
SAT SEPT 13 at 7pm
* Indicates Challenge Winner Selected by the Audience!
Jordan Isadore* (Sept 5)
Jane Comfort and Company
binbinFactory
thefeath3rtheory | raja feather Kelly
Mark Dendy Projects
Jamal Jackson Dance Company* (Sept 3)
BIGMANARTS
Lohse, Marquis and Oakley
bryanstrimpelMOVEMENT *(Sept 4)
Take Dance
Chelsea Murphy and Magda San Millan