Danspace Project Presents Dancing Platforms Praying Grounds: Blackness, Churches, and Downtown Dance with "A Shared Evening: Keely Garfield Dance, Same as Sister, Ni'Ja Whitson"
Platform Curator: Reggie Wilson
Oba Qween King Baba — Excerpt One / Director/Choreographer: Ni'Ja Whitson
Performers: The NWA Project: Kirsten Flores-Davis/Ni'Ja Whitson
MANDALA / Choreography: Keely Garfield Dance
Performance: Keely Garfield, Paul Hamilton, Raja Feather Kelly, Emma Rose Brown, and Eleanor Smith with guest artists Lawrence Goldhuber, Doug LeCours, Angie Pittman, Jamel West, and students from Lang Dance Department, The New School
The Exciting Event… / Same as Sister
Choreography and Performance: Same as Sister/Briana Brown-Tipley and Hilary Brown in collaboration with Hannah Caggiano (creation only), Kristina Hay, and Rahmus Rifical
The final program of the Platform: Reggie Wilson/Fist & Heel Performance Group's …they stood shaking while others began to shout runs March 22-24; $22 advance (currently sold out), $25 at the door (wait list available); Details here
---
Esteemed Black choreographer and anthropologist Pearl Primus said, "The dance is strong magic. The dance is a spirit." It's no wonder, then, that churches have welcomed dance into their hallowed halls.
St. Mark's Church-in-the-Bowery has given space and been witness to dance, poetry, and prayer, its honey-colored floor and carpeted risers the sacred ground where humans — at least for a while — strive to be more divine. Danspace Project, a presenter of contemporary dance since 1974, has a long and storied relationship with St. Mark's. But, for as fixed in time and space that Danspace and St. Mark's may seem in the East Village, the area's history stretches far beyond their presence.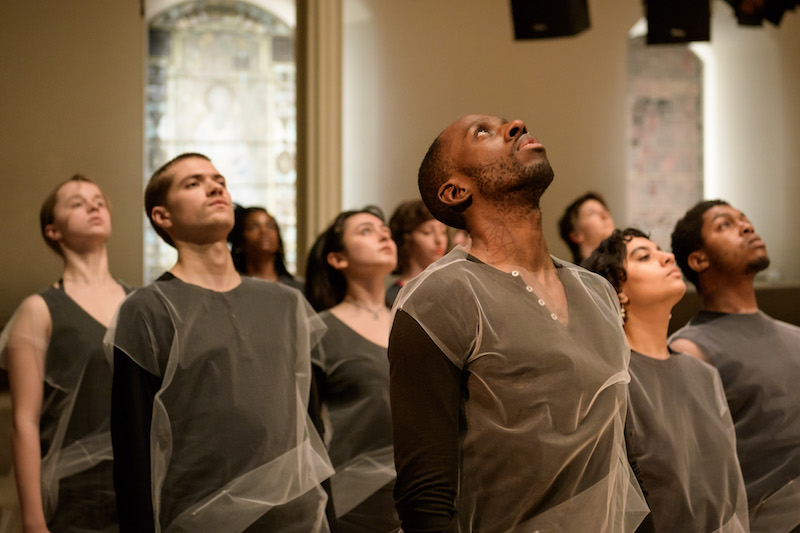 Keely Garfield Dance; Photo: Ian Douglas
The land was originally home to the Lenape, an indigenous people who were pushed out by Europeans. In 1651, peg-legged Peter Stuyvesant — a slaveholder and the last Dutch Director-General of New Netherlands — purchased a bouwerie (farm) from the Dutch West India Company. Nine years later, on the site where St. Mark's stands today, he built his family chapel, likely exploiting slave labor to do so. In 1799, the same year that New York passed legislation to gradually abolish slavery, Stuyvesant's great-grandson finished the building of St. Mark's, one of the original Episcopalian churches in New York.
This complicated dynamic of power and inequity, of faith and profit, informs Danspace's 2018 Dancing Platform Praying Grounds: Blackness, Churches, and Downtown Dance. The annual series spearheaded by Danspace Executive Director and Chief Curator Judy Hussie-Taylor in 2010 invites extended curatorial investigation. Over the past four weeks, this year's iteration featured walking tours, a symposium, performances, and a catalogue that functions as both a piece of art and a catalyst for contemplation. Praying Grounds closes with platform curator Reggie Wilson's Fist & Heel Performance Group's world premiere of …they stood shaking while others began to shout.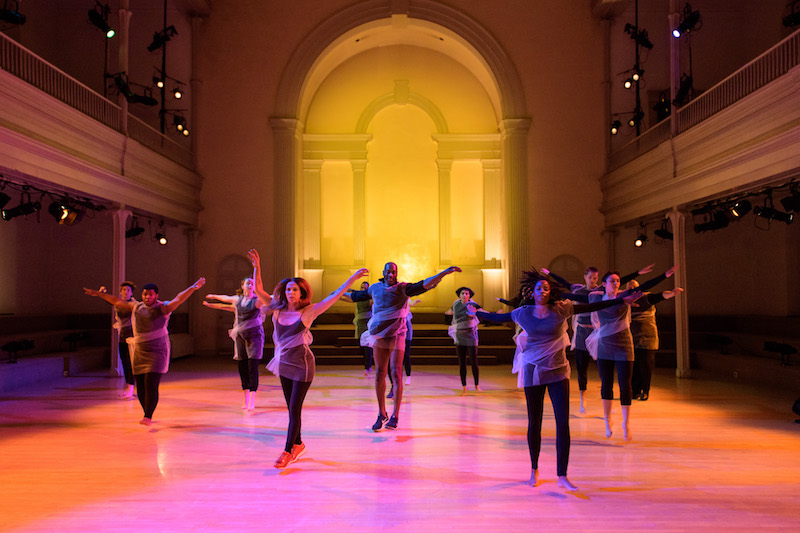 Keely Garfield Dance; Photo: Ian Douglas
Wilson was a reluctant curator. During the talkback following A Shared Evening: Keely Garfield Dance, Same as Sister, and Ni'Ja Whitson, he indicated that he hadn't curated since the '90s, preferring to make his own work. For Praying Grounds, Wilson said he sought out those who use "choreography to think through things." To aid the dance-makers in their process, a dossier by historian Prithi Kanakamedala of historical information, photos, and maps of the East Village was distributed. The beauty of A Shared Evening resides in seeing how three artists merge the source material with their personal preoccupations.
For Ni'Ja Whitson of The NWA Project, that preoccupation is with indigenous African ritual and resistance forms. They manifest during Oba Qween King Baba — Excerpt One in rhythmical practices, many of which are centered on cleaning. Upstage, Kirsten Flores-Davis scrubs small, pale objects (I'm too far away to identify what they are) with swift, sure strokes as, downstage, Whitson dips their head into a bowl of water. Even the movement, deft-footed stomps and a wagging pointer finger, suggests the physical shaking off of unwanted detritus. At the end, the duo lies on the floor as "By the Rivers of Babylon" plays, methodically slapping themselves — bodies reposed, but not at rest.
Ni'Ja Whitson and The NWA Project; Photo: Ian Douglas
In MANDALA, Keely Garfield Dance presents what Garfield calls "an event piece," the highlight of which is a phrase of swinging legs and dipping torsos from her 2017 Perfect Piranha. Garfield, who recently lost her jazz musician father, finds inspiration in the West African proverb, "When you pray, move your feet." Her large cast stamps and paces and busts a move during a mini disco party. At one point, Garfield sits alone and croons a song her father wrote before rejoining the group, her troubled spirit, perhaps, soothed by the fellowship of many.
Same as Sister (a collective founded by Briana Brown-Tipley and Hilary Brown) mentioned during the talkback that the half white/half black topsy-turvy doll acted as the genesis for their An Exciting Event... The almost full-length work uses narrative, minstrelsy, and the cakewalk to expose the groveling, at-your-service attitude that white people expected from their slaves.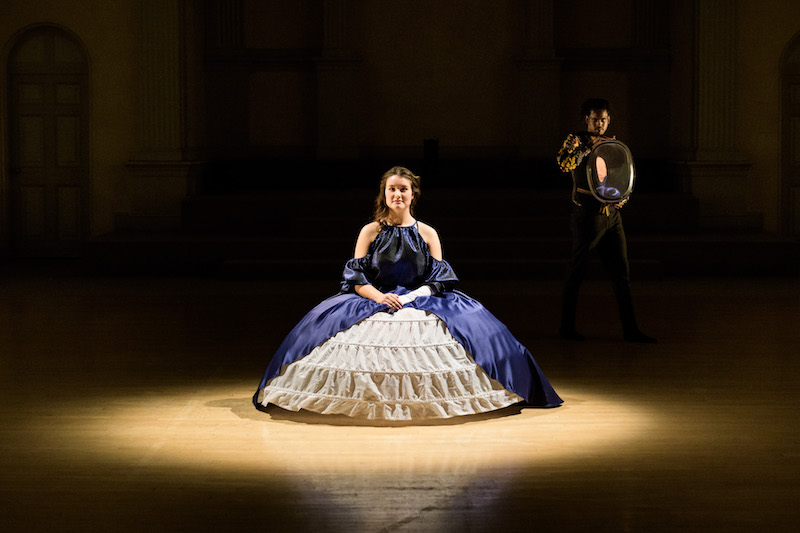 Same as Sister; Photo: Ian Douglas
Evoking the antebellum south, Kristina Hay lolls on a chair as Brown, Brown-Tipley, and Rahmus Rifical cater to Hay's needs. With exaggerated politesse, they fix her hair, place gloves on her hands, and take off her shoes; sometimes, they dance graceful grapevines with her or for her as jangly, old-timey music casts a menacing pall. Near the end, they strip Hay of her dress, and she performs a recurring solo of skitters and undulations as the trio mills about upstage. The power dynamic remains unequal: then, now, but maybe not forever as Praying Grounds shows how one tract of land can be the stage for change.     
---
The Dance Enthusiast Shares IMPRESSIONS/ our brand of review and Creates Conversation.
For more IMPRESSIONS, click here.
Share your #AudienceReview of performances for a chance to win a prize.