IMPRESSIONS: David Byrne's Imelda Marcos Bio-Musical "Here Lies Love" with Choreography by Annie-B Parson is Impressively Immersive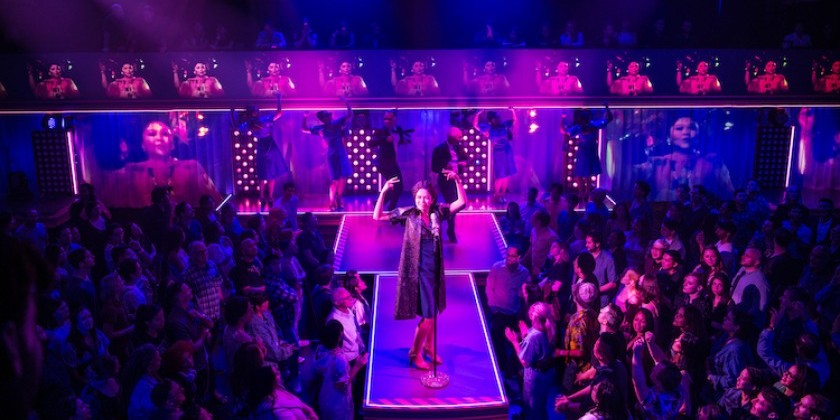 Dance-Along with Broadway's First All-Filipino Cast
Concept, Music and Lyrics by David Byrne 
Music by Fatboy Slim // Additional Music by Tom Gandey & José Luis Pardo
Developed and Directed by Alex Timbers 
Choreographed by Annie-B Parson // Scenic Design: David Korins // Costume Design: Clint Ramos // Lighting Design: Justin Townsend // Sound Design: M.L. Dogg & Cody Spencer //Projection Design: Peter Nigrini
Music Director: J. Oconer Navarro //  Vocal Arrangers: Kimberly Grisgsby, Justin Levine //Music Production & Additional Arrangements: Matt Stine, Justin Levine
Associate Director: Andrew Scoville // Associate Choreographer: Elizabeth DeMent
Assistant Director: Billy Bustamante //Assistant Choreographer: Renée Albulario // Fight Director: Jacob Grigolia-Rosenbaum
Performed by: Arielle Jacobs, Jose Llana, and Conrad Ricamora, with Melody Butiu, Moses Villarama, Jasmine Forsberg, Reanne Acasio, Jaygee Macapugay, Julia Abueva, Renée Albulario, Aaron Alcaraz, Carol Angeli, Nathan Angelo, Kristina Doucette, Roy Flores, Timothy Matthew Flores, Sara Kay, Jeigh Madjus, AJ Mercado, Geena Quintos, Shea Renne, and Angelo Soriano.  

Opened at the Broadway Theatre on July 20, 2023.
---
There's nary a moment in the dazzling Broadway musical Here Lies Love, conceived by former Talking Head musician David Byrne, when someone somewhere in the theatre is not dancing — be it the triple-threat stars enhancing their singing with choreographed gestures, an agile ensemble performing in sync on mobile playing areas that dance about the space, or you yourself executing line-dance maneuvers taught to the audience by DJ (Moses Villarama), the show's endearing narrator. Yet the sustained presence of pulsating bodies makes perfect sense.
"Here Lies Love"; all photos by Billy Bustamante, Matthew Murphy and Evan Zimmerman
To tell the through-sung musical's story of the rise and fall of former Filipina First Lady Imelda Marcos (Arielle Jacobs), scenic designer David Korins enterprisingly transformed the 100-year-old Broadway Theatre into a discotheque environment.  The seats in the orchestra level are gone, replaced by a giant disco ball, regularly re-configuring platform stages, and a big open dance floor. 
Ticket-buyers can choose to stand DOWN THERE — where one can bop to the show's fabulous art-rock score and expect to be "herded" from time to time by illuminated-wand-wielding traffic controllers ensuring paths are cleared for the moving platforms — OR,  sit in the balcony and look down on the action (though key parts of the performance also occur up there). 
Moses Villarama, the DJ, in "Here Lies Love"; photos by Billy Bustamante, Matthew Murphy and Evan Zimmerman
A ribbon of screens stretches around the top of the space, surrounding us with Peter Nigrini's period-setting projections.  Ingeniously devised, they incorporate archival film footage of the show's real-life historical characters and black-and-white video images of the actors portraying those characters captured in real time in the theatre, and sometimes including audience members framing or interacting with the performers. Yet the abundance of visual stimuli doesn't feel assaultive or confusing, but rather caressing, enveloping us in rich, experiential understandings of the narrative.
Far from gimmicky, or trendily exploitative of the current popularity of immersive theatre, the milieu suits, literally and metaphorically.  The outrageous excess and superficial glitter of disco culture mirrors Imelda's character.  Known to frequent New York's celebrity disco Studio 54, Imelda enjoyed a lavish lifestyle, while the Filipino people suffered in poverty. 
 "Here Lies Love"; photos by Billy Bustamante, Matthew Murphy and Evan Zimmerman
Though the show illustrates the major events of Imelda's life — her humble beginnings, her marriage to dictator Ferdinand Marcos (Jose Llana), the assassination of his opponent (and her former boyfriend) Ninoy Aquino (Conrad Ricamora), and the People Power Revolution that removed the Marcoses from power in 1986 — it does so speedily.  If you're not fluent in recent political history of the Philippines, I advise arriving early enough to study the informative video-timelines displayed in the theatre lobby. 
Jose Llana and Arielle Jacobs in "Here Lies Love"; photos by Billy Bustamante, Matthew Murphy and Evan Zimmerman  
With music and lyrics by Byrne and music by Fatboy Slim, the 90-minute book-less show contains no dialogue scenes.  It is driven by its score which, despite the production's disco ambiance, does not mimic the cheesy, repetitive sounds of the pop genre.  Rather, it functions like that of a conventional Broadway musical, its accessible amalgamation of electronic music and catchy songs conjuring comedy, character relationships, narrative action, and a variety of moods and emotions.  Unlike typical show-tune lyrics, however, Byrne's are drawn largely from public statements made by the real-life characters.  And it's the song's musical elements and styles, more so than the words, that prove expressively interesting.  For example, you'll detect a country-twanged folk quality in the rock music as Aquino rouses a crowd of supporters, suggesting the folksy appeal of his populist politics. 
Choreographer Annie-B Parson, too, employs recognizable styles to buttress the expressiveness of the show's endless movement material.  When she steers Aquino's top-rocking "back-up" quartet to find kinship between the bounciness of their urban environs-suggesting street dance steps and that of clogging, we get another reflection of Aquino's populism. Though highly stylized — you'll see phrases of classical ballet, full-bodied modern dancing, and snazzy gestural sequences — Parson's choreography is never virtuosic in a showy, overly presentational Broadway fashion. It's all beautifully understated.
"Here Lies Love"; photos by Billy Bustamante, Matthew Murphy and Evan Zimmerman  
Developed and directed by Alex Timbers, the fluidly staged production is enriched immeasurably by Clint Ramos's eye-popping costumes and Justin Townsend's stimulating lighting.  But the theatrical highpoint of the evening rests solidly on the undeniable power of human body movement.  At the plot's crucial turning point — Aquino's historic anti-Imelda speech that compares her to Eva Peron (and, yes, Broadway-musical-goers will find much in this production that recalls Evita) — the scene builds to a moment when everyone in the theatre jumps in unison, arms overhead, the shared rhythmic action hammering home that all-important message of speaking truth to power.  Though clearly presented to us, I doubt we would have absorbed the idea as deeply had it not also been presented with us.  Significant not just as a singular demonstration of a truly meaningful immersive theatre experience, it's also an indicator that, moving forward, the elements defining an "ideal" integrated musical may include interactivity.  
This creative team's inventive work is so striking it could easily overshadow the efforts of less-dynamic performers.  But here, constituting Broadway's first all-Filipino cast, the three charismatic leads and the hard-working ensemble prove as captivating as their surroundings.    
Audience participation in "Here Lies Love"; photos by Billy Bustamante, Matthew Murphy and Evan Zimmerman  
At the performance I attended, most of the audience standees seemed enrapt by the entertainment and did minimal dancing of their own, beyond dutifully re-positioning themselves spatially, as directed.  Nonetheless, seated in the balcony, I devoted so much of my attention to observing all of the "downstairs" activity, while twisting this way and that to take in everything going on around me — not to mention getting up periodically to perform a few steps myself — I suspect I missed a lot of what this impressively complex production put forth. 
It's definitely a show one needs to experience more than once. And next time, you can look for me down on the dance floor!   
---
The Dance Enthusiast Shares IMPRESSIONS/our brand of review, and creates conversation.
For more IMPRESSIONS, click here.
Share your #AudienceReview of performances. Write one today!
---
The Dance Enthusiast - News, Reviews, Interviews and an Open Invitation for YOU to join the Dance Conversation.