IMPRESSIONS: David Dorfman Dance in "Prophets of Funk"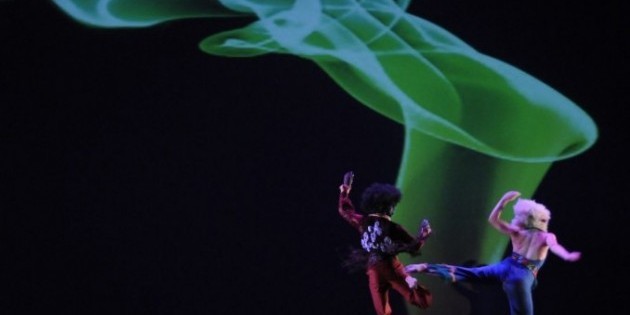 IMPRESSIONS: David Dorfman Dance in Prophets of Funk
The Joyce Theater Tuesday, January 24, 2012 at 7:30pm, New York
---
Conceived and Directed by:David Dorfman
Choreography and Text: David Dorfman Dance
Music: Sly and The Family Stone
Sound Design: Samuel Crawford
Media: Jacob Pinholser
Creative Consultant: David Kyuman Kim
Dramaturge: Alex Timbers
Lighting Director and Stage Manager: Dans Sheehan
Performers:David Dorfman, Kyle Abraham, Meghan Bowden, Luke Gutgsell, Renuka Hines, Raja Feather Kelly, Kendra Portier, Karl Rogers, Whitney Tucker
---
Christine Jowers for The Dance Enthusiast
The seventies are making a comeback. Hair was on Broadway: Godspell is there now. Jesus Christ Superstar is threatening to return, and even Ted Neely who was Jesus in the movie umpteen years ago is still playing the savior's role in theaters. Get ready for lots of glitter, flash, fro's and fringe. It's time to gyrate and vibrate and get psychedelic. (Again)
I haven't seen Godspell or JC Superstar yet, but I attended a performance of the 2nd cast of the Hair revival and was disappointed.You see, I loved the music for so long -the spirit of the lyrics and the "Age of Aquarius" –well, the piece didn't live up to my memories. The cast seemed to be showing me the 60's and 70's instead of giving me something from that era. While I got a little taste of the rebellion, protests, war drafts, free love and drugs that defined the period, it seemed cosmetic, like a "Hippie Parade" instead of a cohesive, moving theater piece.
That experience is why I was initially wary of Prophets of Funk. I worried that it might be a costume extravaganza or a replay of "The Best Hits of Sly Stone." I wondered how a dance concert would live up to the greatness of the music.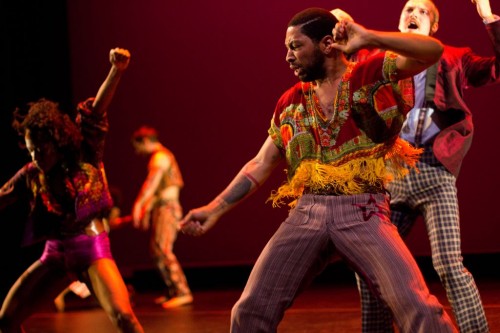 Prophets of Funk: Renuka Hines,Kyle Abraham, Karl Rogers, and Luke Gutgsell ( in the background)
Photo Courtesy of Adam Campos
What a funky, fantastic, boom shak a laka surprise to go to The Joyce and completely tune in to the 60's and 70's through David Dorfman's channeling of Sly and the Family Stone. It is beautiful, man. It is also intelligently and thoughtfully put together, but so captivating and quickly paced that you might not realize that at first. Before you know what's happening, you will be screaming "higher" and "higher" with your hands in the air; then dancing on stage with the gal in the magenta hot pants aka Renuka Hines. (Would that we all could wear such outrageous stuff and look so good.)
---

David Dorfman, the human metronome of the work, embodies the joyful spirit of love power from the minute he struts out on stage in his platform shoes. Like a genie, his bursts of movement conjure up the cast. Later in more somber moments, seeming a bit dampened, he struts less, but by the finale he is back, infectious with power to the people.
It is a pleasure to watch a contemporary dance company that works so well together. While there is no doubt that these are dancers with some of the grooviest kick ball changes you will ever see, the chief reason we're charged with the excitement of a live rock concert, or troubled by the breakdown of a strung out Sly Stone on the Dick Cavett show, is because the performers have fully invested themselves in the soul of their subject matter. Those legs that whip, and those ribs, hips and feet that flash by like rhinestones, all come from a deeply felt and investigated place. And better than ever—the dancers work is supported completely by the all the elements of production: Dorfman's choreography and direction, the colorful wigged out costumes, the hallucinatory vibe of the media art, and the precise editing and selection of the music.
Raja Feather Kelly is magnetic as Sly. Funky. Sexy. Glittering. Jeweled and troubled. He portrays first, a charismatic young savior that people can't help but cling too, and then, a flying- too-high puppet who becomes a shade of his glorious promise. What a performer. You can't help but fall in love with Kelly's "Sly" no matter how bad he is for you.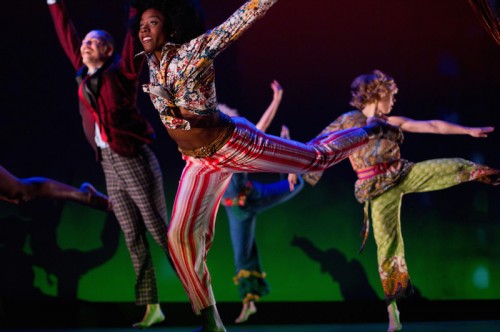 Prophets of Funk:Photo Credit: Adam Campos. 'Prophets of Funk'. Conceived and Directed by David Dorfman
Kyle Abraham is fascinating and devastating as a preacher man who has "got the funk." First, he is all jokes and laughs as he copies different moves invented by the group. I was particularly fond of the "purgatory push" and I think there was a move dedicated to "brother Martin Wechsler," director of programming at The Joyce Theater. Out of nowhere the humor erodes. The backstage screen, once filled with electricity, goes blank and the reverend doctor reveals he has lost his job and his family-- a wrenching moment.
Later Abraham introduces Whitney Tucker, a soloist with a blonde Afro, wide bell-bottoms and the ability to jiggle and wriggle her bits at warp speed. Not only is her dancing amazing, but her verbal warnings to watch the people we turn into prophets seem the plea to heed in 2012 as we move close to elections. This "Shirley Chisholm dipped in white chocolate" as Abraham refers to her, reminds us that power to the people is not just about getting up and getting down, it is about being ever vigilant towards those who we look to for leadership-- keeping our eyes open. As the preacher Abraham reminds us, another of his favorite moves is "dancing to the picket lines." I kept thinking about the New York Times article that said the protestors at Zuccoti Park lacked a song to bind them. They would have found a dance in Prophets of Funk.
Stand out work by everyone involved. The one complaint I have is that the program didn't have portraits of the dancers so that audience members could later identify all the individuals. We want to know these people. Hint, hint… please don't take it for granted that everyone attending a dance concert knows everyone in the dance community. How can those outside the dance fold get to know us if we don't have pictures in our fancy playbills the way the actors do?
---
---
The Dance Enthusiast Shares IMPRESSIONS/our brand of review, and creates conversation.
For more IMPRESSIONS, click here.
Share your #AudienceReview of performances. Write one today!
---
The Dance Enthusiast - News, Reviews, Interviews and an Open Invitation for YOU to join the Dance Conversation.