Dance: Broadway Stage and Screen -- Choreographer David Parker Shares His Favorite Movie Musical Moments
I'm here on behalf of musicals. I can't remember a time before I heard their siren call. They bewitched and bedeviled me equally with their strange mix of the sublime and the banal.  As a child, I watched them mostly alone and feared absorbing too many of their antediluvian mores lest I become further isolated from other kids my age. I needn't have worried. As a nascent suburban sissy in the 1960s, I was already pretty isolated. Yes, I got taunted for things like doing the Varsity Drag at my 8th grade dance, but it was worth it. Better to be taunted while doing a mock-Charleston than taunted for standing still.
Nevertheless, I couldn't look away from these movies, first on television and later in the revival movie houses so ubiquitous in the 70s and 80s.  These films and the dancing they contained worked their way into my consciousness until they became something like a part of my gay soul.  Watching them, I developed an awareness of my otherness and an ability to identify people like me by their proximity to these glorious creations.
What transported me so were not the songs, nor the plots, nor the goo; but the dances. I looked right past the claptrap and saw instead men with grace and finesse, men freed from the stolid posturing of other kinds of movie heroes. These men were lushly expressive, full of romantic ardor and their bantering feet spoke a language of intimacy and seduction far more potent than any in their scripted scenes. Sometimes they were physically unprepossessing and rather plain, yet they projected their talents onto their quotidian surroundings and thereby ennobled them while making themselves beautiful as well. This was something I wanted to do and, though I'd failed with the Varsity Drag, I thought I deserved another chance, so I pored over these films every chance I got. And, in the days before YouTube and VCRs, I learned to pay attention.
Donald O'Connor and Gene Kelly dance "Moses Supposes" in "Singin' in the Rain"
The musicals I'm talking about are not the bloated extravaganzas of my childhood like Doctor Dolittle, Hello Dolly, or Chitty Chitty Bang Bang, but the studio-system musicals of the 30s, 40s and 50s. By the time I was a teenager I was studying tap, ballet and modern dance and mingling them in my own basement improvisations danced on a piece of plywood. Like the dances I loved, I made no distinction, no hierarchy of forms or genres. I did them all and let rhythm be my guide.
People sometimes get hung up on the absurdity of characters bursting into song and dance in quasi-naturalistic settings.  But that never felt absurd to me, it felt radically liberating--a kind of activism. I never cared for production numbers or precision choral dances or knock-'em-dead novelties. I went for the solos, duets and trios danced in plain clothes on sets meant to resemble living rooms, sidewalks, rooftops, and parks.   These showed people dancing while leading their lives rather than just while performing. I craved that juxtaposition between verisimilitude and unbound lyricism because it seemed a kind of object lesson.
These dances convinced me that dance rhythm, especially audible dance rhythm could, when done with intent, convey the contours of intimacy, and trace levels of synchronization and dissonance in a relationship. Though the emotional and sexual range was restricted by the censors of the time, this only seemed to add heat and depth to what I saw.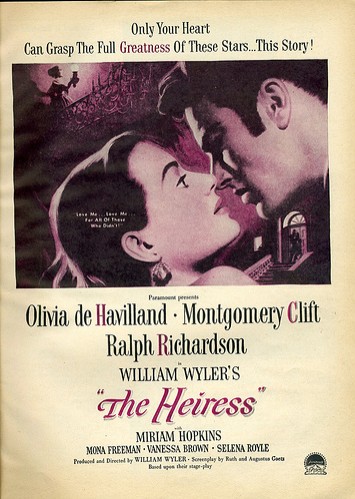 Director Mike Nichols spoke of the scene in the (non-musical) film The Heiress in which the two main characters, having just met, try dancing together. Montgomery Clift teaches the shy, awkward Olivia De Havilland how to dance with him.  She is at first clumsy, then eager, then saucy and despite what they say to one another the shifts in timing and dynamic between them play out physically and show us, as Nichols points out, what their sex life might have been like.  A dance needn't be "sexy" to be sexually enlightening.  I felt this watching Donald O'Connor and Gene Kelly dance "Moses Supposes" in Singin' in the Rain as well.  What was going on in the dances always felt much larger and more ambiguous than anything happening in the rest of the movie.
The fact of all this being shown either without words or beyond them held a special allure for me as it offered an escape from my formidably lexical family life.  I wanted to be heard, but I  also wanted to escape the perils and pitfalls of speech.  Don't talk of stars burning above…
The dances I've chosen are not from the canon, they're not anthologized in the various tributes to golden age moviemaking but ones that are dearer to me because I found them on my own and they gave me so much.   They helped shape what I do.  I'm also hugely affected by the great and much-lauded dances of Astaire, Gene Kelly (I'll never renounce him,) Fayard and Harold Nicholas, Bill Robinson, Eleanor Powell, Jack Cole, Bob Fosse and others but I want to shed light on some of my lesser-known favorites.  Here they are.
---
"Where Did You Learn to Dance" from "I Love Melvin" 
MGM 1952
Performed by Debbie Reynolds and Donald O'Connor
Choreographed by Robert Alton who also did Broadway's Pal Joey and Hollywood's White Christmas, this is a "we click" dance. You can see the connection between this number and his "The Best Things Happen While You're Dancing" from White Christmas.  Both feature fleet, constant shifts between tap, ballroom, ballet and athletics.  Marge Champion called Alton a "busy" choreographer because his dances were chock full of steps, but what interests me is the range of styles and the dizzying array of kinetic impulses that animate them. 
I love the sonic shifts when O'Connor taps from floor to carpet, the antic pile-up of postures and expressions that Debbie Reynolds pulls off while standing on the table—she was pretty and funny at once.  O'Connor has always been in a class of his own and he seems especially to revel in being given a leading man dance, but both of them dig in to the simple juicy rhythms with gusto. 
I like the dress too.
"Challenge Dance" from "Give a Girl a Break"
MGM 1953
Performed by Marge and Gower Champion
Gower Champion choreographed this "exes who belong together" dance.  The movie also features fascinating early choreography by Bob Fosse.  I love how the dancers don't face outward for much of the dance but inward, toward each other, creating a charged space between them while embellishing each other's rhythms, interrupting them, fitting flourishes into the tight spaces left by the other and finally finding their groove. 
I'm less thrilled by the exhibition lift sequence toward the end but by that time I've already been hooked by the first few minutes so I don't mind.  I love how the footwork sits right at the edge of tap without spilling over into actual tap steps.  Life at the border is intriguing.  For most of its duration, this dance is as focused as Alton's is scattered.  I find them both wonderful.
"Coffee Time" from "Yolanda and the Thief"
MGM 1947
Performed by Fred Astaire and Lucille Bremer
This astonishing dance takes place on a big campy set and, though it looks like a show-within-a-show number, it's actually a "we click" book number.  It was a collaboration between ballet choreographer Eugene Loring, who made "Billy the Kidd" for Ballet Theater, and Astaire.  Much has been made of the 5/4 choreography set against the 4/4 music but that's really just a matter of the dance phrases crossing over the musical ones which is nice, but not especially important to me.  The claps keep the shifting relationship between the 5s and 4s clear.  There's little heat between Astaire and Bremer, but they have a shared commitment to the dance itself and that's quite something.  It's almost post-modern.  If Lucinda Childs were to make a tap dance, it might be something like this.  Like "Challenge Dance" it's just on the verge of actual tap but no less rhythmically potent for it.  The first time I saw it, I was in college where it was deemed a "head trip."
"Mr. Beebe" from "Carolina Blues"
Columbia 1944
Performed by Harold Nicholas and others including the Four Step Brothers
Due to racism, dancing book numbers involving romance were rare for African American performers of the 40s and this gives us a glimpse of what we missed out on.  Platonic duos were slightly more common: Bill Robinson and Shirley Temple danced together, and black siblings could dance together, but rarely did African American men and women dance together in a mainstream movie as they do here.  Nicholas' own dancing has a scale and breadth far beyond "hitting", he was a full-fledged theater dancer whose through-the-body articulation matches his incisive footwork.  My favorite kinetic jolts are those provided in the duet with the tall woman in the shiny black dress whose hips open up new possibilities in Lindy/tap mash-up.  In a better world, Nicholas would have been a leading man.
Jitterbug from "The Canterville Ghost"
MGM 1944
Performed by unknown swing dancers
I'm including this because when I saw it as a teenager, my head exploded.  Those few moments when the two men dance together without the slightest trace of irony or shame, riding their own rhythm together in an entirely wholesome family movie still make my heart race.  Woogie Boogie indeed!
"Why Can't You Behave" from "Kiss Me Kate"
MGM 1953
Performed by Ann Miller and Tommy Rall
The choreography is credited to Hermes Pan who worked with Astaire at RKO and elsewhere. Here, he wisely recalibrated Miller's and Rall's edgy expertise by making them musical comedy performers rather than specialty acts. I think of this as an "I love fighting with you too much to leave you" dance. They certainly wrangle, finishing each other's phrases sometimes with acts of aggression: like Miller stomping on Rall's foot a half beat before the end of their phrase, or in their tapped boxing match.  Mock aggression is its own form of seduction here, but isn't that often the case?  This dance gets a bit lost late in the game with stunts meant to wow its original audiences with 3-D illusions, but that's okay, they had me at the step-shuffle preparation for Rall's double tour en l'air.
"Shine" from "Cabin in the Sky"
MGM 1943
Performed by John Bubbles and Ford L. "Buck" Washington
The great tap innovator, John Bubbles soloing in a strutting, sliding, cane-whirling dance to the song "Shine" with which he became closely associated.   What interests me about this dance is that it's not really a tap dance but arises from tap and the vernacular forms linked to it.  In it, you can see Bubbles' control, agility, explosive jump and fouette-like sliding turns as well as his magnetism. Another glimpse into what might have been.  There's far too little of Bubbles on film.  Well, as Spencer Tracy says to Katherine Hepburn in Pat and Mike, "but what there is, is cherce."  Bubbles also dances a little later in the film with Ethel Waters which is another of those rare duets.  She wasn't primarily a dancer but is still quite good in it.  As a bonus, here it is:
---
SAVE THE DATE : APRIL 12TH, 2016 FOR THE DANCE ENTHUSIAST'S  ENTHUSIASTIC EVENT! --- DANCE: BROADWAY STAGE AND SCREEN
What is an Enthusiastic Event?
Click 
here 
to learn about the The Dance Enthusiast's Enthusiastic Event Series! and for ticket information.
.