Related Features
Contribute
Your support helps us cover dance in New York City and beyond! Donate now.
IMPRESSIONS: Donna Uchizono's "March Under an Empty reign," Tere O'Connor's "Long Run," and Lucy Guerin's "Split"
World Premiere of Donna Uchizono Company's March Under an Empty reign
Part of 2018 NY Quadrille at The Joyce
Thursday, October 11, 8:00pm
The New York City Premiere of Tere O'Connor's Long Run
Skirball
Friday, October 12, 7:30pm
The U.S. Premiere of Lucy Guerin's Split
Baryshnikov Arts Center
Saturday, October 13, 7:30pm
Pictured above: Lucy Guerin's Split; Photo: Gregory Lorenzutti
---
Fall is always an exciting and busy season for dancegoers. This October brims with performances uptown, downtown, and wedged everywhere in between with many shows happening on the same weekend. Witnessing works by Donna Uchizono, Tere O'Connor, and Lucy Guerin on three successive nights is like watching a genealogy tree come to life. Uchizono and O'Connor's careers have run parallel while Guerin danced for O'Connor in the 1990s before returning to her native Australia. Today, they're still close, calling upon one another for insight and support while making new work.
Donna Uchizono Company's March Under an Empty Reign. Photo: Ian Douglas.
Uchizono culls from previous works to invent something new in March Under an Empty reign. The dancers syncopate their heels, creating grumbling sounds with the ground. They listlessly wave their pelvises reminiscent of the choreographer's fervid 1989 solo short tahitian temper. In groupings of two or three, they stand in narrow, unflinching relevés. When a woman becomes off-balance, her partner(s) take her by the shoulder or head to suggest an abstract embrace similar to those in longing two (2010). Even the precarious vocabulary and all-female cast harken to Uchizono's previous work Sticky Majesty.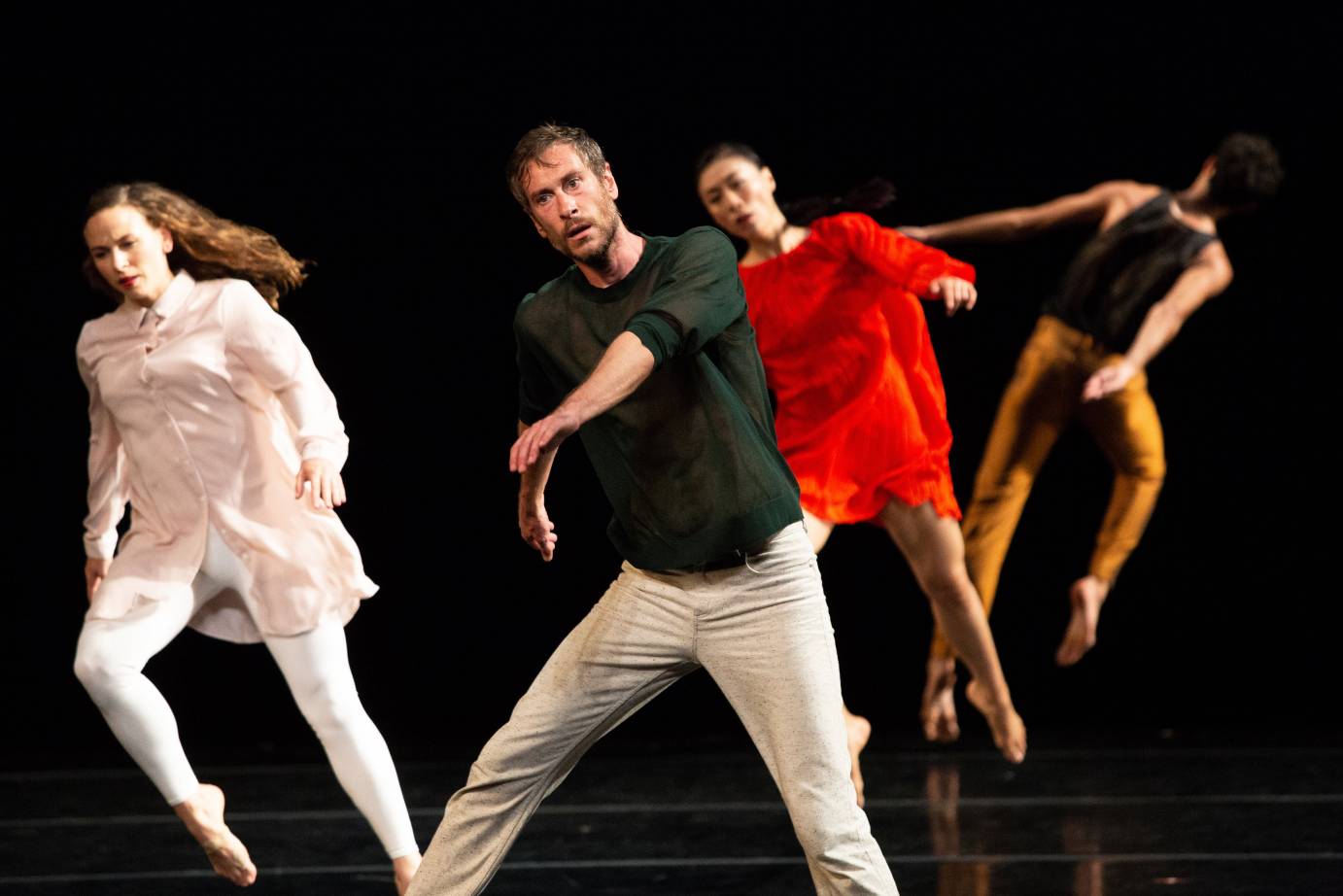 (Left to Right): Eleanor Hullihan, Lee Serle, Jin Ju Song Begin, and Marc Crousillat in Tere O'Connor's Long Run; Photo: Ben McKeown
Rather than drawing movement inspiration from specific dances, O'Connor uses the physical space itself to reference the past and nod toward the future. Dancers gaze at the audience and peer behind themselves while their bodies propel them forward. These moments are strangely funny and disorienting as if they're playing a game of hide-and-seek with ghosts. In other instances, one group begins a phrase only for it to be picked up by another who tumbles forward and builds upon their colleagues' movements. Three dancers in a straight line windmill their extremities in long diagonals while their feet follow a serpentine path. When they port de bra to the heavens, the performers coming from offstage open their arms at the same moment to join them. The two groups intersect, and soon a third joins in. Their lines thrust like majestic, buoyant waves.
Melanie Lane and Lilian Steiner in Lucy Guerin's Split; Photo: Gregory Lorenzutti
If O'Connor explores the body's impact on space over time, then Guerin interrogates the inverse. Melanie Lane and Lilian Steiner perform in a black box that is later delineated by lines of white tape. In the beginning, they move freely throughout the square in exact unison. Later, they divide the area in two, four, and so on until their bodies hover tightly in a postage-stamp-sized space. Lane and Steiner's exactitude is impressive as their interactions become increasingly shorter and frenzied with each division.
The compression of space and time is heightened by how these two female bodies relate. Lane, who is naked throughout the piece, and Steiner, wearing a blue silk dress, are mellifluously together in the beginning, pronating their wrists and paddle-turning. Later, they butt up against one another with carnal curiosity. Fingers crawl across torsos, a ponytail whips, and lips make sucking sounds. Through an insidious transformation, Guerin points to the dualities that exist within a female-identifying body, and the control-seeking forces that press it in.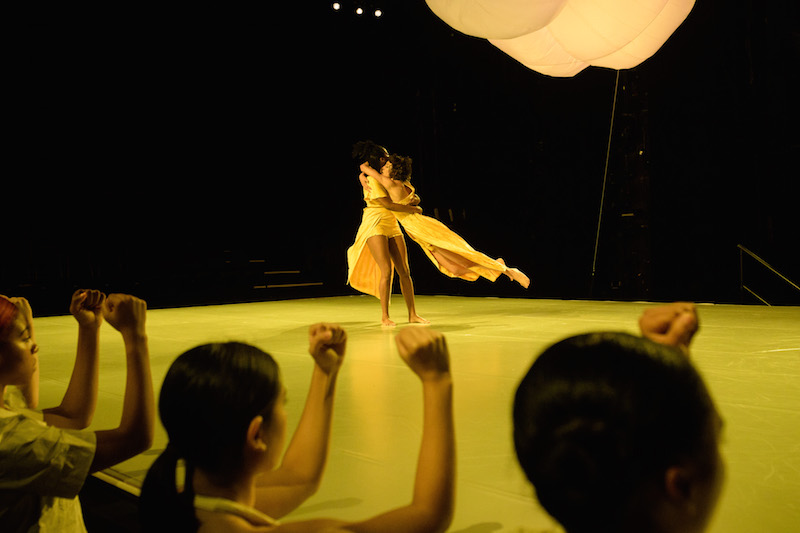 Donna Uchizono Company's March Under an Empty reign; Photo: Ian Douglas
Uchizono, too, grapples with a female experience in March Under an Empty reign through her marigold-clad sextet. For long periods, they remain on the balls of their feet, chests hovering forward, eyes downcast. Movements of punctilious, turned-out feet occasionally interrupt these long, still balances. While Uchizono's work is sparse and even-keeled like a floating sculpture, rage and disorder lurk just beneath its surface. When the bubble of quietude is punctured, feet slap the ground, the dancers heave one another across the stage, and they dynamically leap. Like her female contemporary, Uchizono pokes abstractly at the political and personal beneath a rigorous structure.
(Left to Right): Joey Loto, Eleanor Hullihan, and Silas Riener in Tere O'Connor's Long Run; Photo: Ben McKeown
What threads Uchizono, O'Connor, and Guerin together most strongly is their commitment to dance as a physical form. Their artists are masterfully technical while their motifs and patterns are presented with the utmost clarity. Even as dance making continues to be faced with limited resources and process-based work becomes increasingly prevalent, these choreographers stay the course, returning to the body — dance after dance, time after time.
---
The Dance Enthusiast Shares IMPRESSIONS/ our brand of review and Creates Conversation.
For more IMPRESSIONS, click here.
Share your #AudienceReview of performances for a chance to win a prize.