Related Features
Contribute
Your support helps us cover dance in New York City and beyond! Donate now.
DoublePlus at Gibney Dance: Dylan Crossman & Caleb Teicher; Oren Barnoy & Naomi Elena Ramirez; Leslie Cuyjet & Lela Aisha Jones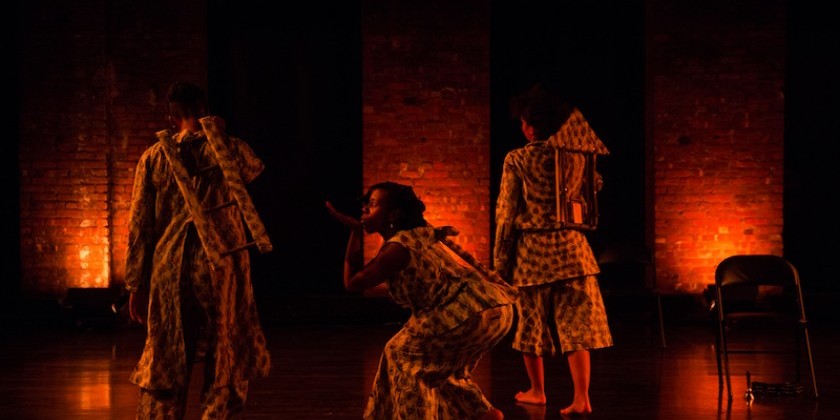 Gibney Agnes Varis Performing Arts Center
December 1, 8 and 15, 2016
Choreography by Dylan Crossman Dans(c)e and Caleb Teicher & Company; Oren Barnoy and Naomi Elena Ramirez; Leslie Cuyjet and Lela Aisha Jones
---
DoublePlus at Gibney 280's Agnes Varis Performing Arts Center experiments in curation and gatekeeping. Over three weekends in December, three established choreographers each pick two choreographers whom they feel are "emerging" and/or under-presented. This transcends the usual emerging/mid-career/established artist divisions, and points out that some worthy artists are boxed out of prominent careers due to cliquishness among presenters and the institutional pressure to create work that sells tickets.
It also makes one aspect of the contemporary dance world painfully obvious: Namely, that artists of color are still held responsible for their own visibility. For example, Cynthia Oliver curated two Black women, while David Parker curated two white men. It would be encouraging to see a platform where those with greater visibility ceded some of that power, while those who are historically marginalized don't need to maximize every opportunity for exposure. 
 Jason Collins and Sumi Clements and Dylan Crossman (upstage) in Dylan Crossman Dans(c)e's [Insert Title]. Photo: Scott Shaw
Parker's evening, featuring Dylan Crossman Dans(c)e and Caleb Teicher & Company was the most heavily attended of all three opening nights. Crossman, who danced with the Merce Cunningham Dance Company, and Teicher, who dances for Michelle Dorrance, are recognizable due to their performing careers, which predisposes them to, institutional support, and complicates the designation of "emerging." 
Crossman's quartet for two men and two women was meditative, with angular movements, traveling patterns, and extended periods of stillness and eye contact. Called [Insert Title], its commitment to irresolution resulted in anonymity — among the dancers and in relation to the audience. At first, the presence of a table suggested some kind of tense family gathering, but the dancers' unchanging faces and repetitive movements made it impossible to discern any kind of intrapersonal relationship.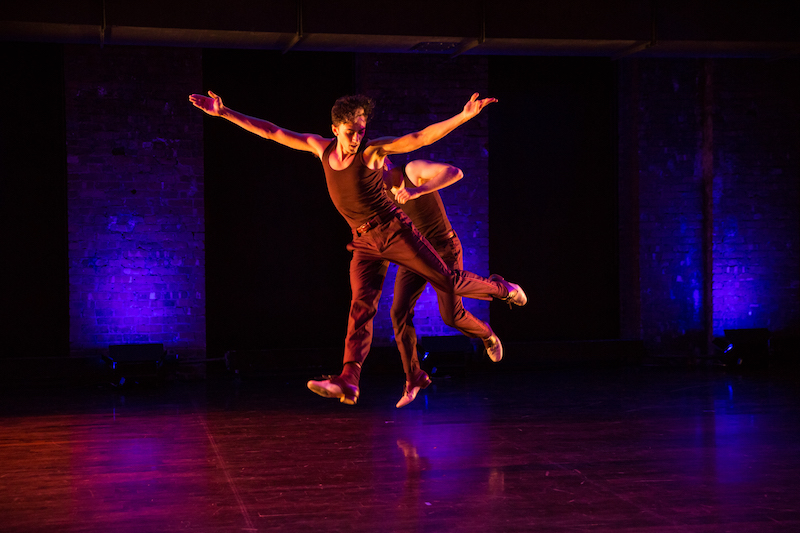 Caleb Teicher (front) and Nathan Bugh in Teicher's Meet Ella. Photo: Scott Shaw.
Meet Ella, Teicher's collaboration with swing dance champion Nathan Bugh, was high-energy and somewhat entertaining. The vocabulary included a mesh of soft shoe and social dance, swing or perhaps Lindy Hop. While technically virtuosic, Teicher's mugging was distracting, and the union between the two styles lacked synthesis as the dancers switched back and forth. There was potential for something entirely new to emerge, but the physical gimmicks overshadowed any deep investigation. 
The shared evening curated by luciana achugar featured choreographers Oren Barnoy and Naomi Elena Ramirez. Standing in high contrast to each other, the two works were titled

  and The Temptress, Seductress, and Other Woman: Fictions of desire and responsibility. 
Paul Hamilton and Greg Zuccolo in  Oren Barnoy's work; Photo: Scott Shaw
Barnoy's dancers, Paul Hamilton and Greg Zuccolo wove and swung their arms nonstop as they traveled around the space, barely interacting with each other. The bright lighting clearly revealed their faces, which were by turns impassive, pained, and amused. 
Ramirez, clad only in fishnet stockings and a fishnet bra, crawled slowly across the floor, sometimes resting, sometimes orienting herself toward the audience, opening her legs and making eye contact with those seated. During intermission a map (of sorts) went up in Gibney's lobby that detailed how Ramirez's pathway across the floor, and subsequent poses, linked with the performance's whispery voiceover naming different kinds of "fallen" women: slut, whore, temptress, etc.
Naomi Elena Ramirez in The Temptress, Seductress, and Other Woman: Fictions of desire and responsibility. Photo: Scott Shaw
Though these works were rich in subject matter, they both failed to move beyond their initial premise and promise. Barnoy described his work as existing "between the initial impulse to create and the moment when meaning appears." Unfortunately, meaning never appeared. Ramirez posed an interesting question about the sexual female body: Is a woman responsible for her own sexiness and sexuality? The Temptress' repetition asked and asked, but never tried to answer. 
Lela Aisha Jones and Leslie Cuyjet shared an evening curated by Cynthia Oliver. Oliver's program notes pointed out the necessity of seeing complexity where we so often prefer simplicity. Though both choreographers are young, Black women located in New York, Oliver offered a necessary reminder that two humans can have wildly different experiences and distinct approaches to dance making.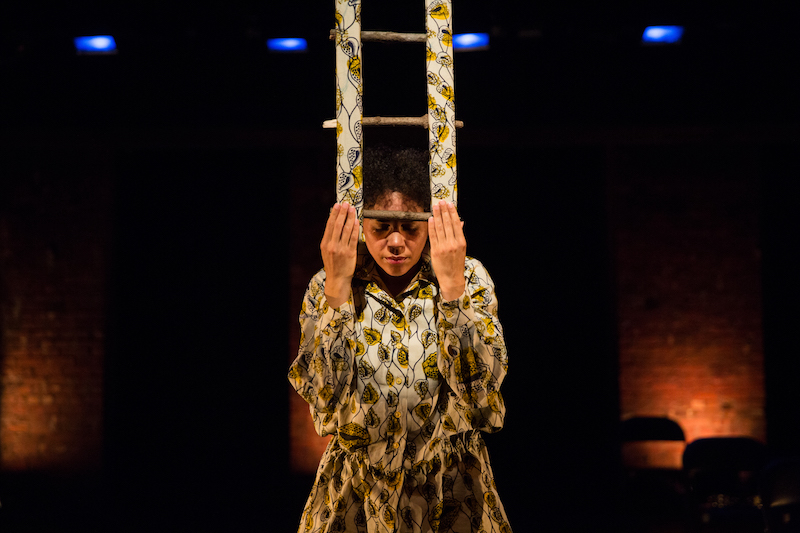 Patricia Peaches Jones in Lela Aisha Jones' Plight Release & the Diasporic Body: Jesus & Egun. Photo: Scott Shaw.
Jones' historical and cultural research into the Black diaspora resulted in a trio for three women called Plight Release & the Diasporic Body: Jesus & Egun. She had a clearly stated thesis, which, coupled with her research, initially tethered the work to an academic approach by proving an argument. But it quickly evolved into an elegant investigation of Jesus as an overworked ancestor, or egun. Jones examined how Black mythologies have transmuted yet continue to provide a foundation despite rapidly shifting traumas and changing pathways to transcendence. She, along with performers Zakiya L. Cornish and Patricia Peaches Jones, wore stunning costumes of what looked like West African wax-printed fabric. They used a highly stylized vocabulary of gestures and walking patterns, including shuffling or running in place, fanning, performing ablutions, and holding an imperious index finger to the sky. Their pillars of identity were on display, only to be prodded and reconfigured as Jones' voiceover pleaded with the ancestors to "Help us return to the old way to find a new way."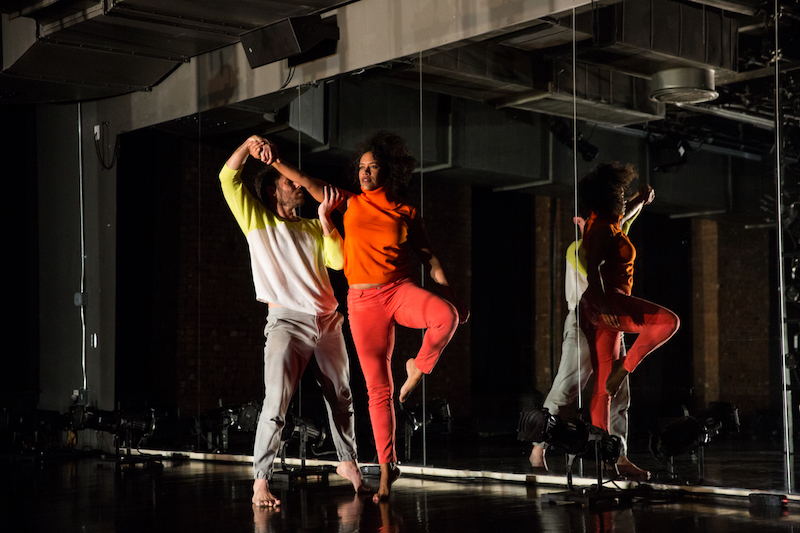 Leslie Cuyjet and Darrin Wright in Alike. Photo: Scott Shaw
Cuyjet's duet with Darrin Wright was quiet and spare. Titled Alike, it poked subtle fun at how unalike the two dancers were — Wright is a relatively small, quick-moving white male, while Cuyjet is a tall, graceful, curvy woman with voluminous hair — yet how their shared performance allowed them to coexist. Cuyjet moved slowly around the periphery of the space, while Wright frantically twitched and shook. Later, Cuyjet ever so slowly collapsed to the floor. Though Wright seemed to be the more autonomous character, their relationship leveled out when they took turns lying on top of one another, freezing, and waiting for the partner underneath to extricate him- or herself. The stage lights dimmed imperceptibly as the house lights came up, and the dancers continued trading places even as the audience stared into blackness. They didn't bow, hinting that their implacable, unresolved tradeoffs would continue forever. 
DoublePlus is an excellent way for Gibney to expand the scope of its programming. The curatorial voice is strong, and a two hour shared bill is an easy investment to make in the search for new work and a more diverse choreographic landscape. But its purpose and efficacy are less clear. Considering that the crowds and myriad people who attended Teicher and Crossman's opening night — introducing themselves to each other as being "with the Joyce" — didn't appear at subsequent premieres, it's safe to assume that DoublePlus exposure can only get artists so far. That said, many of these choreographers are choosing to forgo the "careerist" (as achugar puts it) approach to choreography, which would involve impressing people "with the Joyce." That's why they were selected in the first place. Gibney needs to ensure that there's always a mix of DoublePlus curators who are tuned in to a scene, any scene, which is regularly overlooked. The vote of confidence from a trusted mentor/curator may be all these artists need to better launch their choreographic visibility. 
---
The Dance Enthusiast Shares IMPRESSIONS/ our brand of review and Creates Conversation.
Check out our stories on curators David Parker and luciana achugar and other IMPRESSIONS here.
Share your #AudienceReview of this show or others for a chance to win a $75 giftcard to Trader Joe's.