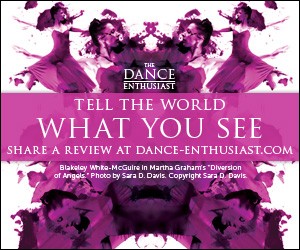 Related Features
Impressions of Doug Elkins Choreography, Etc.
The Joyce Theater
Hapless Bizarre
Original Concept by Doug Elkins, Barbara Karger, and Michael Preston
Choreography by Doug Elkins in collaboration with the dancers
Performance by Mark Gindick, Deborah Lohse, Cori Marquis, Kyle Marshall, Donnell Oakley, John Sorenson-Jolink
Musical Supervision and Original Music by Justin Levine and Matt Stine
Lighting by Amanda K. Ringger
Costumes by Oana Botez
Mo(or)town/Redux
Choreography by Doug Elkins in collaboration with the dancers
Performance by Alexander Dones, Cori Marquis, Kyle Marshall, and Donnell Oakley
Musical Soundscape by Justin Levine and Matt Stine
Lighting by Heather Smaha
Costumes by Naoko Nagata
---
There's art, and then there's entertainment. They can feel very far apart: art, a spirited transformation, while entertainment, a gratifying transaction. Or something like that... Whatever distinction you draw between art and entertainment, the two frequently occupy separate spheres. Can they ever overlap? Doug Elkins Choreography, Etc. certainly thinks so.
Elkins' work is sometimes virtuosic, often witty, and always fun. Don't be fooled, though, thinking his pieces are all surface pleasures. He brings an artistic rigor and exacting musicality to his works, which results in a multi-dimensional visual and sonic experience. With his double-bill program at The Joyce, Elkins takes theatrical relics and adds unexpected whimsy to reframe his source material in electrifying ways.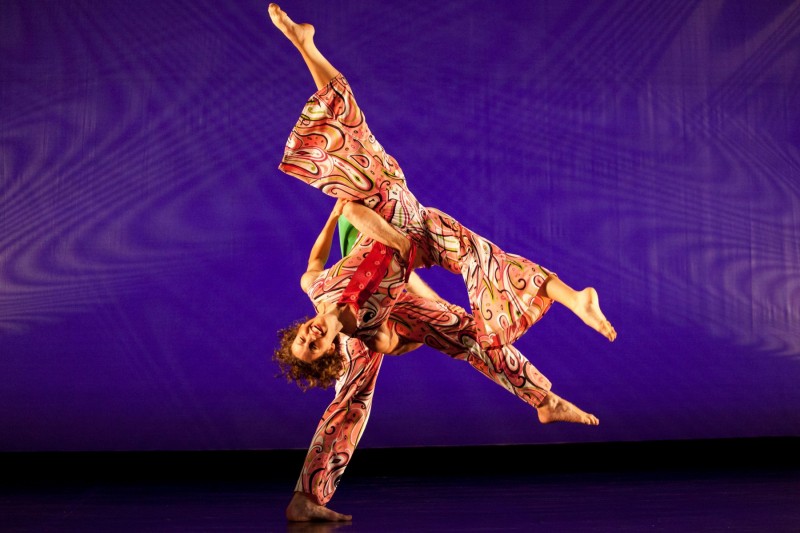 Donnell Oakley in Hapless Bizarre. Photo: Jamie Kraus
In the paper-thin Hapless Bizarre, cool kids co-opt the razzle dazzle of vaudeville clichés. A quintet, attired in psychedelically patterned costumes, ball change, hitch kick, and hip swivel as a prototypical nerd (Mark Gindick, who resembles Leonard of "The Big Bang Theory") attempts to emulate their jaunty strutting. Deborah Lohse, sleek and saucy, takes pity on the neurotic Gindick; in a cheeky duet, she cajoles him to a groovier persona.
To a score of jazzy burbles, nifty hat tricks and a slithering mambo are displayed with a knowing smirk as tired performance tropes are reimagined as attitudinal affects. Hapless Bizarre ends the way you expect: Gindick dances off with a girl as the stage darkens — the drip is swell, at least for the moment.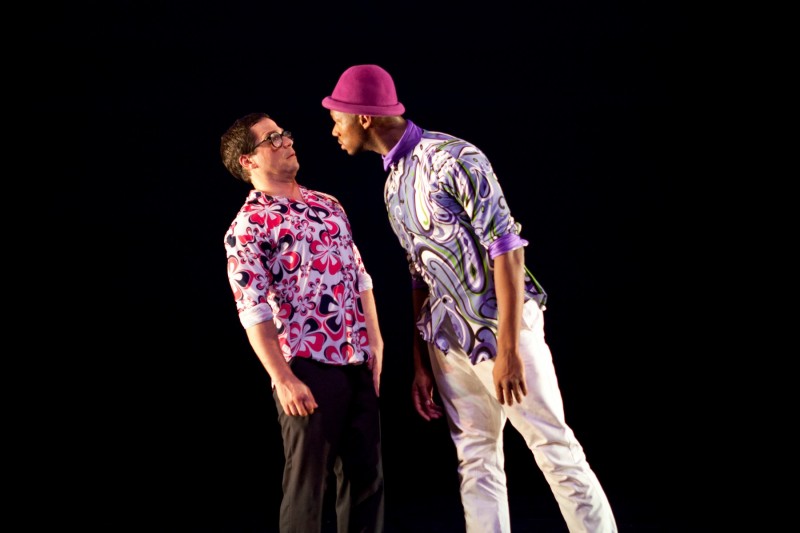 Mark Gindick and Kyle Marshall in Hapless Bizarre. Photo: Jamie Kraus
Mo(or)town/Redux updates Jose Limon's The Moor's Pavane (itself a retelling of Shakespeare's "Othello") by teasing out its themes of duplicity and sensuality against a backdrop of Motown music. The bare bones structure of Limon's masterpiece stand: The machinations of Iago and his wife Emilia, through their invidious planting of a handkerchief, rupture the erotically entwined Othello and Desdemona.
The funky choreography, a jumble of snaky partnering and slick posturing, is great. The performances — in particular, Alexander Dones (Iago) wows with a solo of balletic cabrioles and b-boy handstands — are even better. But the real thrill is the music, Motown standards and contemporary, soul-inflected numbers, that exposes a complex web of human carnality. "Sugar Pie Honey Bunch" and "I Heard It Through the Grapevine," songs so overplayed they seem devoid of meaning, hint at a sinister fate, which transpires when Othello, duped, murders Desdemona for her fictitious infidelity.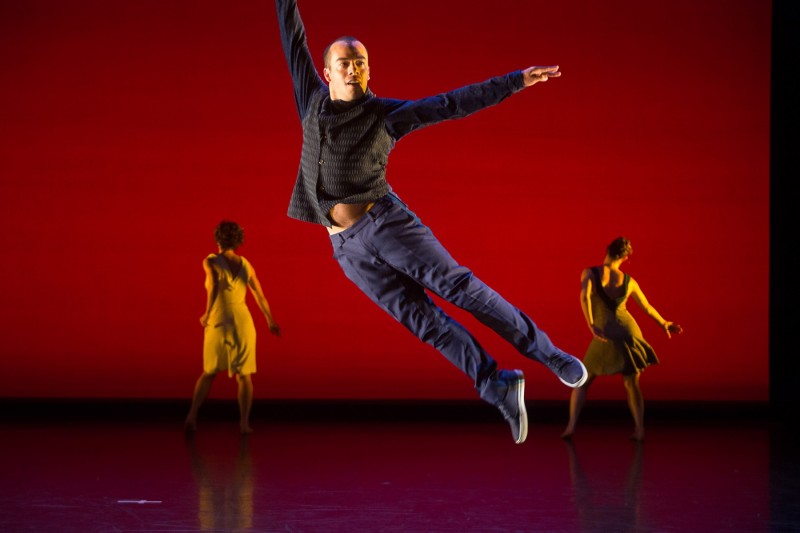 Alexander Dones in Mo(or)town/Redux. Photo: Christopher Duggan
In both pieces, Elkins finds the intersection between entertainment and art. Loose narratives and familiar inspirations make his work easily digestible, yet, while populist in nature, his choreography never erodes into triteness due to an accomplished engagement with the music. Dancers' bodies become like staffs: The legs and feet emphasize rhythmical punches and pauses as the upper body writhes with emotion. This isn't music visualized; it's music revealed, and in this, complexity — of feeling, of physicality — is derived through the simple, but often overlooked, act of moving bodies to music, not through it.