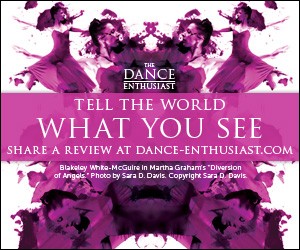 Related Features
Impressions of: Douglas Dunn & Dancers in "Aubade"
Venue: Peak Performances at Alexander Kasser Theater, Montclair State University
January 24, 2014
Dancers: Alexandra Berger, Grazia Della-Terza, Douglas Dunn, Emily Pope-Blackman, Paul Singh, Jin Ju Song-Begin, Jake Szcypek, Timothy Ward, Christopher Williams
Musicians: Steven Taylor (composer, vocals, guitars, harmonium), Jerome Begin (piano, computer), Ha-Yang Kim (cello), Cleek Schrey (fiddle)
Lighting, Costumes & Video: Charles Atlas
Text: Anne Waldman
---
Romance is not what one might expect from Douglas Dunn, a veteran of the avant-garde, who danced for Merce Cunningham and Yvonne Rainer, and who was commissioned by Peak Performances to create Aubade with a superb team of collaborators. But so Aubade seemed, a nostalgic hour as remembered by a wistful lover of games and challenges. Christopher Williams danced Douglas Dunn's younger, inner self, flaunting a deliberately awkward, spastic charm. The group choreography demanded clean jumps and lines, yet its main purpose appeared to provide a counterpoint to the soloist. Dunn dances a bit tentatively, towards the end with a touching, vulnerable clarity. Softly lilting about in white shirt and black pants with slightly sickled feet, he insouciantly shapes the space. Williams mastered Dunn's style so well that their duets appeared to be two intensities of the same hue.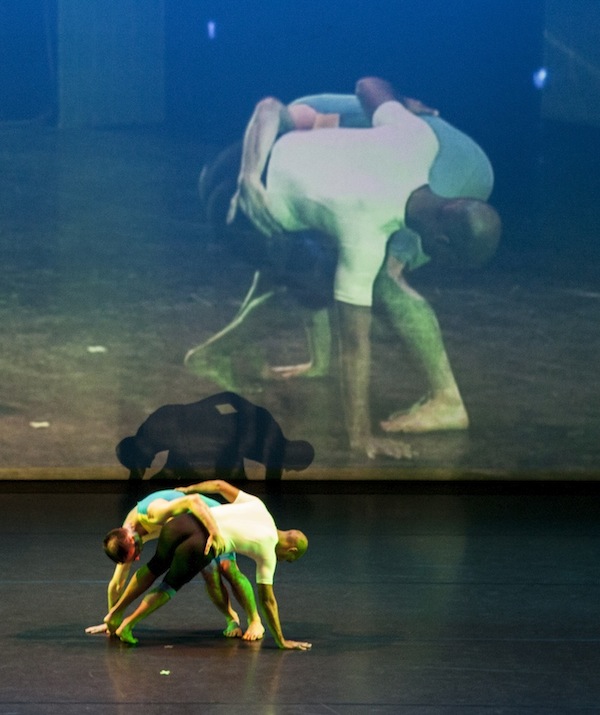 Christopher Williams and Paul Singh in Aubade. Photo by Marina Levitskaya
Charlie Atlas' video projections offered an elegant progression of ideas that each playfully evolved, perfectly in sync with the music and mood. Two white lines, at one point, slowly approach the center, merge and continue to pass to the other side, revealing a constellation of numbers, some gleaming, others distant. A small sailboat passed frrom stage right to left on a high horizon set against a blood red orange sky. Squiggly lines outlined a mountain landscape, which then faded in. Video feed from the performance morphed into an abstraction, arguably more intriguing then the choreography. Bold numbers filled the screen for a fun countdown between sections, adding a teasing spice of suspense. Atlas' contributions to Aubade had the same backward/forward glance as Dunn, while demonstrating his minimalist finesse with a rare sense of timing.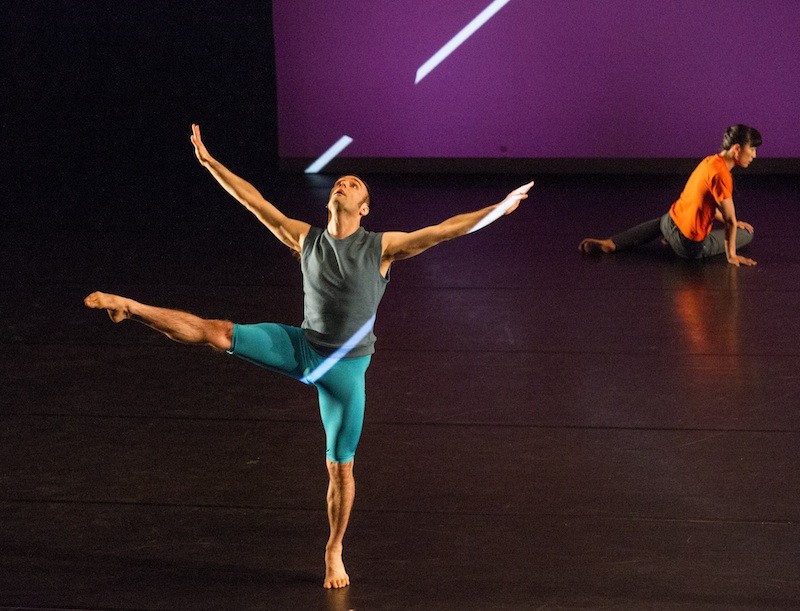 Christopher Williams and Jin Ju Song-Begin in Aubade. Photo by Marina Levitskaya.
Steven Taylor's score, which jarringly included an excerpt from Villa Lobos' "Bachianas Brasileiras," is fascinatingly fresh with Ha-Yang Kim's cello being particularly astounding. Taylor's narration of the text by Anne Waldman has a delicious deep texture.
Applause is due Jedediah Wheeler, Executive Director, Arts & Cultural Programming for Peak performances at Montclair State University for making this sweet collaboration among old, talented friends possible.
Additional Performances of Aubade at Peak Performances at Monclair State University:
January 30 and 31 at 7:30PM; February 1 at 7:00PM
For ticket information,
click the Peak Performances website.