Elisa Monte Dance in "EMERGED NATION" at The Flea Theater, Choreography by Tiffany Rea-Fisher
An Evening in Three Movements 
Movement 1: Tilted Arc
Movement 2: Emerged Nation
Movement 3: Kinetic Kinship
Music: Kevin Keller, Erica Lewis-Blunt aka Twelve45
Lighting: Michael Cole
Costumes: Rachel Dozier-Ezell
Dancers: Tracy Dunbar, Katherine Files, Jenny Hegarty Freeman, Daniela Funciello, Hannah Gross, Madelyn LaLonde, Ashely La Rosa, Caitlyn Morgan, Sai Napat Radboon
Choreographer and Artistic Direction: Tiffany Rea-Fisher
November 23, 2019
---
Born in Indiana, and raised in California, Tiffany Rea-Fisher, the powerhouse artistic director and choreographer of Elisa Monte Dance, has wanted to be a New Yorker ever since she was five.  Said Rea-Fisher in a talkback on the last night of her three-part choreographic achievement, Emerged Nation, "Ever since Sesame Street, I have been obsessed with sitting on a stoop in New York . . . I thought that was amazing . . . [ now] I love this city. I fall deeper in love with it. I'm never leaving."
Well, thank you, Big Bird!  After experiencing an evening of Rea-Fisher's work, one would imagine the wattage of our town would seriously diminish without her energy in it.
Emerged Nation, a work in three movements, expresses an exhilarating passion for the multi-layered history and diverse people who've made and continue to make New York, New York. While each section speaks a distinct language and could stand alone, laced together, the trio of dances sings a love song.
EMD's Ashley LaRosa ( in backgroundfacing us)  and Katherine Files( foreground facing us): Photo Steven Pisano
Tilted Arc revisits a work Rea-Fisher created for NYC's Department of Transportation as part of their Summer Streets event in 2017.  A response to Richard Serra's controversial, site-specific, rust-covered wall (erected in 1981 and removed by court order in 1989), the dance's inhabitants often appear to be creating walls or searching for ways around — even through — them.  At times they reach out to us from tableaus in an almost dream-like, longing fashion.  Aided by the patchwork atmosphere of light, sensitively designed by Michael Cole, one might feel as if they are looking at spirits from the past.  Each beautifully-muscled soul illustrates an individual story. Kevin Keller's evocative musical score carries us into the simultaneous struggle and elation of these individuals on their journeys.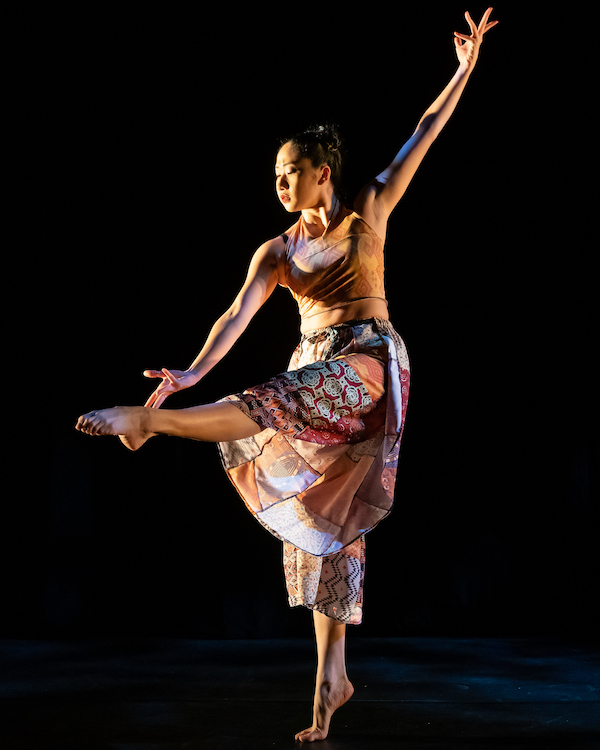 EMD's Sai Rodboon; Photo Steven Pisano
In Movement 2, First Nation and African tradition meet present-day club as powered by the phenomenal DJ, Erica Lewis-Blunt aka Twelve45. Emerged Nation's pulsing and infectious groove alert us that the party is here and now. The entire company surprises us and each other as they wind up and get down using any and all possible body parts that can move. Going and going, never holding back, their seemingly spontaneous actions electrify the air. Did I mention strobe lights are in the mix? Our challenge is to sit in our seats and try to be quiet.
EMD's Artists in Foreground facing us from L to R, Katherine Files, Jenny Hegarty Freeman, Hannah Gross: Photo Steven Pisano
The evening culminates with Kinetic Connection, an ode to this city and the dreamers who come here to be a part of it. Backed up by the sounds of everyday New York —a collection expertly put together by Keller— we meet a young couple. Cole's lighting helps us to see them in a railroad apartment, and to imagine, perhaps, that it's their first.  
EMD 's Ashley LaRosa and Tracy Dunbar; Photo Steven Pisano
A subway clangs by and Ashley LaRosa, tightly pressed against Tracy Dunbar while seated on his lap, shifts to stand. Perched atop his thighs, he supports her. It's difficult to hold on, but he's steadfast. As the rest of the dancers come to the stage, we notice their movement is also steadfast as well as encouraging and embracing. They are there for one another. This new generation has a fresh outlook.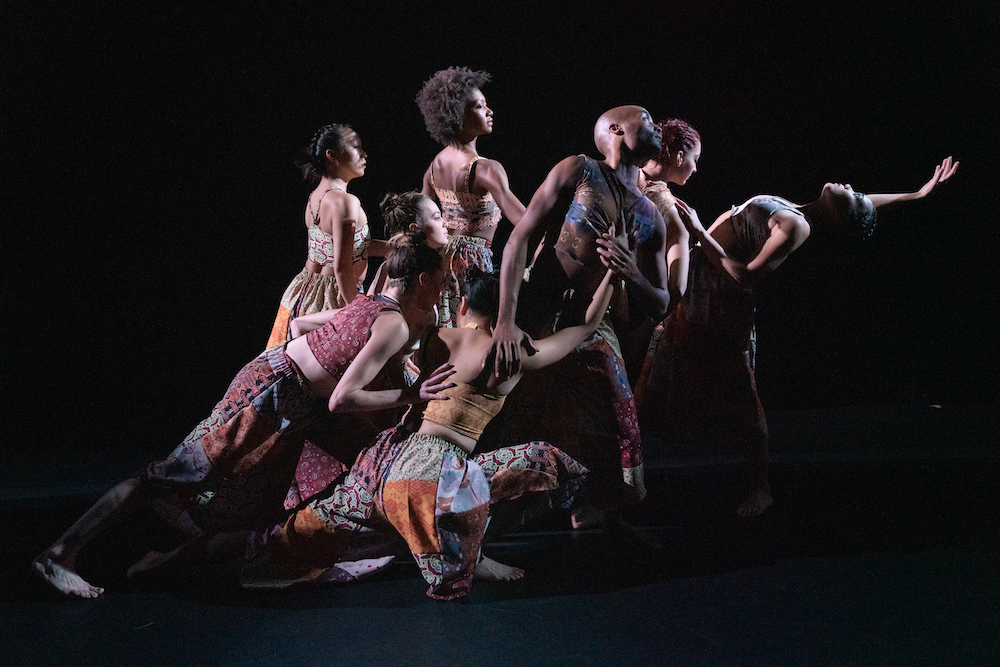 Elisa Monte Dance Company in Tiffany Rea Fisher's "Emerged Nation" ; Photo Steven Pisano
Against a gentle cacophony of city sounds —rumbling trains, conversations overheard, Grand Central Station announcements, pedestrians walking and whistling, and street musicians — the dancers flow and fly. The section ends as it began with the young woman looking out toward the future, her eyes on the prize, supported by her partner.
Determined to put the "mod" in modern dance or is it the "modern" in dance(?) Rea-Fisher not only creates, she innovates. As an extra surprise, along with the dance concert, we were treated to a free phone app to help us engage with EMD and Emerged Nation. Created by the company's Augmented Reality Designer, Inés Vogelfang, the app is amazing. We can focus on a little square from our phone, and low and behold, tiny videos emerge to tell us more about the creative process of the piece and the history of NYC.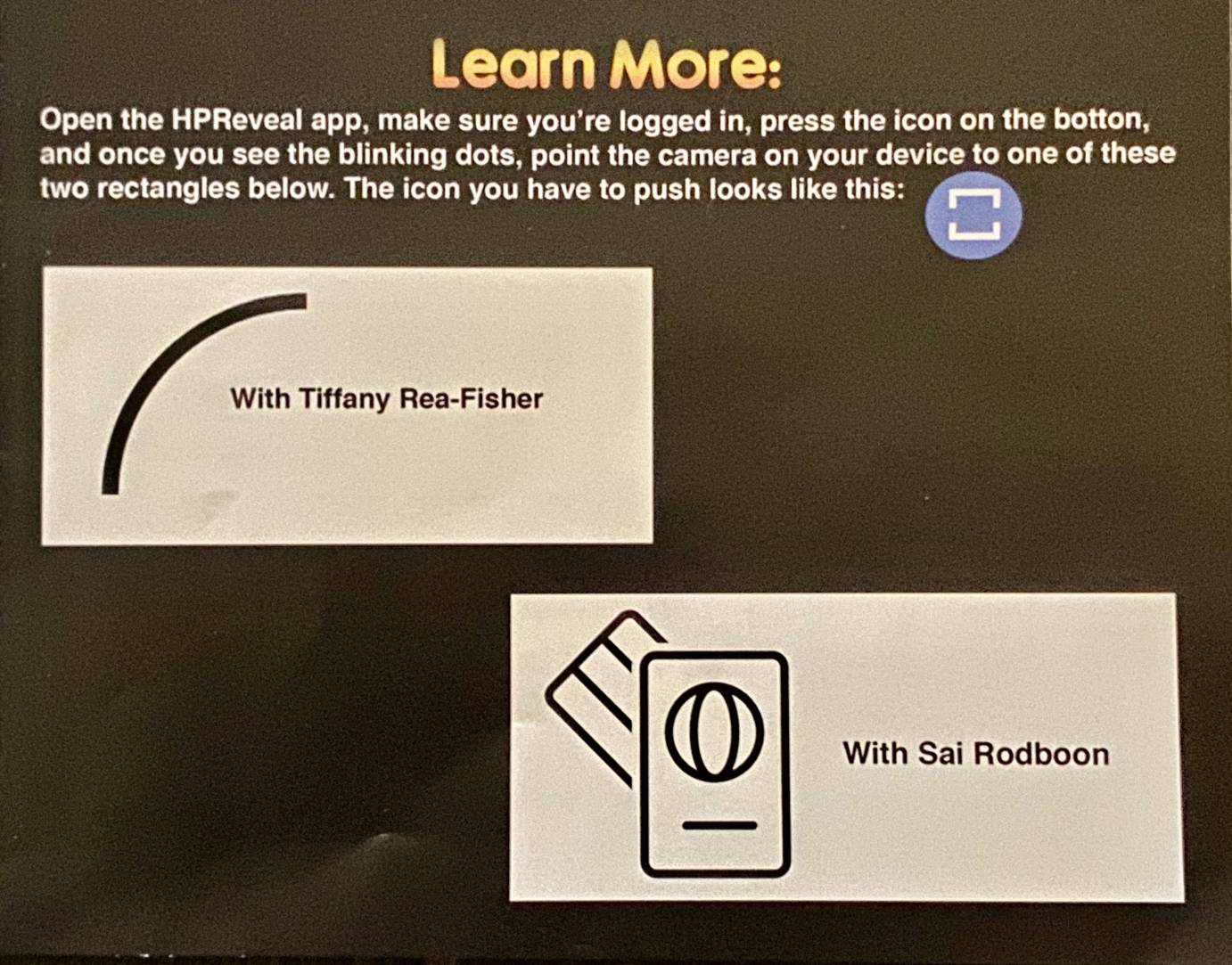 HPR Reveal App, Learn More about Elisa Monte Dance and "Emerged Nation"; Photo Christine's iPhone
Problem for me is that I am all thumbs and become completely nervous working with apps in an atmosphere charged by live performance. Instead of being able to play with the app during the show, I had to do it afterwards, when I was calmer.  One day, with Rea- Fisher's help, I'm sure I'll get it right.
---
---
The Dance Enthusiast Shares IMPRESSIONS/our brand of review, and creates conversation.
For more IMPRESSIONS, click here.
Share your #AudienceReview of performances. Write one today!
---
The Dance Enthusiast - News, Reviews, Interviews and an Open Invitation for YOU to join the Dance Conversation.