Related Features
Contribute
Your support helps us cover dance in New York City and beyond! Donate now.
IMPRESSIONS: Evelyn Joy Hoelscher's Spaces of Fontana, Ashley McQueen's Smashworks Dance Collective, and Kevin Ortega-Rojas' wandering movers
Three Emerging Choreographers Embrace Activism in Intimate Spaces
Whether commenting on hurricane recovery, resisting the current U.S. President's antics, or overcoming isolation, emerging choreographers Evelyn Joy Hoelscher, Ashley McQueen, and Kevin Ortega-Rojas, along with their talented dancers, embrace activism through their craft. These creatives tear out their hearts to address hard-hitting issues,offering a welcome reminder of dance's power to tackle more than entertainment or abstraction. They appeared at three of the city's more intimate dance spaces: Arts on Site on the Lower East Side, Center for Performance Research in Williamsburg, and the Peridance Salvatore Capezio Theater of Union Square.
---
Evelyn Joy Hoelscher's Spaces of Fontana; Photo: Jim Lafferty.
January 20 and 21, 2018
Venue: Arts On Site
HUMAN (New York City Premiere)/ Choreography: Evelyn Joy Hoelscher / Performance: Spaces of Fontana / Music: Cy Meissler
Evelyn Joy Hoelscher's HUMAN illustrates the bonds between people living through joy and bedlam. In Unfolded, Brittni Genovese, a harried den-mother, is thwarted from keeping her apartment tidy by feral roommates who gleefully undo every inch of progress she makes. Hoelscher and Madison McGain travel with sprawling high kicks and gangly limbs in counterpoint to Genovese's wildly unsuccessful cat-wrangler, pelting each other with wads of laundry. They deliver a delicious romp filled with tricky counterbalances and kooky smiles all in the service of having fun.
Thyrn Saxon performs a long solo of advanced yogic poses that flow into each other with little drama. To Yoke has no musical accompaniment except for Saxon's aspirated breaths. Though her supple body easily executes every transition thrown its way, it is difficult to invest in her stoicism.
Evelyn Joy Hoelscher's Spaces of Fontana; Photo: Jim Lafferty.
Woven Chaos features a great deal of huddling together, lifting bodies from one place to another, and slowly tumbling into formations that disperse just as they are revealed. In this dance as Etch-a-Sketch, a lovely tribute to Houston's recovery from Hurricane Harvey, impermanence and the drive to move forward are the only rules.
Hoelscher introduces Woven Chaos by announcing that its music, created by Cy Meissler, was finished days before this premiere. Given the lack of connection between what is seen and heard, that's easy to believe. Meissler's music relies on long strains of sound with little rhythmic percussive pulse to break through its bleakness. Miessler's composition, while a valid emotional response to Hurricane Harvey's devastation, lacks dramatic substance.
---
Ashley McQueen's Smashworks Dance Collective; Photo: Optik House.
February 2 and 3, 2018
Venue: Center for Performance Research
For Which It Stands (New York City Premiere) / Choreography, Sound Score, and Projection Installation: Ashley McQueen / Performance: Smashworks Dance Collective: Laurie Dèziel, Sarah Dodd, Maria Gardner, Ashley McQueen, Jesse Obremski, Ellen Sickenberger, Sarah Starkweather, Sarah Starkweather, and Jenna Rae Smith.
Backed by a sonic quilt of the current president's impossible-to-believe quips, Ashley McQueen has constructed nine zany skits that skewer this age of nonsense. If you are looking for an escape from politics, For Which It Stands is not it. That does not detract from its talent to amuse.
McQueen's powerful solos — which combine mime, slip-and-slide pratfalls, Pennywise leers, and a mini toilet-plunger to perverse effect — are as riotously funny as they are sadly acute. Sarah Starkweather's equally hilarious robotic and maniacally eager Hillary Clinton serves up blonde-bombshell "realness" complete with a line of ever-ascendant high kicks. McQueen's humor is best in a duet with her puppet master, Jesse Obremski, sporting a Vladimir Putin mask. Set to Tschaikovsky's The Nutcracker pas de deux, the pointed absurdity of a preening president rubbing up against his shirtless overlord disturbs and amuses, particularly McQueen's show of craving approval in the face of Obremski's plastic mask.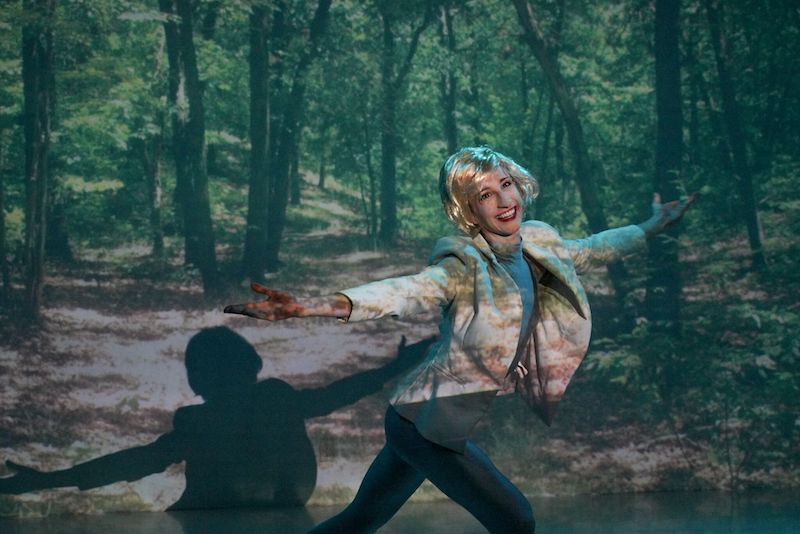 Ashley McQueen's Smashworks Dance Collective; Photo: Stephen Delas Heras.
There is a limit to this humor. If you are not a member of the choir, McQueen's devastating lampoon may leave you seething. If you are a true believer, do you really want to relive the endless nasty words of this unqualified usurper? Though brilliantly produced and effective as topical commentary, For Which It Stands lacks the poetry of timeless art.
One wishes more time had been given to her deconstruction of the presidency as an institution without the assault of this one's insults. Despite this point, a sigh of relief runs through the audience as Smashwork's dancers appear clothed in American flags while President Barack Obama's stirring tribute to diversity is heard. Watching the company sway from one embrace to another reminds us of a better time and proves that the most efficient way to demolish a monster is to refuse him space in your mind.
---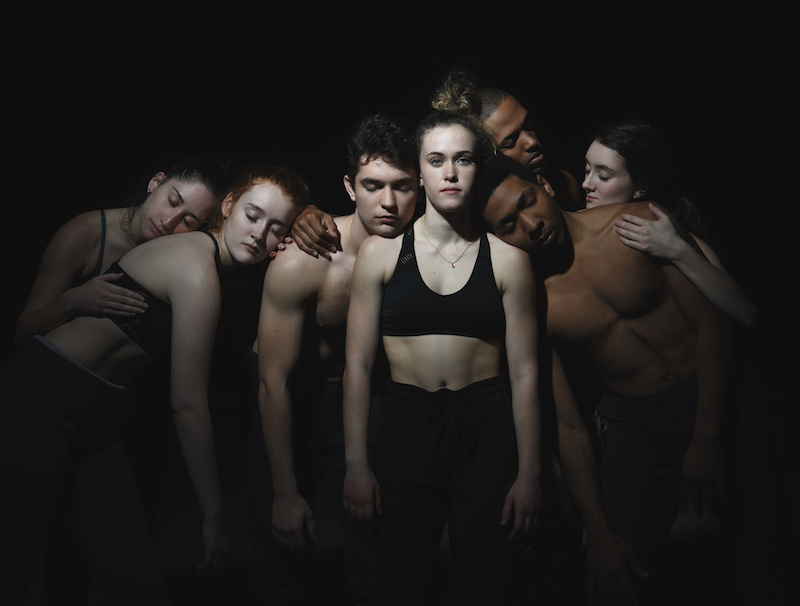 Kevin Ortega-Rojas' wandering movers; Photo: Nir Arieli.
February 3, 2018
Venue: The Salvatore Capezio Theater
broken open (New York City Premiere) / Choreography: Kevin Ortega-Rojas / Performance: wandering movers featuring: Alex Cavaliere, Alexandra Schmidt, Darnell Williams, Edie Dunn, Grant Towers, Kristen Santos, Marquise Hitchcock, Mathilde Guerrero, and Olivia Greco / Music: Mvnners, Gordi, and Moses Sumney
Trendy pop music that approximates youthful angst makes for a strangely compelling backdrop to Kevin Ortega-Rojas' broken open. His fusion of contemporary jazz, geometric patterns, and idiosyncratic gestures tenderly encapsulates the feeling of isolation.
A burst of bodies speed past each other. In the mix of this traffic there are leaps, turns, flips, and slick solos that fold back into the fray. Ortega-Rojas skillfully arranges the frantic scene with intersecting lines that threaten to collide but break off into safety at the last moment. At times the dancers form a line that rushes the audience as if they were the herd from Pamplona's Running of the Bulls. They reverse course, scatter, and meld into a mob of splayed ribs alternating with sharp contractions. It is as if they are trying to wrench themselves open.
Alexandra Schmidt performs with an "I'm too cool for school" pout. Her sunken shoulders and soaring extensions convey otherwise with ambivalence. This flashy solo implores us to notice her even as her downcast eyes betray self-hatred. She is replaced by Grant Towers, into whom each member of the company, allides with shoves and punches. These kids are far from alright. Ortega-Rojas' response puts them through 20 minutes of nonstop dancing until they (and we) are exhausted of all feelings. Having survived the trenches, with nothing left to give, these formerly dejected individuals band together. It's a solid solution to "overcoming hatred". If only it were that simple.
Addressing the problems of the world in a highly personal manner can look naive, but it also rebuts the claim that this current generation stands for nothing. These three choreographers are clear with what ails them and how to overcome it. One wonders how their output would look if it were more open-ended.
---
The Dance Enthusiast Shares IMPRESSIONS/ our brand of review and Creates Conversation.
For more IMPRESSIONS, click here.
Share your #AudienceReview of performances for a chance to win a prize.