Related Features
Contribute
Your support helps us cover dance in New York City and beyond! Donate now.
IMPRESSIONS: The 20th Edition of the Fall for Dance Festival at New York City Center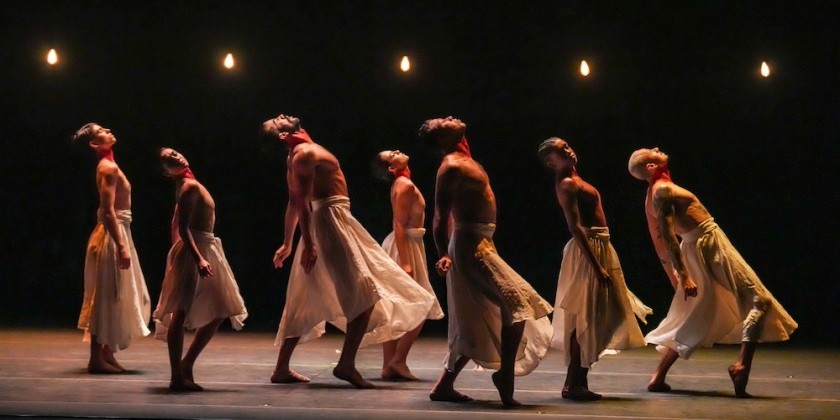 The Best Welcome to NYC Fall's Dance Season
New York City Center's Fall for Dance Festival
The 20th Edition 
Program Five and Season Highlights
September 27 - October 8, 2023
---
The 20th edition of the beloved New York City Center's Fall for Dance Festival ended on a high note. Tried and true programming often combines a work with a foreign cultural background, a known repertory piece from the ballet or modern dance canon, and a dance new (or at least unknown) to our discerning New York audiences.

This year's festival offered five different programs, ten performances, and fifteen works, celebrating twenty years of low-cost, accessible programming. Full houses underscored that the concept works.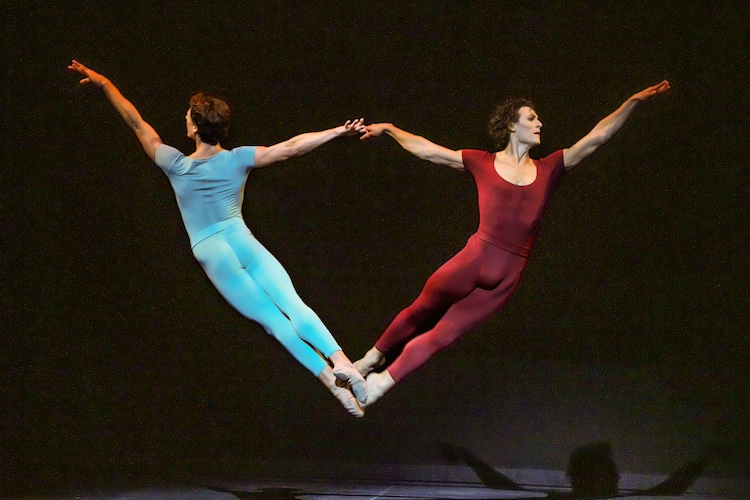 Germain Louvet and Hugo Marchand; photo by Steven Pisano
Germain Louvet and Hugo Marchand, both étoiles of the Paris Opera Ballet, formed the heart of the closing program in choreographer Maurice Béjart's 1971 male pas de deux Songs of a Wayfarer to music by Gustav Mahler. Mahler penned the lyrics himself based on the German folk poetry collection Des Knaben Wunderhorn.  The four songs describe grief over losing one's beloved to another, the beauty of the world as a possible source of solace (grief wins), the pain like a glowing knife in one's chest, and finally the resolve that only time and rest under a linden tree can bestow. All is going to be fine: love and sorrow, world and dream. Louvet (in blue) is the story's protagonist. He sculpts the air with his leg extensions, and dances and suffers beautifully. He reaches in vain; and I am deeply touched by his inner journey of despair. His composure and purity of motion elevates the text's melodrama and I am left to wonder what Marchand (in red) represents. Is he Louvet's shadow, the linden tree, time, fate, his friend, or his father? (The latter figure recurs in much of Béjart's work.) One does not have to come to a finite conclusion. Dance leaves room to interpret; and Marchand gives Louvet an anchor and the strength to move on. Marchand's quiet solidity roots Louvet and the work itself. Béjart broke boundaries with the intimacy of this duet he created for Paolo Bortoluzzi and Rudolph Nureyev. Former Béjart ballerina Maina Gielgud staged the work for the two French dancers as she did when the work was last performed in New York by Joseph Gordon and David Hallberg at The Joyce in 2019.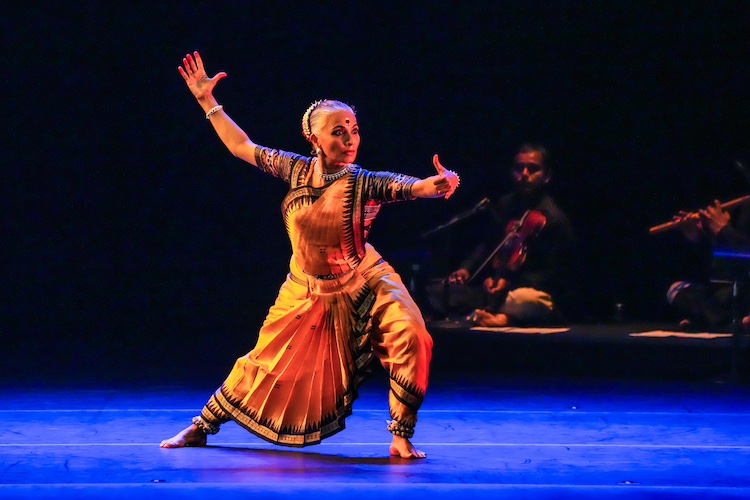 Bijayini Satpathy; photo by Steven Pisano
The 1997 solo SITĀHARAN by the Indian Odissi choreographer Guru Kelucharan Mohapatra, reimagined by Protima Gauri Bedi, opens this last program showcasing the dance artist Bijayini Satpathy and four musicians (two of them reportedly brothers of the dancer). Satpathy inhabits different characters – some human, some animal - throughout the long solo, and though her  story might not be clear to me, I am drawn in by her commitment. (Read an article about Satpathy by my  Dance Enthusiast colleague Robert Johnson here.)
Sergio Bernal; photo by Massimo Danza
On Program Two (presented September 29 and 30), the Spanish dancer Sergio Bernal appeared with three musicians and two dancers from his company. As a special treat, he included a duet with American Ballet Theatre principal Herman Cornejo. Cornejo's relaxed virtuosity juxtaposed Bernal's upright and rightfully proud stance. Both are performers of the highest caliber.
Limón Dance Company; photo by Christopher Duggan
In Program Four (October 5 and 6) the Limón Dance Company shared Suite from A Choreographic Offering by its founder, José Limón, to music by Bach. In this dance, premiered in 1964, Limón's spatial exploration, the use of canon as well as traveling groups in the air vs. on the ground show a richness of imagination that has since been rarely matched. Choreographers take note: dancers are interesting to look at from all angles not just from the front. The company looks to be in excellent shape and the dancers exude goodness. I ask myself, however, if their expression of individual joy interferes with Limón's ingenious choreographic response to the equally heavenly music. To me the work proves timeless. That I ponder whether the candy-colored unitards are right for the spiritual nature of the dance just confirms that it engages me like hardly any other work I have seen in a long time.
Kaleo Trinidad's Kaleoolakaikahikinaokalā-Hawaiki; photo by ChristopherDuggan
Program Three  (October 3 and 4) even included two world premieres. One of them was probably the most successful contribution to the whole festival. Hawaiki (the Homeland) featured nineteen dancers from the troupe KALEOOLAKAIKAHIKINAOKALĀ under the artistic direction of Kaleo Trinidad. Trinidad was also responsible for the costume design and live accompaniment and had a hand (together with others) in the choreography. The work is one of the most profound there is. A tribal celebration by an all-male cast, the movement might not be virtuosic, but instead mesmerizes by its weighted purpose. One leg is firmly placed under the dancer's torso while the other gestures outward, accentuates a rhythm and is brought back. Travel is gradual; formations don't shift suddenly, but in due time they do just that. Because of the dancing's repetitive nature, one feels like one could participate in this communal ritual. One just has to have the guts to wear a leaf-like wrap around the groin, and be as comfortable as the rest of the cast. It sure looks like fun; and a well-deserved standing ovation greets the ensemble at the curtain call.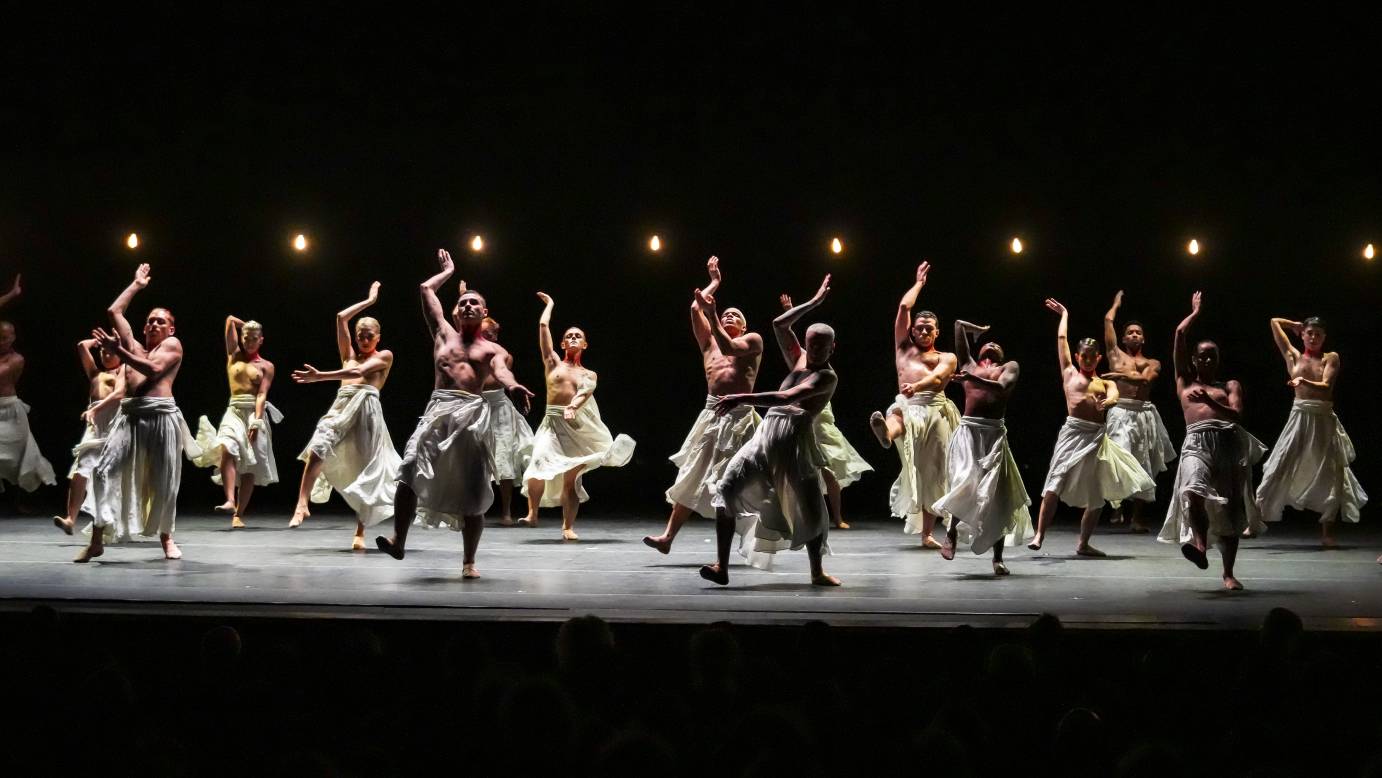 Grupo Corpo; photo by Steven Pisano
The festival ends with another big ensemble work. The Brazilian company Grupo Corpo brings Rodrigo Pederneiras's 2017 work Gira for twenty dancers. Artistic director Paulo Pederneiras is responsible for the scenery design (sic), which incorporates a chain of lights around the space that give the stage a somewhat homemade and inviting comfiness. The high-octane work thrills and makes me twitch in my seat. However, this is a community ritual of a different kind. Dancers take to the air and embody free spirits, who connect by communicating complex rhythmic patterns with and in every part of their body. Controlled glides, sudden kicks, hovering suspensions, and lightning-fast locomotion across the entire space electrify the audience with physical excitement. Born where the rites of "Umbanda," an Afro-Brazilian folk religion, are celebrated, the work is inspired by the gestures used in these ceremonies, but apparently does not represent them. Original music by Metá Metá served as additional inspiration for this major work. The lighting design by Paulo and Gabriel Pederneiras cradles the dancers' nude upper bodies, and makes the white raw-linen skirts (by Freusa Zechmeister) appear ghostly at times. I did not want this transfixing ritual to end, and thankfully it did not for a long time. While some audience members on the way out of the theater commented on the work's length, I was grateful that it kept its celebratory and tribal energy for the duration of it all. What a triumphant finale to our hometown dance festival!
---
The Dance Enthusiast Shares IMPRESSIONS/our brand of review, and creates conversation.
For more IMPRESSIONS, click here.
Share your #AudienceReview of performances. Write one today!
---
The Dance Enthusiast - News, Reviews, Interviews and an Open Invitation for YOU to join the Dance Conversation.