IMPRESSIONS: Fast Forward at Dixon Place Featuring Carson Reiners & Artists and Janice Rosario & Company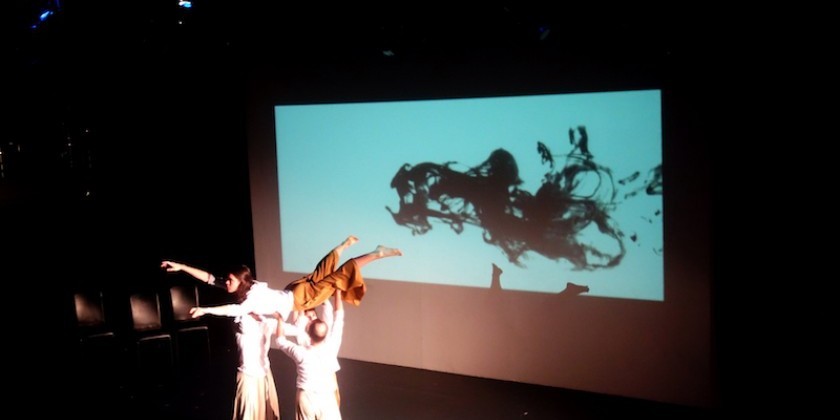 September 19, 2017
The Call of the Void
Choreography: Carson Reiners
Performance: Zachary Denison, Mistral Hay, Elizabeth Hepp, and Julie Seal
Music: Boston Camerata, Gavin Bryars, George Baker Selection, Link Wray & His Men, Matmos
Landscape
Choreography: Janice Rosario / Performance: Spencer Grossman, Xavier Townsend, Sara Rodriguez, and Brionna Williams
Music: Max Richter, Philip Glass, Alexandre Desplat, and Vivaldi / Projections: Zander Project
---
It's tough being an emerging choreographer. Competition is fierce while resources are scarce. Festivals provide the bulk of opportunities, but they have strict time limits (eight to twelve minutes is the norm), which limits creative output. Capital comes from dipping into one's bank account or campaigning on crowd-funding sites. Even getting one's dancers into a studio is an accomplishment due to the part-time, hyphenated nature of millennial employment. Critical acclaim feels so far away that it might as well be a mirage.
Fast Forward at Dixon Place offers a much-needed corrective to, at least, one issue facing dance makers — the chance to showcase a longer piece. Curated by Sangeeta Yesley, each program centers on a theme that two choreographers unpack over twenty-five to thirty-five minutes. In this iteration, the theme is awareness: what's in front of you, around you, inside of you.
Choreographers Carson Reiners and Janice Rosario differ in their construal of awareness — absence for the former, presence for the latter. Yet, for both, it feels as if they've thrown everything but the kitchen sink into their pieces, which are overstuffed with vigorous movement, abstract video projections, and florid music associated with other, better-known works.
Reiners' dance-theater The Call of the Void contemplates people who, with no reason to die, want to jump off a cliff, onto the train tracks, anyplace where almost certain death awaits. Because, as one performer says, "the urge to jump affirms the urge to live." Fair enough, but the work's content does little to reconcile this sentiment.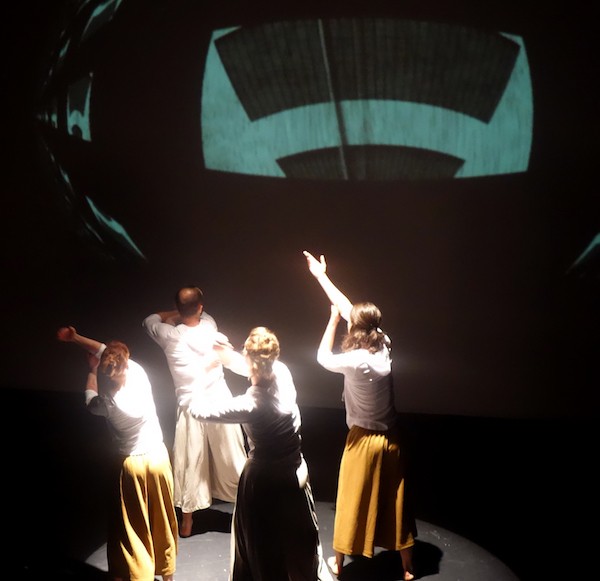 Carson Reiners & Artists; Photo: Sangeeta Ghosh Yesley
Reading from binders, the cast asserts their desire to fly with literalities like, "If a human could be born with wings, that would be me." Occasionally, Mistral Hay sails through the air, lifted aloft by her fellow performers, a cape of sapphire streaming behind her. She looks out, regal and assured, hardly the face of someone tempted by death.
Reiners' choreography is firmly grounded. Gestural sequences of swipes, wipes, and swirls segue into gravity-affirming rolls and low-slung leaps. The dancers execute it with clean athleticism, but when phrases cling this low to the earth, it's impossible to discern an emptiness that provokes the need to fall or to fly.
Thumping beats pasted over Gavin Bryars' Jesus' Blood Never Failed Me (perhaps, most famously, associated with William Forsythe's Quintett) and a rambling video projection of clouds and the alphabet feel more distracting than enhancing. If Reiners stripped away the superfluity, what would remain is the kind of choreography that performers like doing and audiences like watching: sturdy, energetic, and entertaining enough on its own.
Janice Rosario's Landscape for four dancers realizes the familiar urban panorama of strivers and survivors. In a city, space is at a premium, and time is of the essence. In the moment it takes for a stoplight to change from red to green, someone faster and hungrier is already trampling your dreams.
Rosario adds haute couture touches to the creamy swell of phrases that float above and skim across the floor. Feet veer inward, upper backs hunch, and hips cock here and there. Among the fluid beauty, these awkward juts suggest self-protection, self-preparation.
Janice Rosario & Company; Photo: Sangeeta Ghosh Yesley
In a nod to the thematic material, the quartet collides into one another and mingles with each other. They stretch in wide-legged planks, the weight of their ambitions balanced between two palms and the tips of their toes. Standing, they shift from foot to foot, like boxers anticipating a punch. Their anxiety is palpable, their worry credible.
The best moments come from personal exhibitions of assertion and alienation. Xavier Townsend scrapes the lights with a stag leap while Brionna Williams says everything with a delicate roll of her shoulders. Spencer Grossman sweeps through mettlesome twists of the legs with nonchalance; Sara Rodriguez imprints each action with legibility and purpose.
The music is a mix of Vivaldi, Max Richter's reinterpretation of the former (recently used in Lila York's Continuum), and other works whose turgid orchestration exaggerates what is plenty compelling on its own. A black-and-white video of snowy dots and a god's eye view of New York is mostly unnoticeable.
Landscape dodges being yet another meditation on the dystopia of modern life by Rosario's use of the gaze. The dancers' foci stay alert, watchful, studying their future. Only they know how it turns out.
---
The Dance Enthusiast Shares IMPRESSIONS / our brand of review and Creates Conversation.
Check out our other IMPRESSIONS here, including a review that features Janice Rosario & Company
Share your #AudienceReview of this show or others for a chance to win a prize.