Impressions of "Andy Warhol's 15 (Color Me, Warhol)"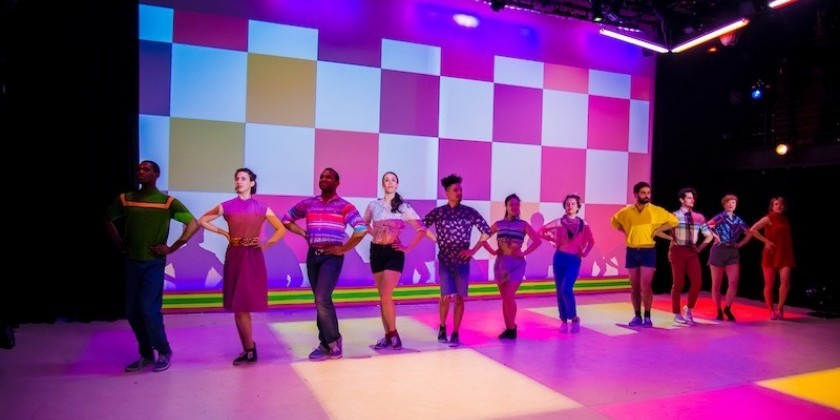 Performed by THE FEATH3R THEORY
Choreography, Writing & Co-Direction: Raja Feather Kelly
Videography, Editing & Co-Direction: Laura Snow
Music: Sam Crawford
Lighting Design: Tuce Yasak
Graphic Design: Erik Abbot-Mai | Boy Friday
Dancers: Yeman Brown, Amy Gernux, Beth Graczyk, John Gutierrez, Lindsay Head,
Yvonne Hernandez, Rebecca Hite Teicheira, Nik Owens, Rachel Pritzlaff, Aaron Moses Robin, Ben Wolk, and other guests
Live Music: Elaine K
---
"Because of the length of our show, we've been canceled," Raja Feather Kelly states point-blank, standing onstage among a mixture of audience members and performers at the beginning of Andy Warhol's 15 (Color Me Warhol), which THE FEATH3R THEORY company presented, April 25, at Dixon Place. Those of us in the mezzanine of the two-tiered black-box theater look on with curiosity. Kelly invites us to enjoy the sound of Elaine K as she performs a solo on guitar, supposedly in lieu of the intended performance. This cheeky mood sets us up for the lengthy, multi-layered evening.
Andy Warhol's 15 (Color Me, Warhol) enthralls us with equal parts satire, intense realism, unbounded energy, and humor. The cast of 12, including Kelly as MC, director, and at times competition judge, gives us a taste of what could have been—or rather, the lead up to what could have been. In his research, Kelly learned that Warhol mused about remaking A Chorus Line in 1987, which never came to pass. In Andy Warhol's 15, the intention, stated several times throughout the night, is to present Kelly's present-day interpretation of Warhol's version of the musical—if it had indeed been created.
Photo: epfalck
Cleverly we are not presented with a new musical, but are instead taken down a winding road of influence and inspiration for Warhol, and, in turn, Kelly. The dancers work through clear chapters of plot, movement, and text, referencing various sources. These range from the late choreographer Pina Bausch—her iconic iteration of The Rite of Spring having premiered the same year as A Chorus Line—to the pop star Miley Cyrus, who manifests in the form of silver undergarments worn in one number, and is addressed in one of three videos of a dancer dictating a letter to a celebrity.
Cued by a bell, the dancers intermittently break into "random acts of humanity" designed to maintain their well-being. While most of the group clusters excitedly center stage, one dancer runs in a circle around them, and another goes into the audience to receive directions from Kelly. The ensuing activity—singing a love song, for example—is left to chance. These moments preserve the performers' sanity, and we find the built-in kindness troubling because of its necessity.
Photo: epfalck
Andy Warhol's 15 includes movement from the realm of musical theatre, the weighted, percussive choreography of Bausch's Rite, as well as snippets of modern dance, breakdance, and so forth in a sequence of audition solos for the new musical. Irony courses heavily through the evening. The dancers overtly attempt to impress, as they "compete" for a spot in the new production. We laugh because the nature of this selection seems too ridiculous to be true, but Kelly and his company display the unbelievable reality of said audition.
All the while, we have a chance to follow one of the dancers in a more intimate way, referencing Warhol's interest in breaching the wall between celebrity and private life. Correspondence between this dancer and his sister is read aloud. Her unknowing excitement for her brother's thrilling dance career has a poignant sting, as we watch him sweeping the rehearsal space, and we later learn that he has taken his own life.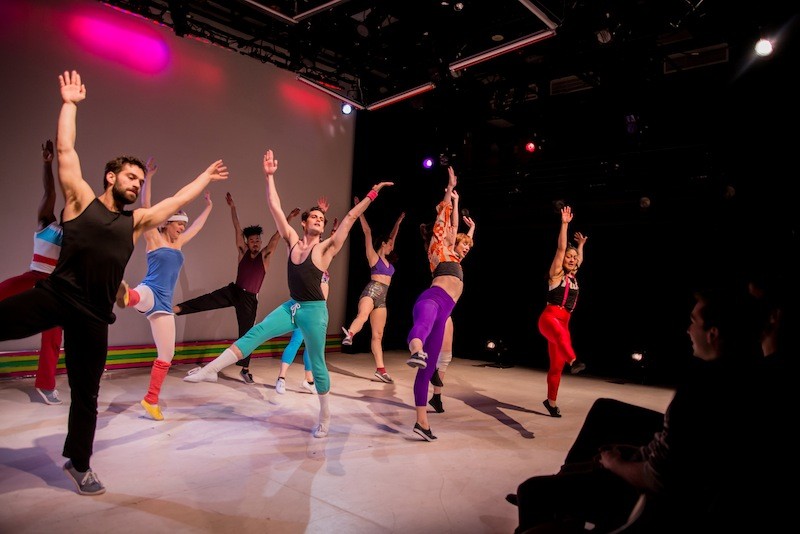 Photo: epfalck
Andy Warhol's 15 peeps into Warhol's mind, and comments on the cutthroat reality that performing artists experience. Toward the end of this nonstop ride, the voice of Elaine K returns to us, this time singing a somber version of Daft Punk's "Get Lucky" as an ode to the proverbial pursuit of success. We witness an audition, a research presentation, and a map of a musical; listening thoughtfully to the music, we consider what has transpired.