Impressions of FLEXN at Park Avenue Armory
More than Present.
March 25 – April 4, 2015
Wednesdays – Saturdays at 8:00 p.m. and Sundays at 3 p.m.
Co-directed by Reggie (Regg Roc) Gray and Peter Sellars
Performed by Ace (Franklin Dawes), Android (Martina Lauture), Banks (James Davis), Brixx (Sean Douglas), Deidra (Deidra Braz), Dre Don (Andre Redman), Droid (Rafael Burgos), Droopz (Jerrod Ulysse), Klassic (Joseph Carella), Maine (Quamaine Daniels), Nicc Fatal (Nicholas Barbot), Nyte (Ayinde Hart), Pumpkin (Sabrina Rivera), Sam I Am (Sam Estavien), Scorp (Dwight Waugh), Cal (Calvin Hunt), Shellz (Shelby Felton), Slicc (Derick Murreld), Tyme (Glendon Charles), Vypa (Khio Duncan), YG (Richard Hudson)
Music by Epic B
Lighting Design by Ben Zamora
Costume Design by Gabriel Berry
---
Even before the performance begins, FLEXN makes for an imposing presence at the Park Avenue Armory. Situated in the Armory's cavernous, 55,000 square foot space, FLEXN's 160-foot long stage looks like a runway befitting an airplane. Ben Zamora's light sculpture is situated behind the stage, consisting of many LED light sticks arranged at various angles which are manipulated throughout the work to create different shapes and moving patterns.
FLEXN is a project co-directed by dance pioneer Reggie "Regg Roc" Gray and opera and theater director Peter Sellars. The piece seeks to direct flex, a Brooklyn-born street dance that evolved from the Jamaican bruk-up style, from its individualized roots into a collaborative vehicle for social change. The program features 21 dancers from the Brooklyn neighborhoods where flex began.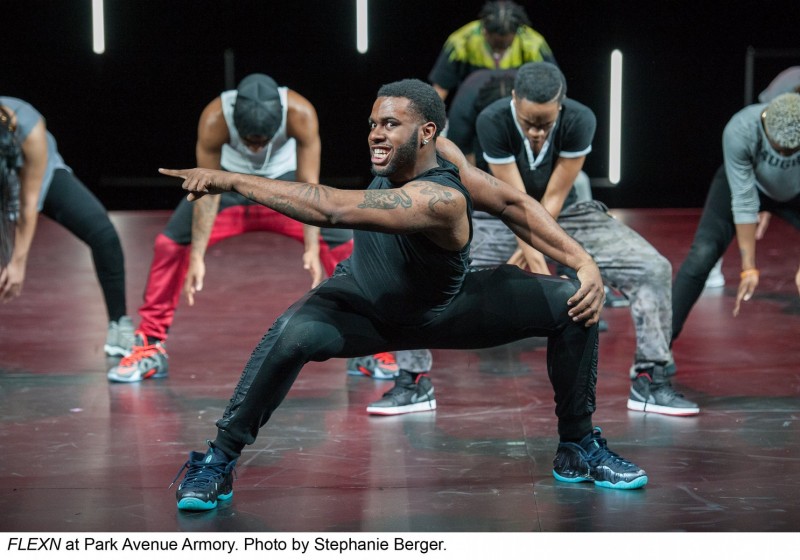 In addition to live performances, FLEXN brings two installations to the Armory, one by photographer Richard Ross and another by multimedia artist Jason Akira Somma. Each evening also begins with a panel discussion. On Friday, March 27, the topic was "Reforming Rikers." Panelists included Mary E. Buser, Former Assistant Chief of Mental Health in the Rikers solitary confinement unit, Sister Marion Defeis, a former Rikers Chaplain, Isamel Nazario, a case worker from the Fortune Society, and Jennifer J. Parish of the Urban Justice Center's Mental Health Project. Sellars and Gray moderated the discussion.
Sellars opened up the talk by explaining that FLEXN rehearsals began in the summer of 2014, when the nation was reeling from the deaths of Michael Brown and Eric Garner. The panelists, after an impassioned discussion of the desperate need for reform in our prison system, ended by imploring audience members to think of those serving time in prison as human beings. The most striking impression left by the talk was the fact that this simple proposition is so radical.
In the evening's presentation, FLEXN addresses  issues of police brutality and criminal justice reform head on. There are scenes of police shootings, courtrooms, and prison. This highly literal structure doesn't always serve the dance, but it hardly matters because watching these performers is such a treat. They are more than present, their verve and personality spills out in every moment. The massive program book's "Flexapedia" names the movements we see on stage: bone-breaking, hat tricks, get-low, gliding, connecting. Every movement is as focused and action-packed as these words suggest.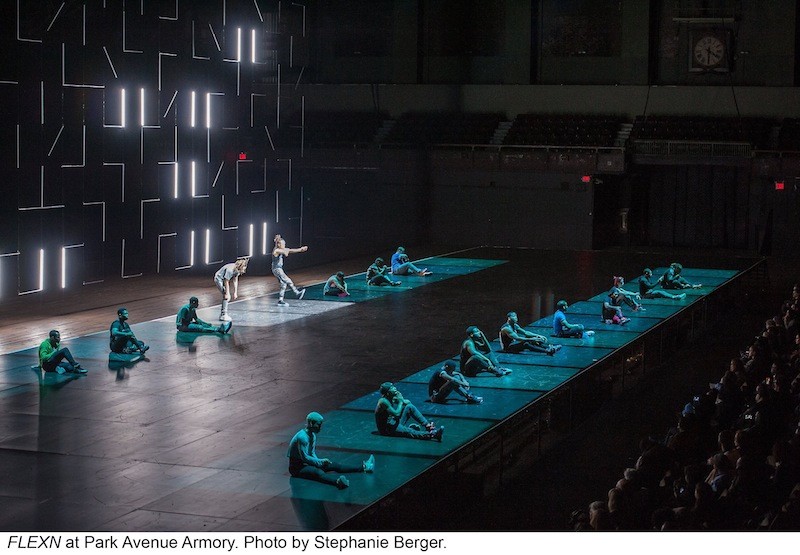 No two dancers' version of flex is exactly the same, and some of the show's best moments are when this originality is amplified. A prison scene, in which the dancers perform a series of solos while separated from one another in cells of light, is such a moment. But their ability to work and improvise together is also remarkable. At the end of the performance, when the atmosphere turns from somber to dance party and the dancers take turns freestyling, several impromptu collaborations pop up. This concluding scene is one of the highlights of FLEXN – it is spontaneous, heartfelt, and full of captivating precision and jaw-dropping bodily contortions. In this moment, the dancers' energy swells and fills the huge performance space. They are impossible to contain.