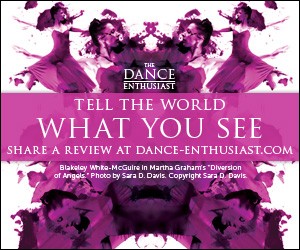 Related Features
Impressions of: FLICfest 2015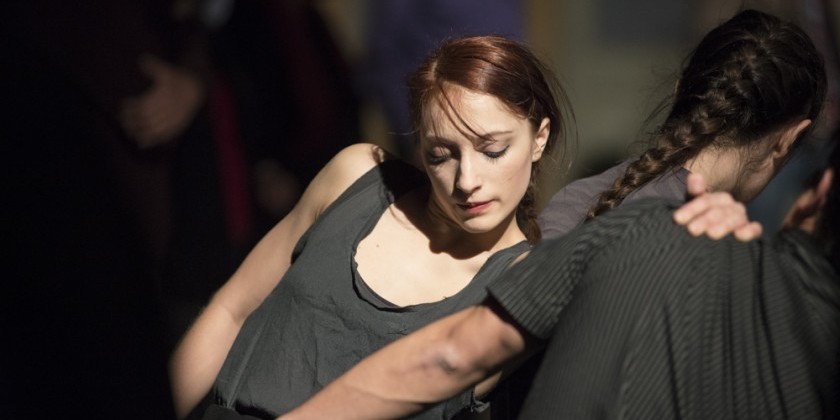 Mana Hashimoto and Zullo/RawMovement
Presented by The Irondale Center
Thursday, January 29th and 730pm and 9pm
Zullo/RawMovement's The Architecture of Proximity
Movement Architecture: John J Zullo and performers
Performers: Jake Deibert, Bong Dizon, Tracy Dunbar, Jillian Sawyer, Audrey Rachelle Stanley and "Guest Performers" Tushrik Fredericks, Liz Little, Nicole Loeffler-Gladstone, Lillian Stamey and Kat Sullivan
Lighting: John J. Zullo
Sound Design: David Engelhard
Mana Hashimoto's Stories of Blind-Light, Shadow and Wind
Choreography and performance: Mana Hashimoto
Lighting: Carrie Wood
Sound Design: Omar Zubair
---
While your typical NYC dance festival often tries to cram as many "excerpts" as possible into two hours, FLICfest gives choreographers the unique opportunity to pursue deeper investigations by producing a full-length work. On January 29, Zullo/RawMovement's latest interactive exploration is set next to a provocative solo by blind dancer and choreographer Mana Hashimoto. These works both contrast and inform one another.
Zullo/RawMovement's Architecture of Proximity begins the moment we enter the Irondale's expansive performance space. With towering ceilings, intricate stained glass windows, and a three-sided balcony, the room buzzes with the presence of something beyond human. We arrive from the balcony, and when we gaze down onto the performance arena, we see an obstacle course of sorts. A black raised platform, a flat white square surrounded on all sides by low white benches, and 2 sets of low clotheslines (as if for midgets to dry their clothes) dot the marley.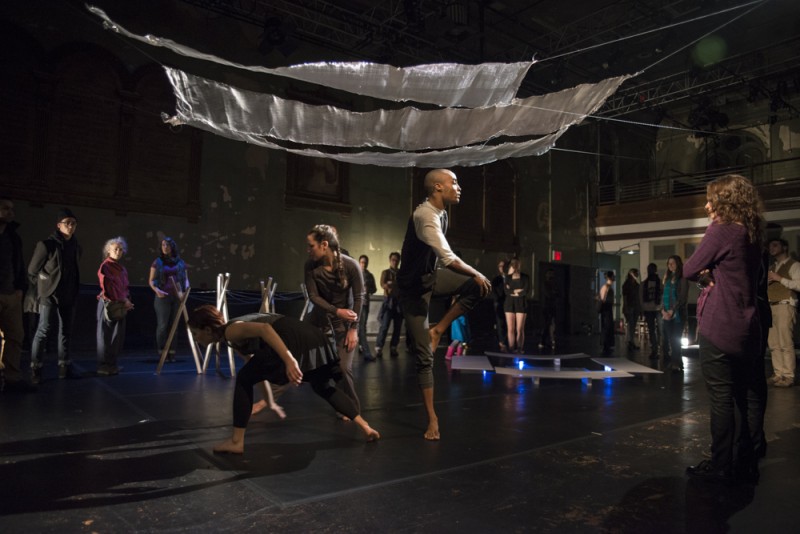 Zullo/RawMovement's Architecture of Proximity. Photo: Lucas Chilczuk
As the performers guide us into the space, the atmosphere is gallery-opening-casual; low conversations purr as we wander and observe. Slowly the talking fades: Something is happening.
Work lights beaming blinding rays line the outskirts of the space, and this stark contrast of light and dark produces fluttering shadows that double the room's activity. David Engelhard's score tempers this constant commotion; sounding vaguely futuristic, the white noise of an airplane flying overhead is peppered with the rhythmical slamming of a huge metal door. From the echoing, whispered dialogue exchanged by the dancers, I make out the word "space," a reminder of the work's essential theme.
Throughout the piece, the audience serves as an active, morphing obstacle course. Our arbitrary wandering and shuffling creates pockets of activity. The perpetual transformation of the spatial landscape feels fluid and meditative, like watching waves mold a sand structure. While the dancing appears choreographed, spontaneity emerges in timing and spatial orientation. In one striking example, a tall man, his eyes closed, navigates through the negative space created by a clump of dancers. He is guided and then eventually lifted in the air by this human support net.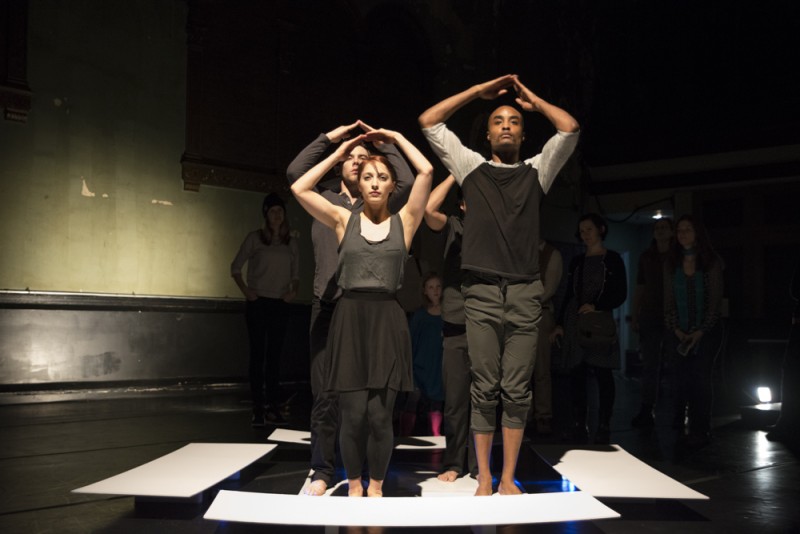 Zullo/RawMovement's Architecture of Proximity. Photo: Lucas Chilczuk
Murmurs of surprise ripple through the audience when individuals, initially tagged as audience members, remove their shoes to join the performance. Is Zullo's suggesting audience and performer are one and the same? If so, it's a pointed reminder that we are all essential to the work.
Toward the end, all the dancers line up against a long piece of rope stationed at the front of the performance arena. Like a knife wiping crumbs off of a table, they guide this rope across the room, confining us to smaller and smaller areas. While once we had the freedom to navigate as we wished, now we are herded — forced — together as the dancers wrangle and manipulate both the spatial architecture and us.
Between the sound of movement and the warmth of bodies, I could close my eyes and the dance would still be happening in the space underneath my eyelids. Zullo awakens all of the senses through the experiential nature of Architecture of Proximity.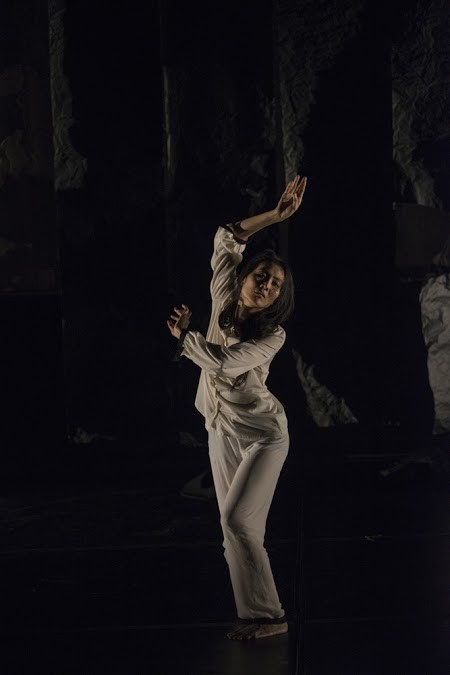 Mana Hashimoto's Stories of Blind-Light, Shadow and Wind. Photo: Lucas Chilczuk
While Zullo's work sculpts the Irondale's space into bubbles of activity, Mana Hashimoto calls attention to its cavernous emptiness. When she sets a hesitant foot forward, we are struck by how small she is in contrast with the grand room. "Hello?" she calls out into the dark abyss, her walking cane scanning the ground for obstacles. It strikes me that a blind person entering this space would have no idea how vast it is.
Four black strips of paper hang from the back wall, almost at ceiling height: they rustle when she taps them with her stick. Hashimoto writhes underneath them as if they could envelop her in their darkness.
Stories of Blind-Light, Shadow and Wind celebrates the richness she has developed in other senses. She touches her body with the sensuality of someone whose eyes are in her hands. As a performer, her almost superhuman body awareness translates strikingly to an audience. Although she can't make eye contact in the traditional sense, when she looks at us, there is something mesmerizing about the way her eyes gaze inward.
Mana Hashimoto's Stories of Blind-Light, Shadow and Wind. Photo: Lucas Chilczuk
"First red and green became dark and unrecognizable," she confides to us as the space darkens. As she continues to name colors, more lights click off. Eventually the space is black, and a sense of peace and calm pervades. As she stomps and sings and claps rhythmically in the darkness, her dance lives inside of our imaginations.
Hashimoto removes her dark top and swaths herself in white cloth, wrapping it around her body and face as though attempting to envelop herself in light. She dons a white shirt and pants, and as she stands to face us, a metamorphosis has taken place. The cathartic sharing of her story has imbued her with courage and acceptance, and she stands before us as a blank canvas, ready for the next step of her journey.
While Architecture of Proximity explores a physical transformation of external space, Stories of Blind-Light, Shadow and Wind leads us through an internal transformation. Both works go beyond the visual to provide a full sensory experience; we leave the evening feeling as though we were an essential part of the performance, not just as witnesses, but also as participants.