Related Features
Contribute
Your support helps us cover dance in New York City and beyond! Donate now.
IMPRESSIONS: Garth Fagan Dance at The Joyce Theater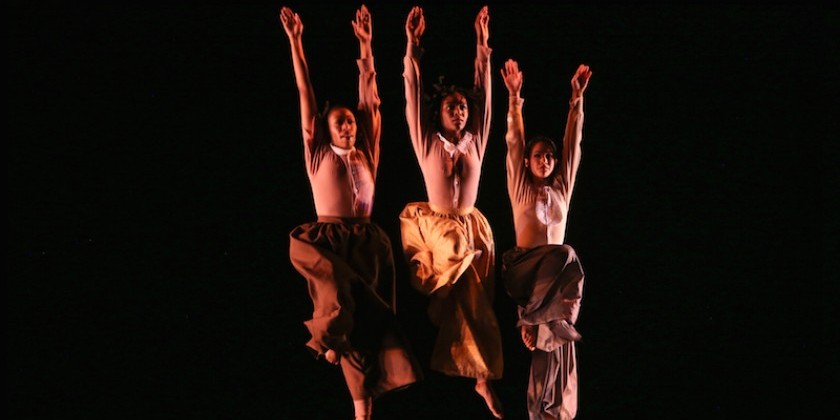 November 2, 2018
Choreography: Garth Fagan, Norwood Pennewell
Dancers: Justus Alicea, Andrew David, Davente Gilreath, Sarah Herbert, Adrienne B. Hodge, Steve Humphrey, J'Royce Jata, Vitolio Jeune, Anna Lee, Rishell Maxwell, Norwood Pennewell, Wynton Rice, Natalie Rogers, Guy Thorne, Le'Tiger Walker
Pictured above: Adriene B. Hodge, Rishell Maxwell, and Anna Lee (l-r) in Garth Fagan's The North Star; Photo: Julie Lemberger
---
What do Alvin Ailey, Pearl Primus, and Martha Graham have in common?
The answer is Garth Fagan, the Jamaican-born choreographer who was trained by these dance legends. Now celebrating 48 years as the director of his eponymous, acclaimed company, he continues to pass his embodied knowledge to the next generation of dancers. To watch his company is to watch history come alive.  
His style recollects the early modern pioneers: angular, weighted, deliberately flaunting effort and exertion. While this vocabulary can feel limited and dated, it showcases the strength, technique, and expressive power of his company some of whom have been dancing with Fagan for decades.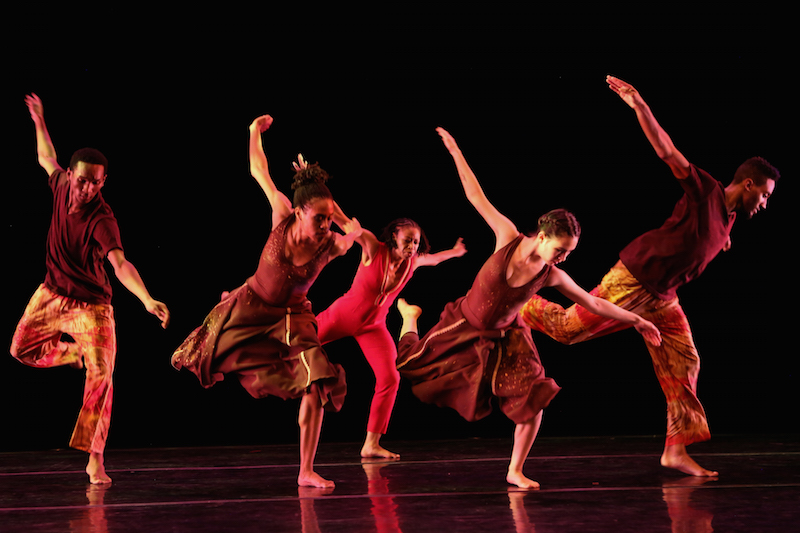 Garth Fagan Dance in Norwood Pennewell's Distant Kin; Photo: Julie Lemberger
Natalie Rogers, who joined the company in 1989, steps on stage alone at the beginning of Fagan's Estrogen/Genius. She walks proud and tall, every few feet stumbling under a hidden weight before rising again. She strikes the air and guards her body from unseen oppressors with the intensity of a knight in battle. Fagan juxtaposes these strong moments with softness and vulnerability. At one point, Rogers scoots backward as if she is falling, looking like a frightened little girl.
Following are solos danced by Adriene B. Hodge, Sarah Herbert, Rishell Maxwell, and Anna Lee. Each references and expands upon Rogers' movements. One gesture, repeated by all the women, involves covering their crotch with one hand while pushing the other out as if holding someone back. In moments of unison, they assist each other in balances, their physical contact warm and supportive. Fagan indicates in the program notes that the piece is a protest against "Harvey and his cohorts, who without conscience, practice and promote molestation of our Mothers, Sisters, and Daughters." When men transgress, women must help each other.
The limited vocabulary can make the pieces blur together although Mudan 175/39 stands out for its architectural clarity. It opens with an explosive solo for Guy Thorne who runs, leaps, and unexpectedly balances on one leg. These motifs are then elaborated on with new details. Jumps into arabesque with one arm flying up loosely repeat while turns whirl, and a passage scuttles across the floor.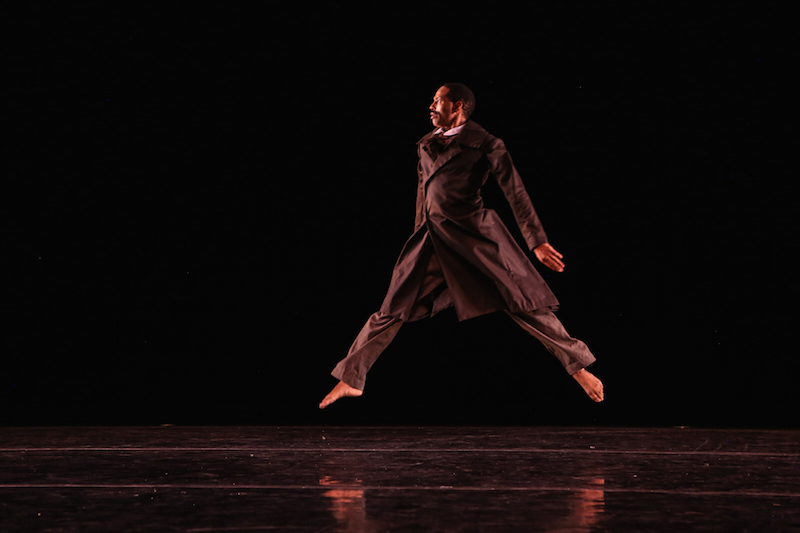 Norwood Pennewell in Garth Fagan's The North Star; Photo: Julie Lemberger
Four men in tattered long johns striped with blood open The North Star, a world premiere celebrating the life of Frederick Douglass. With bound, frantic movements, they run from unseen oppressors and enclose themselves in protective postures. Proceeding sections highlight a duet between a younger and a more mature Douglass while another features the women who influenced his life. In the final section, a large statue of Douglass appears upstage as the dancers perform an upbeat dance, gesturing to the statue and then back at the audience. This seems a trite and superficial homage to someone Fagan clearly respects.
Distant Kin, a world premiere choreographed by Norwood Pennewell, is hypnotic and primal with influences drawn from African dance, ballet, and modern dance. Fast and daring sequences are interrupted by slow and fluid movements — an undulating torso or an earthy chassé. Sharp turns end in an abrupt balance. The driving pulse of the music and the circularity of the movement make me want to join the revelry where dance's past and future meet in the present.
---
The Dance Enthusiast Shares IMPRESSIONS/ our brand of review and Creates Conversation.
For more IMPRESSIONS, click here.
Share your #AudienceReview of performances for a chance to win a prize.