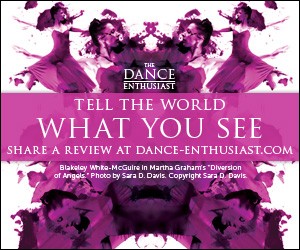 Related Features

IMPRESSIONS: Heidi Latsky Dance's "On Display Global" in Honor of the United Nations' International Day of Persons with Disabilities
Performance: Heidi Latsky Dance
Zoom Livestream
December 3, 2020
---
Do not stare. It's a rule that's been drilled into us since we were children, and it's one most of us continue to follow.   
Yet, since 2015, Heidi Latsky Dance's On Display has created safe spaces where people can stare at each other without having to be discreet about it. Through human sculpture courts inhabited by a range of bodies, HLD expands what inclusion looks like in a diverse world. Disabled and non-disabled performers of varying ages, sizes, and races form tableaux that accentuate each individual's unique attributes while highlighting their equal roles. Underscoring its importance in the realm of human experience, On Display has occupied more than 250 public and private spaces and has featured as many as 650 performers in a single installation.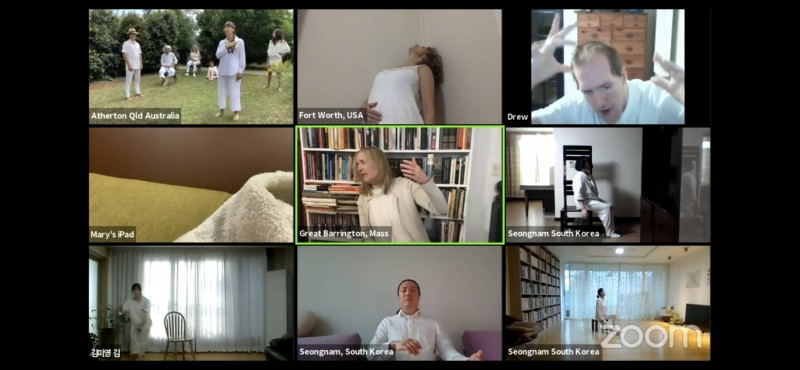 Heidi Latsky's On Display Global; screengrab from Zoom livestream
For the 6th annual performance, On Display Global honored the United Nations' International Day of Persons with Disabilities in its first-ever 24-hour livestream. Hundreds of individuals across the world came together in a living sculpture garden that normally unfolds at dozens of sites around the globe. The symbolism is unmistakable and the timing crucial, demonstrating unity in a time of unrest. A global pandemic has forced the world into isolation and heightened social and political turmoil around the issue of racism and oppression.
Heidi Latsky's On Display Global; screengrab from Zoom livestream
Dressed in white, groups sit in lawn chairs or stand barefoot on the grass. Soloists lounge in their homes on beds or in front of bookcases, their bodies arranged in pedestrian poses. Little movement occurs, and when some does, it is executed like a moving meditation, often barely perceptible to the viewer. By stripping a body of movement, viewers must really see the gnarled hand, the prosthetic leg. As the tableaux stretch on, audiences confront their discomfort and their definitions of beauty. Without elaborate sets or complex musical scores, the performance is pared down to the essential element of looking at bodies in space. 
Heidi Latsky's On Display Global; screengrab from Zoom livestream
Through the act of gazing upon one another, On Display Global accesses shared humanity and connectivity. While a virtual experience may be less intimate than an in-person encounter, the 24-hour livestream allows viewers from all over the world to pop in and out as if they are walking through an actual gallery, pausing at the exhibits of their choosing. On Display demands that audiences keep looking and looking, which breaks the taboo of staring at others while letting go of preconceived notions to simply be with one another. 
---
The Dance Enthusiast Shares IMPRESSIONS/our brand of review, and creates conversation.
For more IMPRESSIONS, click here.
Share your #AudienceReview of performances. Write one today!
---
The Dance Enthusiast - News, Reviews, Interviews and an Open Invitation for YOU to join the Dance Conversation.
The 2020 Moving Visions Initiative welcomes artists and enthusiasts to guide The Dance Enthusiast's coverage as guest editors. Our guests share their passion, expertise, and curiosity with us while we celebrate their accomplishments and viewpoints.