IMPRESSIONS: 360 Dance Company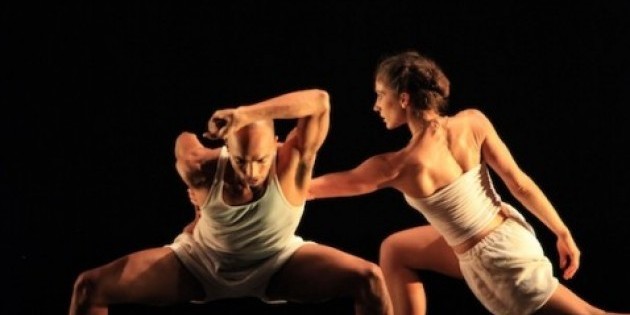 IMPRESSIONS: 360
° Dance Company
Five Years and 360° of Beautiful Bodies
Edited, Choreographed and Directed by Martin Lofsnes
Alvin Ailey Citigroup Theater
October 18-20, 2012
---

 Veronica Hackethal for The Dance Enthusiast
"Choreography can be interesting, but it's the body that's really interesting. The simplicity of the body blows me away," says Martin Lofsnes, artistic director of 360° Dance Company. Born in East Germany and raised in Norway, Lofsnes danced with Martha Graham for thirteen years before founding 360° Dance Company in 2007.   
 
During the company's fifth anniversary run at Alvin Ailey Citigroup Theater, October 18-20, 2012, the body came to the fore. Friday's performance of Satsang (2011) opened with nine dancers in nude, body hugging tanks and shorts lying in a group and rolling diagonally across the stage. Satsang was choreographed by Alessandra Prosperi and divided into three segments with music by Balanescu Quartet, Gustavo Santaolalla, and Carla Bruni. The first piece, full of rapid, high energy, segued into a tender pas de deux that made inventive use of a stretchy tank top; it hugged two dancers together as they performed. In the final section, the company rushed passed one of the female dancers, bumping her savagely like those aggressive commuters in Grand Central during rush hour. It was brave to set this section to Aria by the Balanescu Quartet, well known from Pina Bausch's Vollmond. Such intense music demands intense movement, and I wanted more from the dancers: more emotion, more abandon (to hell with one's joints), and above all, more rage.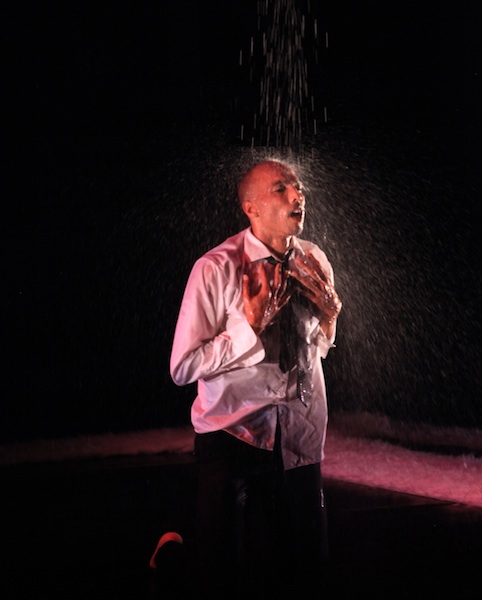 Martin Lofsnes in Ricardo Flores' Purpura, Hombre Sapo (A Mi Padre); photography ©Jashiro Dean.  
 
The US premiere of Purpura, Hombre Sapo (A Mi Padre) followed. Lofsnes worked in Mexico with Ricaeso Flores to create this solo work of dance theater, which turned out to be the most imaginative, thought-provoking performance of the evening. Set to music by Sting, with costumes by Lofsnes and Flores, the performance began with a cow lowing. Lofsnes, in tighty whities, unhooks a chair hanging off kilter above the stage, sits down, and then turns around to loudly shush something or someone that has aggravated him. A red robe lies on the floor, and a shaggy white carpet flanks him on either side, to mark his dancing space.
Reminiscent of Gogol's Diary of a Madman, the piece depicts the loneliness of man and its affect on his sanity. Humor melds with the bizarre as Lofsnes looks down into his underwear, plucks a pubic hair, and tastes it. An oversized alarm clock rings. Lofsnes dons black pants, a white shirt and a tie, before undressing to his underwear and dancing under a shower on stage. Save for the water bit, which may have been borrowed from Pina Bausch, the performance was innovative, shocking, and got me thinking, "Does this  piece concern the loneliness of being confined by male stereotypes or the universality of loneliness?"
Carrie Ellmore-Tallitsch and Martin Lofsnes in Lauri Stalling's Regular Chain of Being ;photography © Jashiro Dean

 
Intermission was followed by the world premiere of Regular Chain of Being. Lauri Stallings, who choreographed the company's first commission, was brought back to choreograph this piece in celebration of 360°'s fifth anniversary. The dancers, Lofsnes and Carrie Ellmore-Tallitsch, wore skin-tight costumes resembling underwear, and performed a pas de deux to music by Vincenzo Bellini. At times ponderous, the dance seemed out of sync with the music, with the dancers anticipating each other rather than giving in to the natural flow and reaction of their movement.
 
A revival of Pauline Koner's The Shining Dark (1956) followed. After being accustomed to so much skin in the previous pieces, it was almost shocking to see three dancers clad in the full length skirts and long sleeved costumes of Megan Gulla and Evelyn Shepard. The effect was reminiscent of Martha Graham, and with good reason; most of the members of the 360° Dance Company are former principal dancers from the Martha Graham Company. Furthermore, one of the company's missions is to present classic modern dance masterpieces alongside original contemporary dance works.
 
"Some classic modern works are relics," Lofsnes explained after the performance. "Others still have resonance in contemporary society. I'm interested in the latter, not just the souvenirs. The Koner piece is about triumph over obstacles. It has a classical look with a contemporary feel. It's growth through process."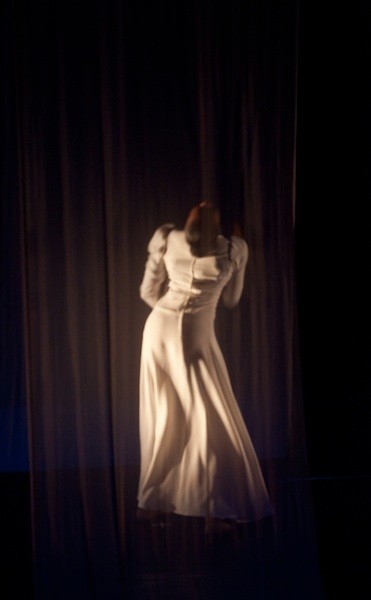 Danelle Morgan in Pauline Koner's The Shining Dark; photography © Jashiro Dean
The central dancer portrays growth as she interacts with two others - a teacher and an assistant. She triumphs over darkness - symbolized by a gauzy gray veil draped across her face, and then stands beside the other dancers, proudly facing the audience.
The program concluded with the world premiere of Near Dark, choreographed by Lofsnes with music by Burial, Kronos Quartet, Matmos, and Monolake. Wearing skin-tight, steel gray turtlenecks and short shorts designed by Lofsnes, the dancers delivered a high energy performance, tracing abstract configurations and striking vaguely sexual, overly serious poses. Towards the end, a video projection of shifting cloud patterns snuck onto a screen behind the cast. This was so well integrated that it became hard to tell who was moving: the dancers, the clouds, or both.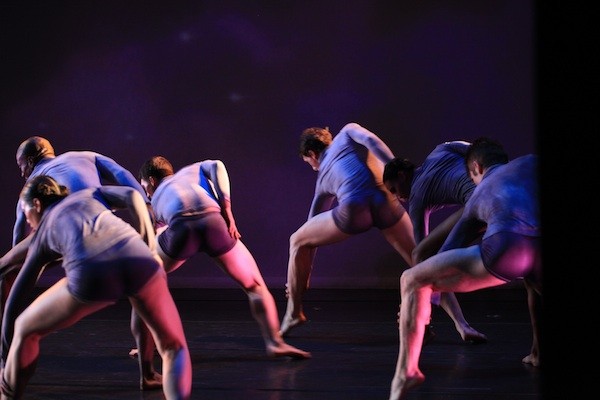 Company in Martin Lofsnes' Near Dark; Photography © Jashiro Dean
Lofsnes spoke about his vision and goals for the company: "Over the next five years I would like to get into place administration and infrastructure. Right now, we don't have the finances to hire people full time. I would like to make the infrastructure stronger for ongoing operation, to support the artistic growth of the company. The new repertory is a practical challenge. Four out of five pieces in the program are new. There are so many challenges in putting on a show or to live as an artist, but I am very humbled by live performance. The beauty of the body onstage is unparalleled."        
---
The Dance Enthusiast Shares IMPRESSIONS/our brand of review, and creates conversation.
For more IMPRESSIONS, click here.
Share your #AudienceReview of performances. Write one today!
---
The Dance Enthusiast - News, Reviews, Interviews and an Open Invitation for YOU to join the Dance Conversation.