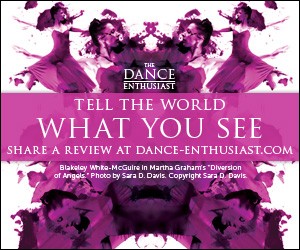 Related Features
IMPRESSIONS: All The Pretty Stings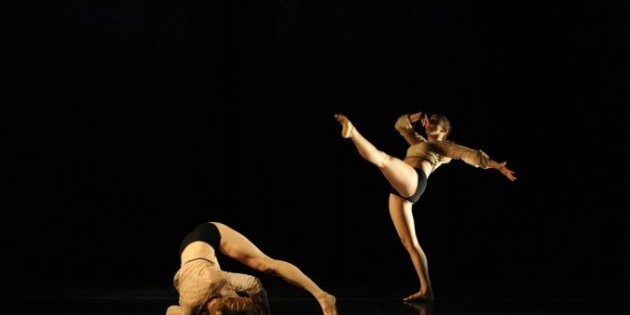 A Show With A Sting
IMPRESSIONS:The People Movers and Virtuosic Dance Project at Triskelion Arts
Brooklyn, New York
September 14-15, 2012
Published October 2012 (better late than never)
---
Tara Sheena for The Dance Enthusiast

Sure, there are days when I think winning the lottery would be more likely than starting a successful dance company in New York City. Considering the financial climate and necessity of resources, it's just, well, difficult. Merely stepping onstage means hundreds of hours of rehearsal time, spending lavish money on costumes, publicity and production, and putting in tremendous emotional and psychological effort. On top of all that, you have to mold a convincing performance that your audience members will deem worthy of the ticket price. However, despite my cynicism, I never miss a chance to see my peers ready and willing to take on these undeniable challenges.

The newest kids on the block are the People Movers, directed by Kate Ladenheim, and Virtuosic Dance Project, directed by Chelsea Robin Lee. They shared a premiere split bill performance at Triskelion Arts' Alduous Theater this past September 14-15, 2012. The performance, under the umbrella title of All the Pretty Stings, made its debut in New York City.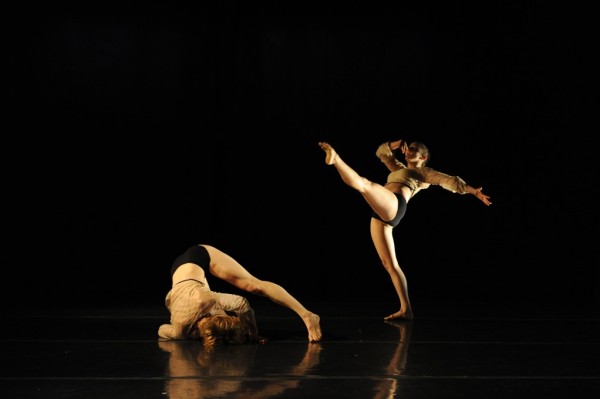 Bee Stings in My Bedroom. L to R: Marlieke Burghouts and Chelsea Robin Lee. © Megan Cignoli.
Ladenheim's
Bee Stings In My Bedroom
, brings together a trio of dancers (Lee, Marlieke Burghouts, and Ayla Weisz) in cropped lace tops, black shorts, and black headpieces, which closely resemble beekeepers' masks. Her choreography consists of a series of systematic, directed movements punctuated by spastic bouts, reminiscent of swatting away vexing bugs on a humid summer evening. The dancers weave across the space, energy shooting through every movement. Bones meet joints in a vigorous flow of physicality. As the piece grows, the spasms increase, and reactions to these spasms inevitably multiply. Insanely deep lunges, boundless leaps, and larger-than-life head rolls become solace for the stinging fits. It seems as if the only cure is to keep dancing.
I appreciated how Ladenheim chose to break up the seriousness of highly physical dancing by humorously juxtaposing the wild movement with didactic instructions on how to nurse bee stings. The dancers' response to this was hilarious.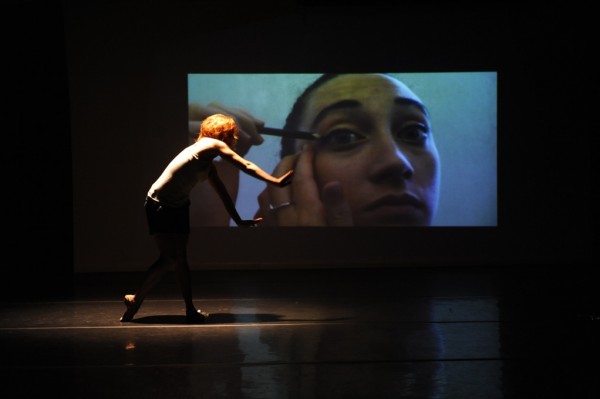 Vanity Effect
. Foreground: Kate Ladenheim. Video Image: Kate Kelley. © Megan Cignoli
The second half of the show was reserved for Chelsea Robin Lee's female duet,
Vanity Effect
, performed by Kate Ladenheim and Kate Kelley. A video backdrop of the performers offset their highly articulate bodies. In this video, Ladenheim and Kelley pick and pull at their faces, as if looking in a mirror. They move on to fixing their hair, applying makeup, and checking in between their teeth. When magnified as a backdrop, normal feminine actions instantly become caricature. "I never really liked my hair" and "People really love my butt," cry out Ladenheim and Kelley as they blur the distinctions between themselves and their caricatures on screen.

Rounded, swirling movements are immediately halted by assisted balances. Movement can be so exciting when executed well with flair. The dance addresses familiar themes; self-esteem, the female body, and body image are concepts frequently explored when a woman is onstage. There is an inherent relevance. Lee presents her work with an honesty that doesn't step into cliché.
 
Vanity Effect.
L to R: Kate Kelley and Kate Ladenheim. © Megan Cignoli
Ladenheim and Lee deserve kudos for their undeniable resourcefulness. Not only did they play a role in each other's casts, but the split bill format also allowed them to showcase their work in a practical, cost-effective manner. These women are part of a newer wave of young choreographers who realize that collective efforts are more fulfilling and pragmatic.
It was evident that it was not Ladenheim and Lee's first time collaborating. I hope it will not be their last.
---
The Dance Enthusiast Shares IMPRESSIONS/our brand of review, and creates conversation.
For more IMPRESSIONS, click here.
Share your #AudienceReview of performances. Write one today!
---
The Dance Enthusiast - News, Reviews, Interviews and an Open Invitation for YOU to join the Dance Conversation.