Related Features
Contribute
Your support helps us cover dance in New York City and beyond! Donate now.
IMPRESSIONS: Alpha Omega Theatrical Dance Company at Ailey Citigroup Theater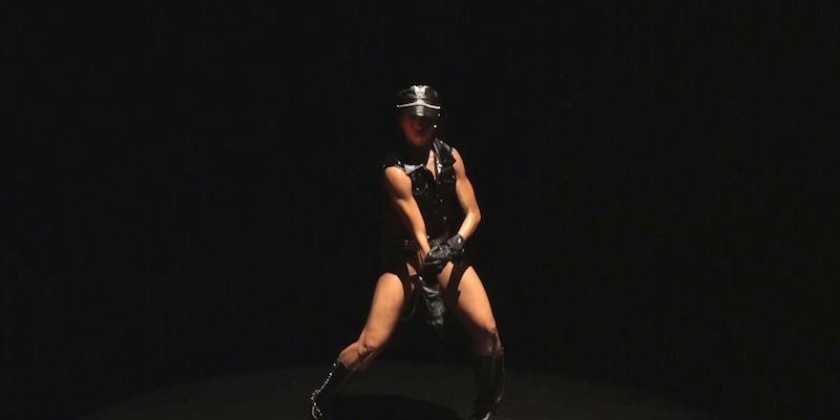 November 18-19, 2017
Choreography: Eleo Pomare and Enrique Cruz DeJesus
Music: John Coltrane, Steve Reich
---
Alpha Omega Theatrical Dance Company is one of New York's hidden gems, packed with excellent dancers and a rich repertoire. The company is celebrating its 45th anniversary with revivals by Eleo Pomare (1937-2008) and artistic director Enrique Cruz DeJesus.
Missing from his nickname, "the angry Black man of modern dance," is that Pomare was a choreographic genius, capable of telling any story through his pliant, poetic, physical style.
Pomare's Radeu (Raft) unsheathes the plight of Haitian refugees who are raped while traveling across the sea. Created in 1994, it is the perfect ballet for this time of reckoning with sexual abuse. Donna Clark, Shauntée Henry, and Jinah Parker unflinchingly chart the pathway from wary hopefulness to spent and dejected corpses. Their performances in Pomare's virtuosic handling of this horrific subject matter are electrifying to behold.
One's body goes through the full motions of what these women experience, particularly the rape, which is illustrated clearly. With bent legs crossed tightly, feet flexed, a hand reaches between them, attempting to keep future blows at bay. Meanwhile, the dancers bend forward in held contractions as silent screams rip their lips apart.
Donna Clark in Narcissus Rising; Photo: Mansa Mussa
Pomare was known for using other choreographer's techniques and crafting stories they would never tackle. Las Desenamoradas is the dance theater rendering of Federico Garcia Lorca's play The House of Bernarda Alba that Martha Graham would have choreographed had she been soulful and Black. The storytelling is vivid and specific unto the scintilla of its characters' sensual longings. In this house, five women are ruled by an iron rod-toting mother (Leann Gioia in a steely-eyed star turn) — the Bernarda Alba of the play's title.
Sexually unfilled and pitted against one another, the quintet finds secret ways to rebel. That defiance comes to fruition through Sarita Apel as The Loved One consummating her torrid affair with Juan-Pablo Alba Dennis. Both hurl themselves headfirst into these roles, making love as if they will never see tomorrow. Horrified by this breach of propriety, Gioia attempts to murder Dennis. Their spectacular fight scene includes soaring limbs and a gravity-defying moment during which Dennis suspends himself vertically in the air along Gioia's rod before being cast away. Stricken with grief, Apel hangs herself as her sisters march to the steady thumping of their mother's inescapable rod.
In Narcissus Rising, Pomare's great solo from 1968, oil-slicked Donna Clark struts as a law-flouting biker-dude on a joy ride that ends with a splat. The lighting and strobe light more than dazzle; they elevate this simple story of grueling physical effects to another level. Wearing Pomare's original costume, Clark's chiseled body makes one forget she is a woman. Instead, she becomes the cool guy, a badass macho, a rebel without a thought.
Alice Wu and Kar'mel Small in Enrique Cruz DeJesus' Evolution; Photo: Joe Bly
Next to Pomare's oeuvre, DeJesus' opening and closing pieces — Tango Entre Tu y Yo and Evolution — are nothing but fun. Indeed, many in the audience jam along to the infectious high-octane energy. "WHAT FUN!" the dancing exclaims with bright smiles and more high kicks than one would think was possible, until all are exhausted like a kid drunk on too much Halloween candy.
As the heir to Alpha Omega Theatrical Dance Company, DeJesus was mentored by Ron Pratt, Andy Torres, and Eleo Pomare — men whose blood boiled with drama. Unlike DeJesus, they told nuanced stories. While "it ain't no sin," as Mae West would say, to have a good time — revue-style entertainment without substance has its limits.
Given a story, even one as simple as the premiere of Mending Minds, DeJesus shows an assured hand, effectively painting the struggles of a mother weighed down by caring for her sick daughter. No gesture is wasted, and everything is beautifully focused. One wonders what he would create if he risked diving into material with deeper meaning than a beach party.
Alpha Omega Theatrical Dance Company is best when it has something daring to say. That much is clear from its handling of dramatic story ballets. If it is to join the upper echelon, then the company needs worthy stories for its artistic director to convey. We eagerly await your next move, sir.
---
The Dance Enthusiast Shares IMPRESSIONS/ our brand of review and Creates Conversation.
For more IMPRESSIONS, click here. 
Share your #AudienceReview of this show or others for a chance to win a prize.