IMPRESSIONS: American Ballet Theatre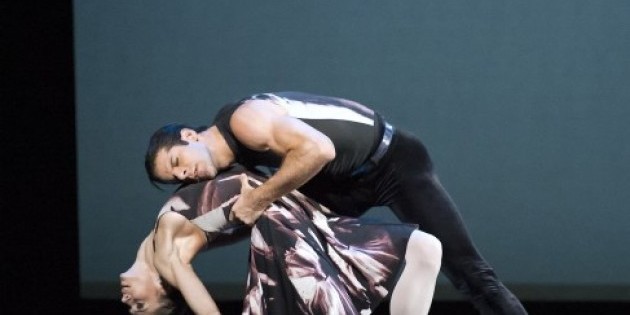 IMPRESSIONS: American Ballet Theatre
At New York City Center
Performances attended: Wednesday, Oct. 17th 2012 at 7:30pm
Friday, Oct. 19th, 2012 at 2pm and 7:30pm
October 2012
---
American Ballet Theatre's Short Fall season – One Sweet Treat
Henning Rübsam for The Dance Enthusiast
New York's City Center was the home for American Ballet Theatre's extremely short fall season (Tuesday, Oct. 16 - Saturday, Oct. 20th 2012). What was offered during these few days was impressive fare.   
Next to a premiere by the company's current resident choreographer, Alexei Ratmansky, set to yet another work by Shostakovich, the repertory shown seemed to have been selected to remind the audience that the history of ABT is indeed a chest full of treasures. 
Mexican-born José Limón (1908 - 1972) is recognized as one of the most important choreographers of the past century and his masterwork The Moor's Pavane, created in 1949, is powerful testament to his artistry. Shakespeare's Othello is the inspiration for the dance set to music by Henry Purcell.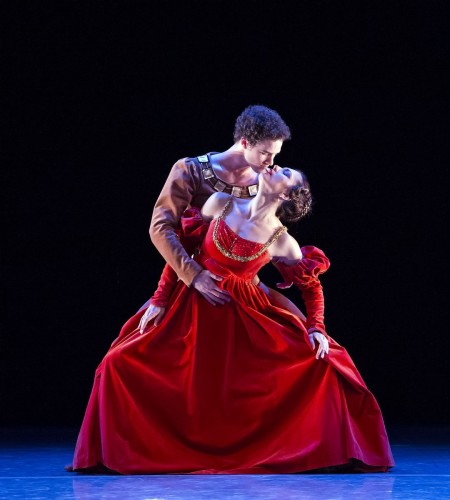 Veronika Part and Cory Stearns in The Moors Pavane ;Photo © Gene Schiavone
The Moor (Othello) presents a handkerchief to his beloved (Desdemona). We know from Shakespeare that Iago is jealous of Cassio's promotion and tries to convince the Moor of a secret liaison between Cassio and Desdemona. The handkerchief that Desdemona eventually loses is regained by Iago's wife,Emilia, and handed back to Iago. Iago uses this as proof of his allegations, and the Moor ends up killing his love, Desdemona. Since the dance only employs four characters - Moor, Beloved, Friend, Friends' Wife - the Friend's motivation for his connivance is far more ambiguous. His intimate whisper to the Moor is filled with tension, and the ensuing male partnering is a breathtaking balancing act of power struggle, friendship, dependency and betrayal.  The essence rendered is that obsessive love leads to catastrophe. 
The dancers, clad in rich, one-colored costumes (red, white, gold, orange), embody their characters through their emotional commitment shown in physical language.  Gestures, steps and movement patterns propel the story without superfluous ornamentation.  Marcelo Gomes ,as the Moor, and Cory Stearns, as his Friend,seem to have grown from the interpretive challenges and possibilities their roles provide.  Veronika Part ,as the Friend's Wife, relishes the moment she finds the handkerchief.  Her glee is as palpable as her desperation and anger when she finds Desdemona dead. Julie Kent is sufficiently vulnerable and brittle as the Moor's Beloved, but I wonder if she is too much so from the outset.  A flame extinguished is not as noticeable if the light was not bright to begin with.  
In the other cast Xiomara Reyes had a similar problem. She seemed to fade in the background from the very start.  Simone Messmer ,as the Friend's wife, is not one to fade.  Her strength on stage is confidence and I am certain she will find even more subtleties in her interpretation of the role in time.  That the two corps members made the roles of Moor and Friend as vivid as their seasoned colleagues is not only due to their budding talents (Roman Zhurbin and Thomas Forster) and the staging by Clay Taliaferro, but also to the timeless power of the work itself.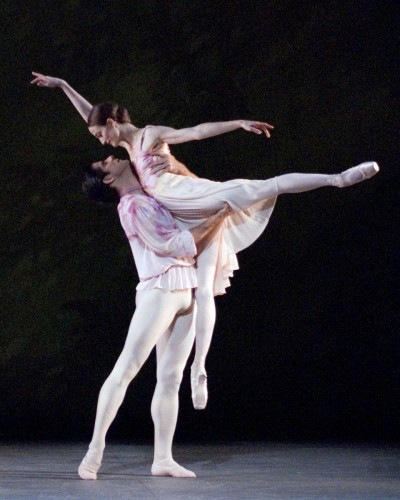 Julie Kent and Marcelo Gomes in The Leaves Are Fading; Photo © Gene Schiavone
Twyla Tharp's In the Upper Room set to music by Philip Glass with costumes by Norma Kamali was a spiritual experience when I first saw it in 1989.  I thought I died and went to heaven.  Watching the cast of stars at ABT this fall, I find myself ever so slightly wishing for it to be over with another third of the ballet ahead of me.  Is it the work that did not age well or did something get lost in translation to this group of dancers? On Wednesday evening, partnering sections looked like they needed more rehearsal time. All too often the dancers either mugged for the audience or showed off tricks worthy of a television talent competition. No spirituality here. 
The Friday afternoon cast,however, somewhat restored my belief in the piece.  Rather than individuals competing for attention, I saw a community of dancers happily exerting themselves.  A trio of men ( Stearns, Roddy Doble, James Whiteside) set the right tone of athleticism and commitment and the rest of the dancers followed suit.  Luciana Paris was the light among equals.  A true Tharpian mover she was a joy to watch as she informed the natural flow of each phrase with playfulness of wit and weight.
One benefit of watching a work twice with different casts is to see if the choreographic structure holds or if the particular piece depends on certain performers. Mark Morris' Drink to Me Only with Thine Eyes to a Virgil Thomson score is painstakingly crafted.  Different angles of mirror images are explored, the juxtaposition of unison versus canon is made clear and the dancers are given challenging material to display their technique. 
It felt like a lesson in dance composition and I decided to appreciate it since I was being taught by a master. Hamming it up - as the Friday cast decided to do - did not let the work speak for itself. The cast on Wednesday led by the talented Joseph Gorak made the steps dance.  By concentrating on the material and one another these dancers created a group one wants to be part of.  Tina Fehlandt staged the work.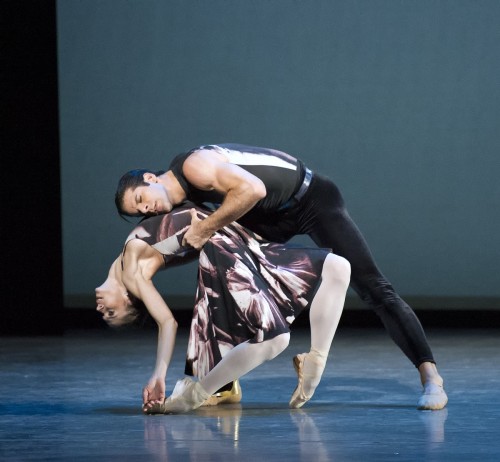 Polina Semionova and Marcelo Gomes in Symphony #9; Photo © Gene Schiavone
I only saw  Ratmansky's new Symphony #9 once, and that was at the end of two back-to-back programs on Friday.  It is a lively work that provides pouncing moves for Sascha Radetsky and playful ones for Stella Abrera.  Handsome Roberto Bolle partners Part in a quieter section.  Jared Matthews appears and seems to be protecting the couple from something, but is detached from the rest of the proceedings.  I enjoy the ever-changing group forms that Ratmansky maneuvers skillfully and at the same time I question his use of a certain kind of humor and clichés that seem a throwback to Soviet propaganda ballets.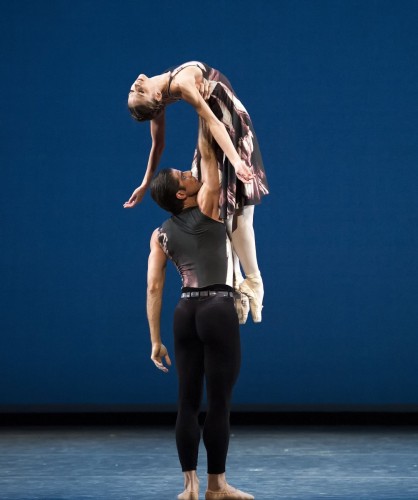 Polina Semionova and Marcelo Gomes in Symphony #9; Photo © Gene Schiavone
Propaganda of a different kind we get in the all-American Stars and Stripes pas de deux by Russian born George Balanchine. In the showpiece of the evening, Daniil Simkin is in fine form. In quiet contrast the pas de deux from Antony Tudor's 1975 ballet The Leaves Are Fading (presented as a whole ballet in the afternoon performance) provides the emotional center of this Friday evening. Stearns dances with sensory acuity and ardently partners Reyes in this poetic work. 
Throughout the week, music was played live - and mostly beautifully so - under the batons of Ormsby Wilkins, Charles Barker and David La Marche.  With the three programs I got to see, I missed Agnes de Mille's Rodeo, which would have complemented the much-appreciated overview of ABT's rich history. 
Let's hope that enough funding gives rehearsal time for both dancers and musicians to make these fine works speak and touch many an audience.  Dancers who think they are stars and flirt with the public get in the way of the art. 
For More Information on American Ballet Theatre click here
---
The Dance Enthusiast Shares IMPRESSIONS/our brand of review, and creates conversation.
For more IMPRESSIONS, click here.
Share your #AudienceReview of performances. Write one today!
---
The Dance Enthusiast - News, Reviews, Interviews and an Open Invitation for YOU to join the Dance Conversation.