IMPRESSIONS: American Ballet Theatre's Fall Gala 2021 at the David H. Koch Theater with Choreography by Jessica Lang, Lauren Lovette, Darrell Grand Moultrie, Christopher Rudd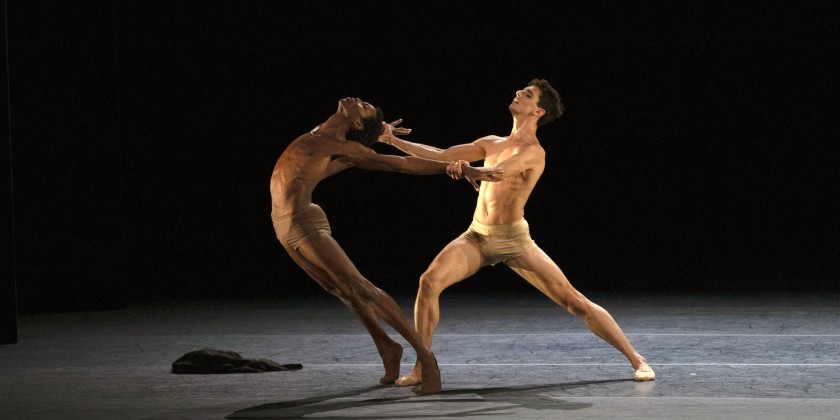 October 26, 2021
Choreography: Jessica Lang, Lauren Lovette, Darrell Grand Moultrie, Christopher Rudd
Music: Tony Bennett, Antonín Dvořák, Duke Ellington, Francesco Geminiani, Ennio Morricone, Billy Strayhorn, Woodkid 
Performance: American Ballet Theatre
---
American Ballet Theatre's FALL GALA on Tuesday evening at Lincoln Center dazzled audiences not familiar with the riches of the company's historic repertoire. Focused on new American contributions, this evening stated and underlined repeatedly a message of inclusion and diversity. If this laudable commitment feels forced and carefully choreographed, I still applaud the effort. Better late than never.
Showcasing women choreographers and putting dancers of color on stage as speakers and dancers should be par for the course. Therefore one might think it heavy-handed giving an award to patron Jenna Segal for underwriting a "women's initiative;" but keep in mind that the company has to make up for years of neglecting the issues at hand. To be fair, American Ballet Theatre has been only one of many culprits in the ballet world. As it is considered America's national ballet company, however, it is the institution expected to lead the field.
The gloomy weather forecast on Tuesday thankfully did not dissuade all guests from donning fabulous attire. Colorful gowns and masked faces created a celebratory pre-Halloween atmosphere before the curtain opened on a film on ABT's Women's Movement, an account of the company's recent activities questioning patriarchy. Hosted by the charming and visibly pregnant Misty Copeland and assisted by fellow principal Devon Teuscher and corps dancer Courtney Lavine, the gala evening felt like an earnest attempt at cleaning house.
Chloe Misseldine and Jose Sebastian in La Follia Variations; Photo by Doug Gifford
A richly layered score by Francesco Geminiani (here re-imagined and arranged by Michi Wiancko) gives choreographer Lauren Lovette's La Follia Variations every chance to converse with the music, but the dance responds only occasionally to its rhythms and ignores the possibility of a tango. Four men in red and four women in different contrasting colors treat the music as a background while performing carefully thought-out movement patterns. Despite a couple of slips on an obviously slick stage, the dancers seem to enjoy themselves; and ABT's orchestra under the baton of David LaMarche plays the score beautifully.
An excerpt from Indestructible Light delighted with music by Duke Ellington and Billy Strayhorn. The company premiered choreographer Darrell Grand Moultrie's full version of the work in April while in California. Why artistic director Kevin McKenzie, who should be familiar with the company's repertoire under his own long tenure, chose this particular excerpt puzzles me, however. This piece recalls Nacho Duato's Remanso, where a wall serves as backdrop while the stage is a playing field for three dancers. In Moultrie's witty incarnation a fourth mover eventually joins the trio. Clad in sexy costumes by Mark Eric, two men and two women relish luscious stretches and frolic in two-dimensional shapes. Moultrie's expert timing makes one want to see the rest of this work which is said to move about the entire performance space.
Anabel Katsnelson, Melvin Lawovi, Hannah Marshall, and Duncan McIlwaine in Indestructible Light; Photo by Doug Gifford
The stage premiere of Christopher Rudd's duet Touché for principal dancer Calvin Royal III and corps member João Menegussi explores a personal journey from self-loathing and eventual acceptance to finding and celebrating love. What an ambitious undertaking! The piece triumphs because of its dedicated performances. What could have been acrobatic excess if attempted by less engaging artists, instead creates shapes that form love letters of trust and mutual support. I only wish that I had not read the program. To name the characters "Adam" and "Steve" seems silly and diminishes the powerful representation of same-sex love.
Cello soloist Jonathan Spitz accompanies Rudd's work under the baton of music director Ormsby Wilkins, who also leads the orchestra through the following interlude featuring selections from the Dvorak music that master choreographer Antony Tudor chose for his The Leaves Are Fading. Even without Tudor's choreography, I appreciated this intermezzo as a lovely and poignant choice that unfortunately was lost on some audience members, who felt the need to talk or check messages.
Principal dancer Cory Stearns takes a star turn in choreographer Jessica Lang's world premiere ZigZag to songs recorded by Tony Bennett. With his matinée-idol looks, Stearns leads an ensemble in his reverie "I left my heart in San Francisco," and carves out memories with every move on his path. Blaine Hoven embodies "Fascinating Rhythm" along with Cassandra Trenary and the always fascinating Luciana Paris. Then Devon Teuscher enjoys "Spring in Manhattan," while a backdrop with a horizontal strip of the Manhattan skyline lights up. This skyline is lowered throughout the following sections and changes the mood of the piece accordingly.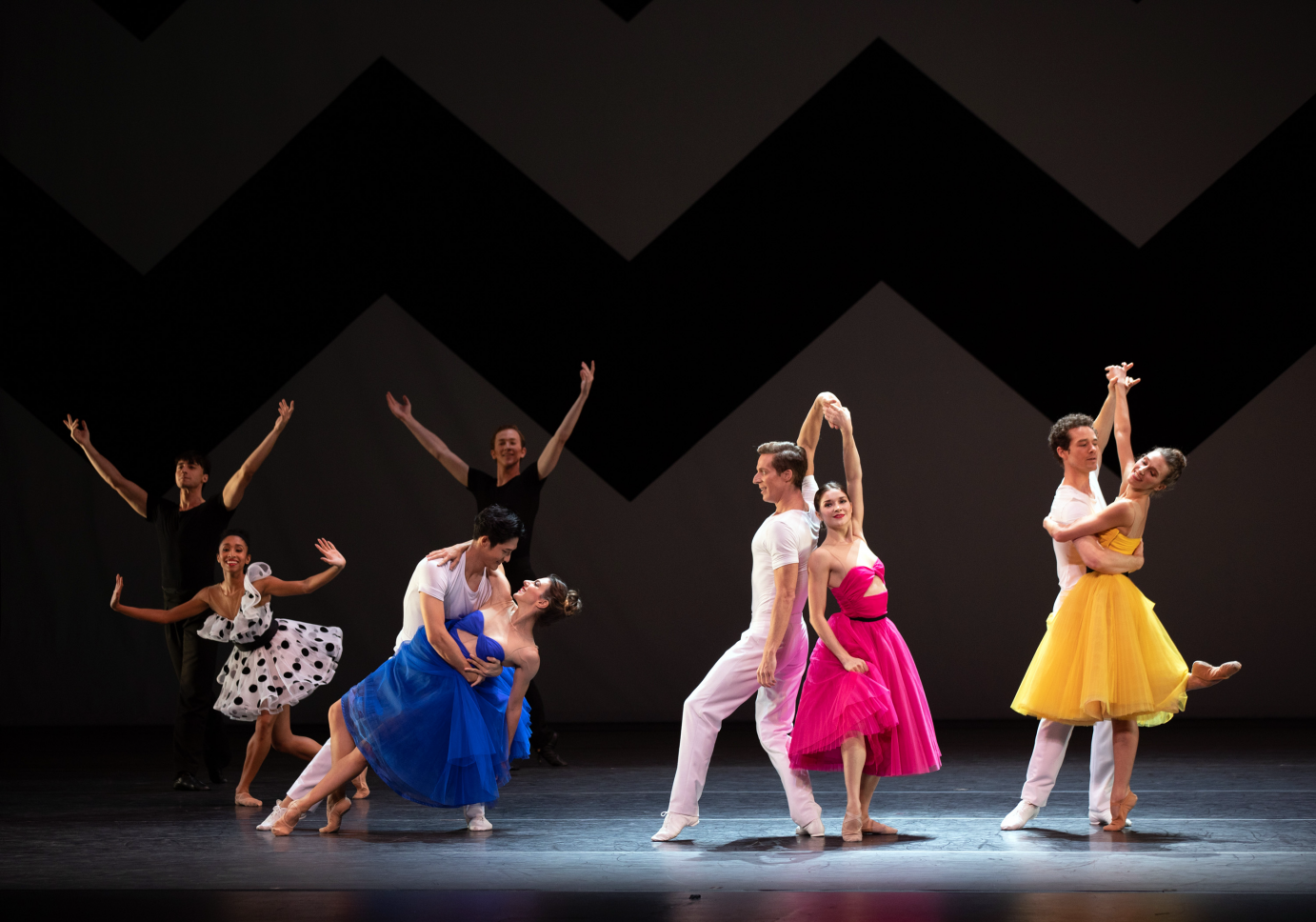 Scene from ZigZag; Photo by Rosalie O'Connor
Scenic design credit goes to Derek McLane, who incorporates artwork by Bennett. The principal women wear somewhat garish colored dresses, and the rest of the ensemble appears in fun garments that might underscore the occasionally overly cute and retro flavor of the work. But the costumes by Wes Gordon (for Carolina Herrera) at least move with the movement and there is plenty of it.
Lang plays with the space and knows how to expand and contract it as she does for the fine Joo Won Ahn in "Blue Moon." Even if Lang does not give anyone or anything room to breathe in some of the sections, and once in a while succumbs to illustrating lyrics rather than creating an atmosphere, she ends the work with a touching choice. The obscure "How do you keep the music playing" calms the previously high-octane energy and becomes an homage to music in general and truly to Bennett, who is vocally at his glorious best here. The curtain lowers as the cast keeps dancing while snapping their fingers.
Even if its forward-thinking approach is hampered by reactionary aesthetics, American Ballet Theatre deserves a chance to keep dancing.
---
The Dance Enthusiast Shares IMPRESSIONS/our brand of review, and creates conversation.
For more IMPRESSIONS, click here.
Share your #AudienceReview of performances. Write one today!
---
The Dance Enthusiast - News, Reviews, Interviews and an Open Invitation for YOU to join the Dance Conversation.