IMPRESSIONS: American Ballet Theatre in Balanchine, Bennett & The Beach Boys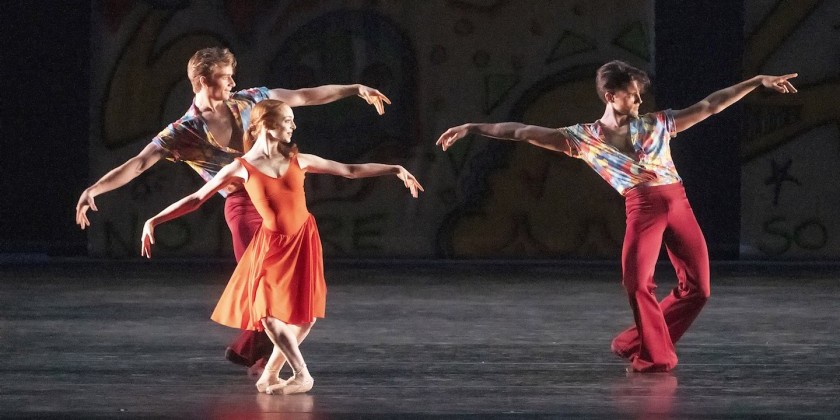 October 20, 2019
David H. Koch Theater
Apollo, George Balanchine; Some Assembly Required, Clark Tippet; Let Me Sing Forevermore; Jessica Lang; Deuce Coupe, Twyla Tharp
---
In New York, it's a sacred practice to put on heels and take the train uptown for an American Ballet Theatre performance. As I enter Lincoln Center's majestic David H. Koch Theater, I instinctively stand taller and speak more quietly. 
Why is this experience so valued, so iconic? Is it because of the choreography, the dance company itself, or even the physical space of the theater, which is laden with history? Perhaps, it has to do with longevity, the number of decades people have sought out this particular experience.
ABT was founded in 1939 with the mission of developing a repertoire of ballets from the past and fostering the creation of new work — the company has survived the test of time. This fall season reflects on its own rich history while looking forward to a future steeped in legacy.
Herman Cornejo in Apollo. © The George Balanchine Trust; Photo by Erin Baiano, courtesy of Vail Dance Festival.
Speaking of iconic, the program opens with Balanchine's Apollo, choreographed in 1928 when the prolific choreographer was only 24 years old to a score by Igor Stravinsky. Apollo reimagines Western Civilization's classical tradition. Often considered Balanchine's "coming of age" work, it portrays the birth of the sun god Apollo (Joo Won Ahn); his interactions with the three Muses, Calliope (Melanie Hamrick), Polyhymnia (Katherine Williams), and Terpsichore (Stella Abrera); and his ascent to Mount Parnassus.
Modern at the time, the now timeless work highlights movement stylized with gestures like a forced arch foot, a splayed hand, and tiny, parallel, flexed-foot walks. A stunning solo from Abrera features intricate footwork and nuanced transitions between turnout and parallel.
Recognizable, emblematic images appear, like when the quartet forms a vertical line with arms in high fifth, each leaning out at a different angle, like petals of a blooming flower. Sophisticated tableaux where the dancers link hands and thread through one another continue to mesmerize. In the finale, the cast climbs an upstage staircase and pauses in an image of ascension.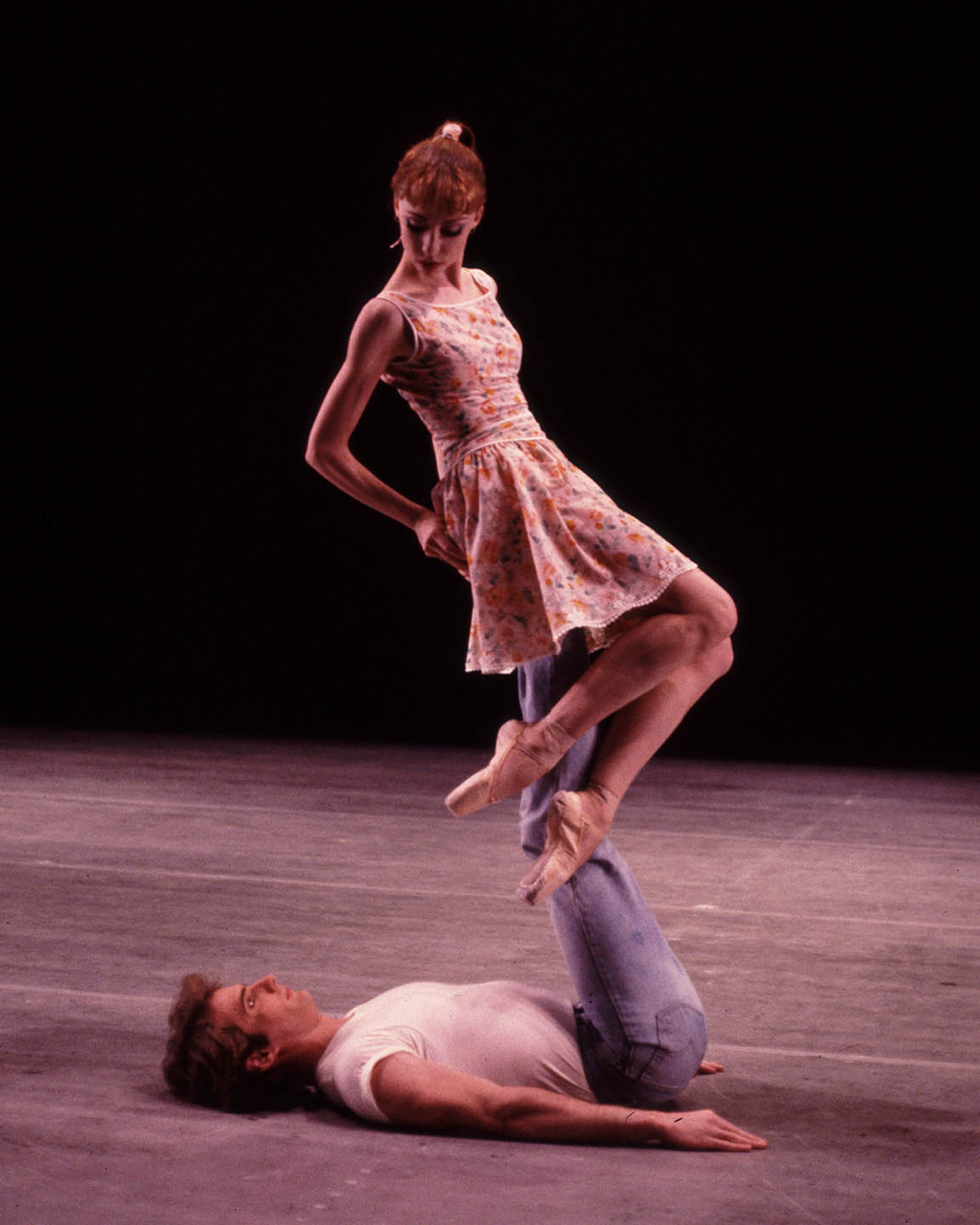 Amanda McKerrow and John Gardner in the World Premiere of Clark Tippet's Some Assembly Required (1989); Photo by Martha Swope
According to the program notes, Clark Tippet created Some Assembly Required in 1989 for married dancers John Gardner and Amanda McKerrow. It has been in ABT's repertory ever since. To William Bolcom's Second Sonata for Piano and Violin, the work riffs on the couple's relationship, using real offstage events as inspiration. Gardner and McKerrow coached dancers Sarah Lane and Cory Stearns through this rendition of the piece.
Some Assembly Required captures the playfulness, impatience, and immaturity of the couple's relationship. Lane chases Stearns, and he grabs onto her pointed foot, holding it to the ground as she attempts to move. Eventually, she kicks him, and he somersaults backward. Partnering manipulations between the couple are frisky and complex, but the most powerful moments are those of stillness, like when the pair kneels, facing one another. To experience today's principals take ownership of the roles that originally belonged to past stars is a palpable intersection of then and now.
Juxtaposing classical ballet and contemporary social dance may not seem revolutionary today, but when Twyla Tharp first presented Deuce Coupe in 1973, it did. Set to songs by surf rock band The Beach Boys, the work compares and contrasts two movement vocabularies to expose different ways of expressing and interpreting the music.
Principal dancer Christine Shevchenko is a calm anchor in the midst of waves of gyrating chaos. As she works her way through the ballet syllabus, the subtlety and restraint of her technique stand out against the whirling energy of the corps de ballet. In some moments, she is foregrounded, gracefully executing simple gestures — a tendu, an attitude promenade — while the dream-like music and the dancers in the background conjure a sense of nostalgia as though Shevchenko is reflecting upon a long-past night at a sweaty nightclub.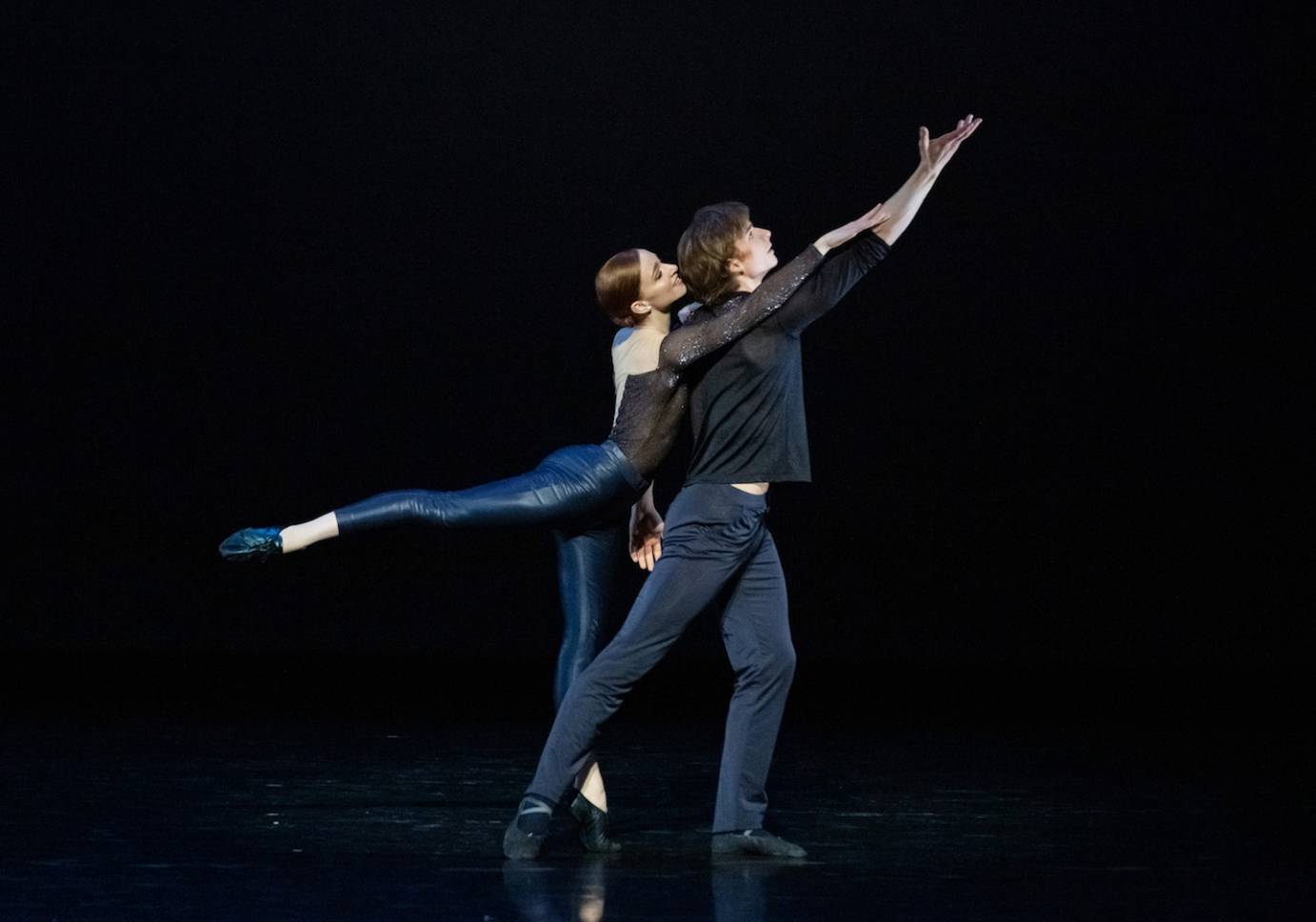 Catherine Hurlin and Aran Bell in Jessica Lang's Let Me Sing Forevermore at The International Competition for The Erik Bruhn Prize; Photo by Karolina Kuras.                     Photo Courtesy of The National Ballet of Canada.
The most forgettable number is also the newest. Jessica Lang's Let Me Sing Forevermore, which premiered in March of this year, is a jazzy duet between Catherine Hurlin and Aran Bell, choreographed to songs by Tony Bennett. While the movement is inventive and the performers are engaging, the concept feels unoriginal, and not too far off from Tharp's Nine Sinatra Songs or Michael Smuin's Fly Me to the Moon.
In jazz shoes and slinky indigo costumes, Hurlin and Bell glide and tumble across the stage with ease and camaraderie. The best part is the ending. The couple performs an accelerating roster of spins and leaps, finally ending in a pile at stage center. The lights go out as they both triumphantly throw an arm in the air, a gesture of "we made it!" Let Me Sing Forevermore is cute and entertaining, but next to these other timeless works, it doesn't stand up.
---
The Dance Enthusiast Shares IMPRESSIONS/our brand of review, and creates conversation.
For more IMPRESSIONS, click here.
Share your #AudienceReview of performances. Write one today!
---
The Dance Enthusiast - News, Reviews, Interviews and an Open Invitation for YOU to join the Dance Conversation.