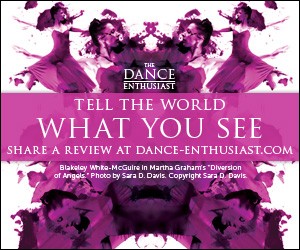 Related Features
IMPRESSIONS: An Evening with the Brooklyn Ballet
The Village Dances
An Evening with The Brooklyn Ballet

Brooklyn Ballet 2013 Season in 4D at The Actors Fund Arts Center, Downtown Brooklyn
February 28th, March 1-3; March 8-10th,2013
Choreographed by: Lynn Parkerson (and in some cases with collaboration of the dancers)
Performed by: James "J-Floats" Fable, Mike "Supreme" Fields, Gabriela Galvez, Alexander Glaz, Duan Gosa, Karizma Jay, Miku Kawamura,
Kimberly Mhoon, Sydnie Mosley, Kerry Shea, Candace Thompson, Akiko Tokuoka, Richard Glover
Live Music Performed by: Julius Abrahams and Gil Morgenstern

March 10th, 2013
---
Christine Jowers for The Dance Enthusiast
In New York City, a few minutes by car or subway away from Manhattan can feel like another country. Take 160 Schermerhorn Street in Brooklyn on Thursday February 28th. From the street, through a large picture window, we notice a dance studio and several very serious teenage girls in leotards and pink tights. They peer into a mirror while stretching their bodies and pointing their feet beyond any position of comfort. Their teacher, a tall elegant man, who we realize instantly is on very familiar terms with the grand stage, (even in his less than regal t-shirt and knit pants) strides amongst his charges gently admonishing them to,"Please, breathe." And - a few of them do.

I imagine that in every town, in every dance studio, every day there are scenes exactly like this, but rarely do we notice them from the pavement. How special to go for a walk and encounter budding artists instead of mannequins with dead stares or flashing electronics urging us to "buy." Something about witnessing people striving connects us to a life force, and we find we can breathe.

A few footsteps away in the Actors Fund Theater, Lynn Parkerson's creation, the Brooklyn Ballet - whose studio and students we were just observing - is dancing for two weekends to celebrate their tenth anniversary.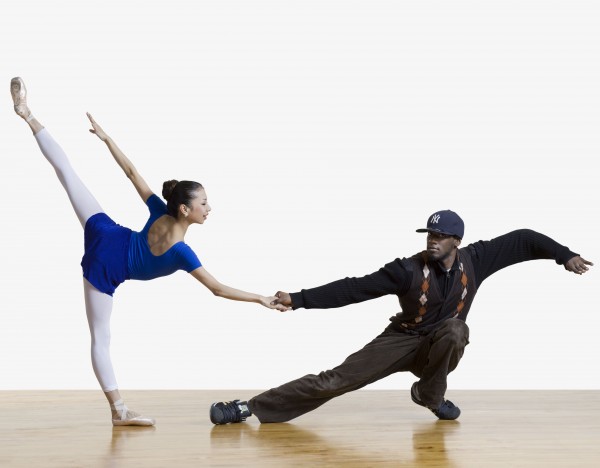 Miku Kawamura and James "J-Floats" Fable of the Brooklyn Ballet; Photo Lois Greenfield

There are big ideas on the menu. First, in Tracing Back we see the techno/digital interpretation of dancer pathways projected on a screen behind the ballet dancers as they move. In Quilt ,a work in progress, the action is based on the idea of mathematical vectors. I really don't know what that means, but the dancers do, and to this theme they've created improvised solo's and duets ( ballet and hip-hop) whose order of appearance is arranged randomly (a la Cunningham and Cage) by a lottery held before the piece begins.

Everything is presented with live music: Gil Morgenstern on violin and Julius Abrahams on piano. The audience hoots for their favorite dancers. Some of the kids in the front row even take out their phones for pictures while moving along to the music. (They're not booted out.) Its all about community here and the artists and the audience root for each other.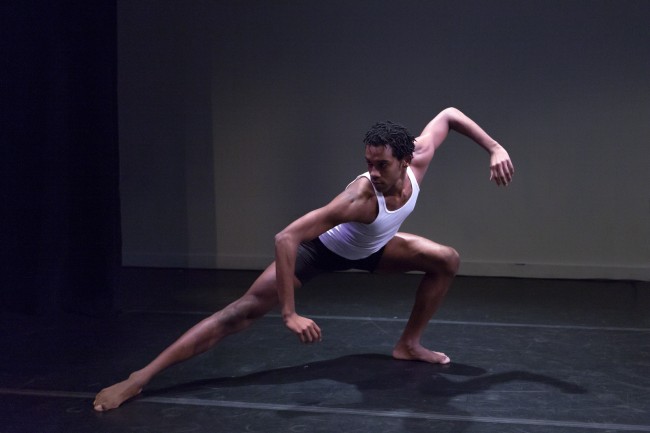 The Brooklyn Ballet's Duane Gosa; Photo William Ward

The highlight of the evening, Spiders, Cooks and Mood Swings, buoyantly show cases what is central to and most appealing about the Brooklyn Ballet: its' team - the spunky melange of ballet, modern, jazz and hip-hop artists and their director, Parkerson, who can choreograph and collaborate with her dancers to reveal the many possibilities the group brings to the table. In the same ballet, shivering arm isolations performed by the large, gregarious hip hop artist Mike "Supreme" Fields delight us as much as the sprightly allegro work of petite Miku Kawamura, who shimmers almost as radiantly as the diamond earrings she wears. Out of nowhere darts the gutsy powerhouse in bare feet, Sydnie Mosley, who adds a rich earthy beauty to the mix. Toe work in Nikes, as complicated and sophisticated as anything in pointe shoes, is beautifully presented. The differences between genres are as fascinating to the audience as they appear to be to the performers on stage who obviously get a kick out of working together.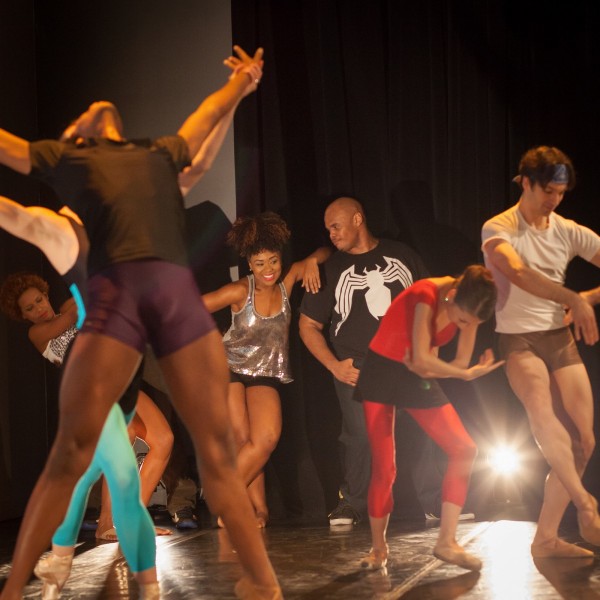 The Brooklyn Ballet; Mike "Supreme" Fields ( in the spider t shirt (center) flocked by the rest of the company);Photo by William Ward

Spiders... is a contemporary take on the folk dances seen in 19th century ballets. In the 19th century, national folk dances were included in ballets to keep the audiences interested in the classical action on stage. In the 21st century, with the Brooklyn Ballet at 160 Schermerhorn Street, the rich and varied dances of the villagers of Brooklyn re-define and revitalize classical action. It's a breath of fresh air.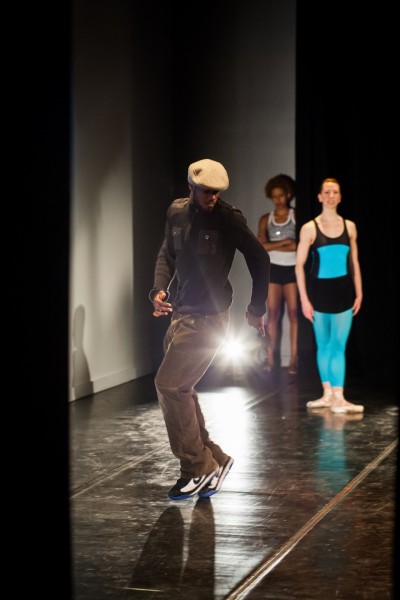 Toe Work, James "J-Floats" Fable of The Brooklyn Ballet; Photo William Ward
---
The Dance Enthusiast Shares IMPRESSIONS/our brand of review, and creates conversation.
For more IMPRESSIONS, click here.
Share your #AudienceReview of performances. Write one today!
---
The Dance Enthusiast - News, Reviews, Interviews and an Open Invitation for YOU to join the Dance Conversation.