Related Features
Advertise With Us
Make an impression — place an ad on The Dance Enthusiast and receive thousands of eyes on your work every week. Learn more. 
Contribute
Your support helps us cover dance in New York City and beyond! Donate now.
IMPRESSIONS: Anneke Hansen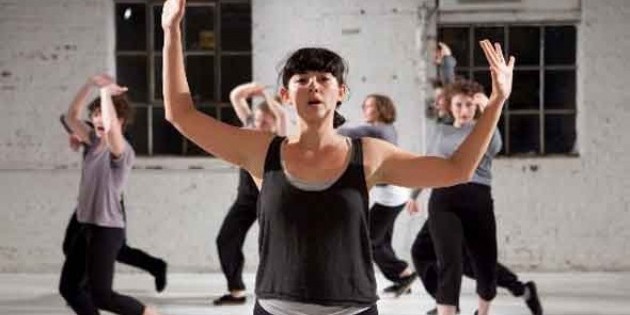 Dancers: Laurel Atwell, Jessica Cook, Anneke Hansen, Miranda Jirik, Jeremy Pheiffer, Ariel Pierce, Lynne Schlesinger, Lori Yuill
Musicians: Nathan Koci, Josh Phillips, Ken Thomson
---

Liz Gorgas 2010

The Chocolate Factory has, for those who have yet to experience this delightful place, the ability to change in unexpected ways to suit the designs of whichever choreographer happens to be using the space that night. Before the audience was even allowed to take their seats, the show began, opening the doors up some stairs to the theatre above, as well as to the downstairs space, so that we were treated to a two-tiered amuse bouche of dance.

Craning over the landscape of patrons' heads, came the briefest glimpses of dancers flitting in and out of sight: an arm here, a unison phrase there, the presence of dancers lingering in doorways as they, too, watched the proceedings. One man, turning to his companion, asked in hushed confusion: "Is this it?"
Photos by Whitney Browne- Anneke Hansen and Company at the Chocolate Factory
Let me answer that here, "No, that wasn't 'it'."

But even if that taste had been all we were treated to I would have been immensely satisfied. Lucky for the watchers, we were urged into taking seats as dancers swayed forward and back, so near to the bleachers we had to duck between performers to get to our places.

From there, this rolling sea of performers found a nearby wall and began a twisting unison against it, thick with sleepy sensuality.

Throughout the work there was an academic sensibility as particularly defined "phrases" were performed in unisons and solos weaving in and out of grander group phrases. Still, the movement never seemed to lose the slinky smooth thread which knitted each segment into a unified whole.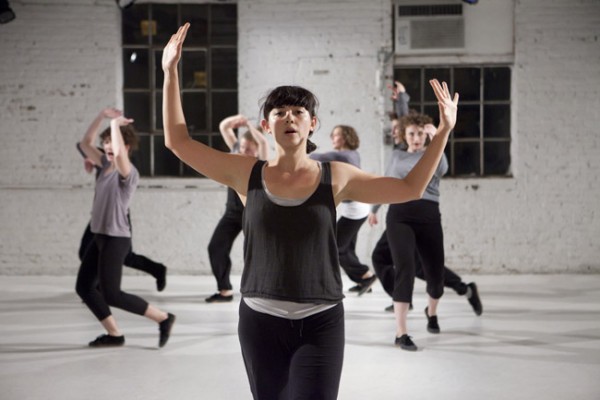 Photos by Whitney Browne- Anneke Hansen and Company at the Chocolate Factory
Perception and space were dallied with as those moving were watched closely by the still performers, setting up a strange "us and them"-ness. The reactions of those on stage seemed to range from the suspicious (Laurel Atwell), to the joyous (Ariel Pierce), to the sublime (Jessica Cook).

The score, a cool composition for the accordion, horn, and clarinet (and the occasional eerie whistle) by Nathan Koci was constructed with particular deftness. The minimalist sensibilities of the composer allowed the music to whisper along the very edges of Ms. Hansen's movement, neither circumscribing her work nor ignoring it. Instead, the rhythms emerged organically alongside the dance with playful aplomb.

In one section, this sense of restraint was particularly evident when, in the grand musical tradition, there was a flashy showstopper number where the energy swelled until all eight performers took to the stage, eagerly consuming the space in a postmodern-footwork-meets-jazzy-hip-swirling frenzy. Here the music was only the dancers counting aloud and the section was so much the richer for it.
Photos © Whitney Browne: Anneke Hansen & Company at the Chocolate Factory
While the performance as a whole was an evening of sophisticated uses of space and concise ideas fully developed, watching Anneke Hansen in her own work brought to my mind a question that always pops up whenever I'm watching a choreographer dancing amongst their dancers. "How useful is it to watch the creator in there with everyone else?"

Usually, there is a strange unbalanced feeling that arises, either the choreographer can't quite keep up with the dancers she chose to interpret her work, or the dancers defer to the choreographer so that she can't help but stick out, every interaction screaming, "I MADE THIS WORK IT'S MINE, MINE, MINE".
Here this unbalanced-ness surfaced in a different manner altogether. Where others, notably a pregnant and surefooted Lynne Schlesinger, experienced every moment with a rapturous abandon, Ms. Hansen looked vaguely worried the entire time, as if she were checking that everyone was doing everything they were meant to when they were meant to. While Ms. Hansen was a pleasure to watch, I couldn't help but notice this mother hen and worry with her that something might go awry, rather than loose myself to the experience.
---
FOOTNOTES:  
http://www.chocolatefactorytheater.org/home.html
---
The Dance Enthusiast Shares IMPRESSIONS/our brand of review, and creates conversation.
For more IMPRESSIONS, click here.
Share your #AudienceReview of performances. Write one today!
---
The Dance Enthusiast - News, Reviews, Interviews and an Open Invitation for YOU to join the Dance Conversation.