IMPRESSIONS: BRIAN BROOKS MOVING COMPANY
AT GOTHAM DANCE FESTIVAL at THE JOYCE
IMPRESSIONS: BRIAN BROOKS MOVING COMPANY
at Gotham DanceFestival-The Joyce Theater-Tuesday, June 1, 2011 at 7:30 pm
---
Artistic Director and Choreographer: Brian Brooks
Dancers: Hollis Bartlett, Brian Brooks, Meghan Frederick, Jeff Kent Jacobs, Jo-anne Lee, Danielle McIntosh and Aaron Walter
Lighting/Scenic/Production Manager: Philip Treviño
Costume Design: Liz Prince and Brian Brooks
---
©Christine Jowers for The Dance Enthusiast, 2011
Last Tuesday night, I had the distinct pleasure of being refreshed by artwork. I like that feeling--wonder, aha, pleasure, at seeing familiar things (dance, dancers, The Joyce Theater, walking, running, skipping, hopping, lunging, lifts, scarves) in an absolutely new way without pomp or extravagance.
 Photo by Christopher Duggan
I don't know Brian Brooks, and have never sat in on a rehearsal, but in my imagination he asks himself , "Well, self, what can I do with straight arms and wrist movement? How many ways can I move my arms with out bending the elbows? Hmm?  Where will this journey take me?" Then he plays with his movement ideas investigating their leads, changing their speed, their place in space, their traveling patterns, patiently following where his adventures take him until he simply runs out of options. When he absolutely has to make a shift, he does, and suddenly, a turn of the head, perhaps with a slight tilt--something we might consider to be an offhand gesture --becomes a giggling exclamation point to a phrase of movement. He shows us that what is simple can be miraculous, it all depends on how you shape things.  Aha… I think that is choreographic genius, really-- making the next movement seem inevitable, revealing the virtuosity of the basics, and uncovering interesting stories in repetition.  It looks simple, but requires massive investigation, consideration and physical labor.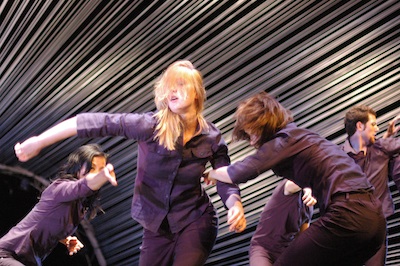 Photo by Christopher Duggan
Brooks, working with fabulous collaborators, holds his audiences' rapt attention by devising specific environments and particular cultures for each of his pieces. The lighting and installation design by Philip Treviño (installation co-designed with Brooks) define the stage space elegantly. The costumes by Liz Prince and Brooks aren't fussy, but as necessary and fitting to the performers, as is the choreography. The music of Jonathon Pratt, LCD Soundsystem, and Adam Crystal create rich enlivened atmospheres that compliment the dancers, while the dancers compel with depth and concentration in every gesture.
"He shows us that what is simple can be miraculous...  I think that is choreographic genius, really--making the next movement seem inevitable, revealing the virtuosity of the basics, and uncovering interesting stories in repetition"     

Christine Jowers
I find myself looking on each work with the curiosity of an excited tourist or an ardent anthropologist. "Who are these moving figures, what is their world, and what is special about their tasks?"  I want to know more.I observe and marvel much in the same way I revel at my cat's interactions with my apartment space, or delight at the jellyfish floating in the aquarium.  No movement is overwrought. While Brooks choreography can be stirring and energetic, everything flows so clearly and naturally, I can easily enter into the work in an almost meditative way. It is a freeing experience.
In
Motor
(2010) magnificent chords, huge guitar- like strings, radiate out as sunbeams into the audience from a narrow opening upstage. As you walk into the theatre the impulse is to jump up and touch them or to sing  "Spiderman, Spiderman does what ever a spider can."  The set immediately draw us physically to the work on the stage, uniting us to the space and to the people up there. It colors our relationship to what we see, and possesses the same sort of magic and mystery as the monolith in Stanley Kubrick's,
2001 Space Odyssey
. At times I feel like I am in the world of science fiction, or witnessing the miracle journey from the birth canal, or walking towards the bright light described by  people who have had near death experiences.
Photo by Christopher Duggan
The seven dancers, dressed very simply in dark shirts and pants—sometimes revealing underwear, sometimes only in underwear-- continually move in and out of their cable structure. We watch, as they walk outside of it, purposefully, toward its' entrance before beginning to perform tasks "intensely". Once they are done they leave. Dancers move in, Dancers move out. They never stop but evolve, or devolve. Whatever they are doing they are committed and curious about it. It feels as if  the movement is happening for the first time.
At first, the group on stage engages in densely concentrated exploratory partnering-knocking, nudging, catching, and falling. They are completely immersed in one another and the pulsating music. Gradually the team moves into the more dangerous territory of risky lifts, throws, and suspensions. What was once a lunge performed on the ground now flies. Upward movement shifts some dancers, suspended, onto the backs of others. They look up. It is a tiny thing, but this shift in focus signals a new discovery. The ecosystem has changed. As the dancers push the boundaries of space, they develop, unite, and then break away from each other in an engrossing whirlwind. It seems that while hurling themselves into sweeping falling curves they are learning something about their world and their boundaries.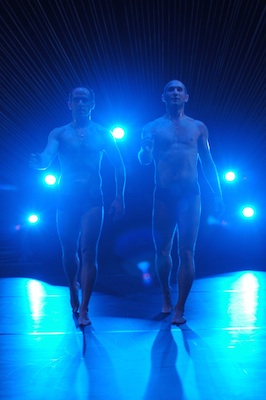 Photo by Christopher Duggan
 
Suddenly two nearly naked men emerge from the tunnel looking outward into the direction of the radiating cables. It is startling: their shift to an outward expansive focus, their nakedness, (they look like Greek gods) their following duet is a brilliantly choreographed and danced exploration of the landscape that skitters and shuffles on one leg.  As the men continually hop, reaching out with their eyes and limbs, as if to grab at the precious air , they signal a renaissance of some sort, a new understanding in the world we have experienced.
 
The other pieces offered by Brooks and his company last Tuesday evening were just as inviting and intriguing as
Motor
.
Photo by Christopher Duggan
 
Brooks well crafted solo I'm Going to Explode(2007) humorously reveals the wild ghoulish inner demons that inhabit his rigid, straight –laced suited businessman. He uses repetition, changes in speed, and an easy acting skill to bring his character's anguish of "losing his edge" to light.
Descent, the world premiere of the evening, was a beautiful tribute to flight and the delights of falling and floating. One of the more arresting images created happened as dancers kept opaque scarves wafting in the air above them by fanning the space underneath lengths of fabric with a large square sheet of black cardboard. To notice the folds in the fabric, and lose oneself in the texture, grace and delicacy of this material was heavenly. 
---
The Dance Enthusiast Shares IMPRESSIONS/our brand of review, and creates conversation.
For more IMPRESSIONS, click here.
Share your #AudienceReview of performances. Write one today!
---
The Dance Enthusiast - News, Reviews, Interviews and an Open Invitation for YOU to join the Dance Conversation.