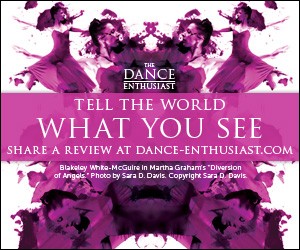 Related Features
IMPRESSIONS: Brian Cary Chung and CollectiveBody Dance Lab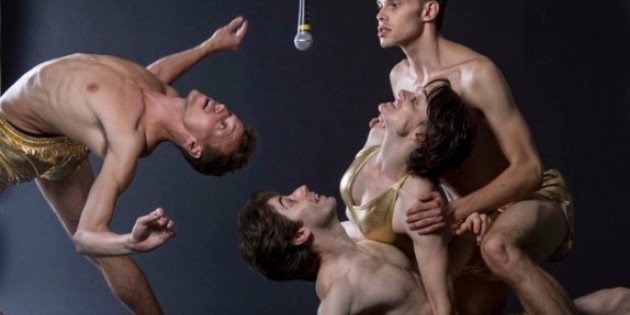 IMPRESSIONS: Brian Carey Chung and CollectiveBody Dance LAB
A shared evening of dance, with Danszloop Chicago and CollectiveBody Dance Lab 
Let's Pretend We're All Wearing Sunglasses and other works by choreographers Brian Carey Chung and Paula Frasz.
Sept 21-22, 2012 
Manhattan Movement and Arts Center, 248 West 60th Street, New York, New York.
The cast included dancers from Collective Body Dancelab and Danszloop Chicago.
Music by M. Antony Reimer and costumes by Lady Gaga's Monster Ball designer, Karen Young.

October 7th, 2012
---
Tackling The Big Issues
Veronica Hackethal for The Dance Enthusiast

It is nothing new for artists to comment on the havoc humans wreak on the earth and each other. After all, they see us for what we are: barbarous, self-seeking, sometimes benevolent, and utterly fascinating. The innovation lies in how artists mold this raw material into works that shake us up and get us thinking. This truism held on Friday, September 21st at the Manhattan Movement and Arts Center when choreographer Brian Carey Chung and his company CollectiveBody Dance Lab presented Let's Pretend We're All Wearing Sunglasses. The performance centered on the theme of desensitization.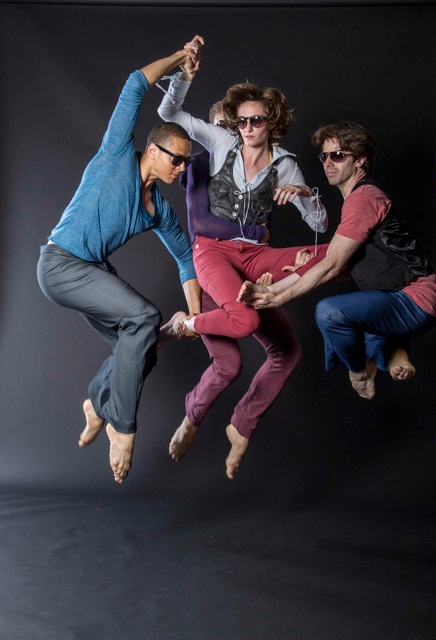 Cast of CollectiveBody Dance Lab in
Let's Pretend We're All Wearing Sunglasses
.
©
Photos Travis Magee

Nine dancers in multi-colored skinny jeans performed on a stage covered in newspaper while exploring the abuse of women, environmental degradation, and legalized dog fighting. Integrating spoken word with dance, the topic of violent desensitization became unavoidable. Clapping, chest pounding, foot stomping, and choppy movements conveyed the anesthetization of modern society more accurately than angry words spoken into a microphone or blared via a sound system. In truth, I wished there had been less telling and more showing. If movement demands forthrightness in order to convey its message, then words require subtlety. Poetry often works more magic than does preaching.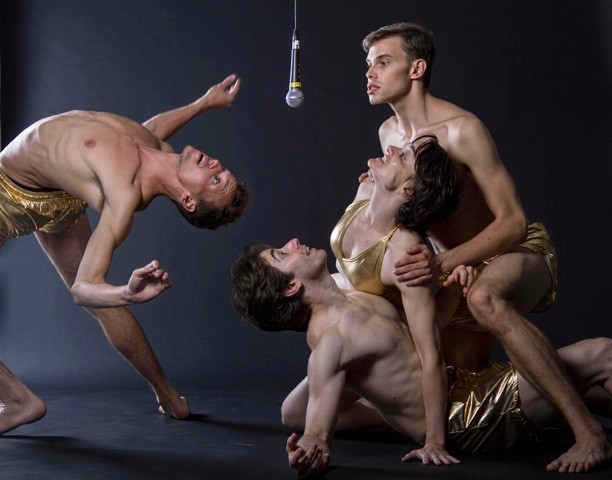 Cast of CollectiveBody Dance Lab in
Let's Pretend We're All Wearing Sunglasses
.
©
  Photos Travis Magee  
The lights dimmed and the dancers stripped to gold boxer shorts and bikini tops. Women were manhandled while held aloft by four men. They writhed, attempting to escape the men's grasps, and were deposited like garbage onto the stage. Finally, they lay silent, arms by their sides, as if in coffins. The scene grew more intense until Clifton Brown, former Alvin Ailey poster child, took center stage. Dispelling the alienating violence that preceded, his solo led to a final, optimistic spoken message, "Art is never a negative thing." I was left wondering about the accuracy of that last sentence. Couldn't art also be empty? Can art truly end the numbing terrors depicted in the performance's movements and words?

Bloom, the second piece presented by Chung and CollectiveBody, confronts themes of religious and secular betrayal as duets and trios portray heterosexual and homosexual coupling. Performed partly en pointe and matched well to Arvo Parte's Fratres, a pas de deux becomes a pas de trois as a male competitor joins the dance, only to steal a woman from her lover. A gay couple discovers each other, and then turn to face the blaming gaze of the entire company. During the most memorable moment of the piece, a woman rises, extends her right leg and hooks it forcefully over her partner's shoulder just as the music strikes a blaring bass chord. Perfectly performed, her jab screamed, "Wake up! This is the violence of betrayal." I was satisfied with that one movement alone, and wished there had been more such perfectly timed and executed moments.
 
Cast of CollectiveBody Dance Lab in
Bloom
.
©
Photos Travis Magee

Chung shared the stage with Chicago choreographer, Paula Frasz and her company, Danszloop Chicago, which presented three works. The most memorable was Entrainment, a solo performed by the long-limbed Shannon Nash Spicer to the music of Schubert. Spicer appeared onstage in a strikingly beautiful costume designed by Melanie Parks: a nude leotard, with blazing red silk wrapped around her shoulders that cascaded down her body to the floor. The dramatic fabric trailed at least twenty feet behind her. Spicer struck a graceful pose here and executed an elegant extension there before inevitably becoming encumbered by the silk train, which constricted or stopped her movements. In the finale, she crawled off stage with the red silk trailing behind. As her material gradually disappeared, she re-appeared on the other side of the stage only to collapse, completely exhausted by "the trappings of beauty." The humor of her predicament spoke volumes.

After the performance, Chung spoke about his work. A former rehearsal director and a principal dancer with Karole Armitage's Armitage Gone! Dance, Chung also danced for eight years with Alonzo King's LINES Contemporary Ballet. He is currently Assistant Professor of Dance at Northern Illinois University and a faculty member of the Joffrey Ballet School Summer Program. Also a published poet, Chung holds an MFA in Creative Writing: Poetry from NYU.

With regards to the integration of dance and the spoken word in Let's Pretend We're All Wearing Sunglasses, he explained that the mind is accustomed to understanding the spoken word, but that gesture is more difficult to portray and comprehend. "I'm more interested in abstracted narrative as well as that which is tangential to the literal. I don't want to get bogged down in art," he explained.
Cast of CollectiveBody Dance Lab in
Let's Pretend We're All Wearing Sunglasses
.
©
Photos Travis Magee

He added that Bloom is performed in resemblance to how clouds form. "Everyone sees something different in clouds, based on where they are in life," he said. "Maybe they're in love or dealing with death. Everyone comes from a different vantage point, and they see blooms of clouds differently because of this. Bloom is also about blossoming. There are many things going on at once, not just one. I'm interested in the power of differences."

Concerning the life of a contemporary choreographer, Chung commented, "These works were created in four and a half weeks. Everything had to be done quickly. There was no time for editing. All my dancers rehearsed for free. That's the life of an artist these days in New York City."
---
The Dance Enthusiast Shares IMPRESSIONS/our brand of review, and creates conversation.
For more IMPRESSIONS, click here.
Share your #AudienceReview of performances. Write one today!
---
The Dance Enthusiast - News, Reviews, Interviews and an Open Invitation for YOU to join the Dance Conversation.