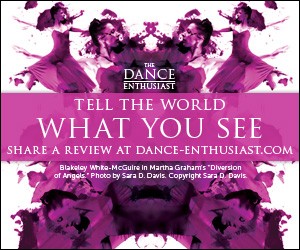 Related Features
IMPRESSIONS: Crossing Boundaries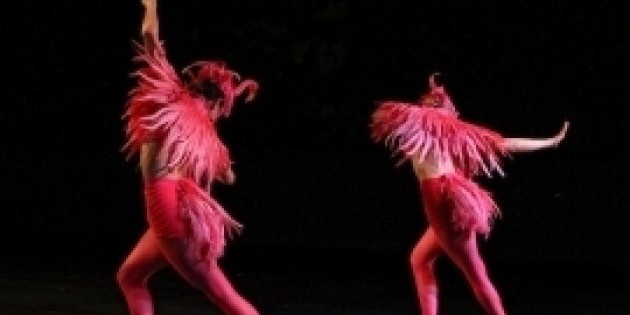 Five New York Choreographers Cross Boundaries at Dixon Place
IMPRESSIONS of Crossing Boundaries
Five New York Choreographers Cross Boundaries at Dixon Place
Crossing Boundaries
Dixon Place, 161 A Chrystie St.
New York, NY
Tuesday, May 28, 2013; 8PM
Choreography: Hee Ra Yoo,James Gardella, Tanya Calomoneri, Alissa Horowitz, Cynthia Berkshire
---
Veronica Hackethal for The Dance Enthusiast

The Crossing Boundaries series at Dixon Place happens on the last Tuesday of every month, curated by Marcia Monroe, it mixes different forms of expression and encourages crossing boundaries of various types: be they artistic, cultural, or geographical. Participating artists have come from South America, Brazil, Denmark, Germany, India, Israel, Japan and the U.S.

The evening began with Trace, choreographed by Hee Ra Yoo, and performed by Leigh Schanfein. Jonathan Howard Katz accompanied on piano. Originally from Korea, Yoo founded the modern dance company Yoo and Dancers in 2009.
Pictured: Cynthia Berkshire and Nicole Touzien. Photo Jessica Sue Burstein

The influence of Yoo's classical ballet training was readily apparent in Trace. Schanfein, in a beige chiffon dress with dark brown spots, danced on pointe with the discombobulated movements of a robot. Displaying a broken ballet port de bras, she peered at her hands as if they were alien beings, disembodied from herself. Dispossession, in fact, seemed to be the point of the choreography: dispossession from the body, dispossession from the self. It concluded with Schanfein keeling over in a disjointed heap, vaguely reminiscent of the blank-faced puppet doll in the ballet Coppelia.

Unspeakable Daisies followed - a duet choreographed by James Gardella in collaboration with Katherine Wolf, both of whom also performed. Sound was arranged by James Gardella in collaboration with Sam Silver, and featured music by The Viron LTD, Matthewdavid, Shigeto, Ellen Allien, and Atlas Sound. This was Gardella's first piece of choreography presented since his recent move to New York.

Unspeakable Daisies began with Gardella and Wolf seated on their knees side by side, one hand draped like a blindfold over their eyes. The costumes were simple: black stretch pants and white tank tops. Circling patterns typified the choreography, which was set to a boogey beat interspersed with extended sections of silence. Gardella and Wolf danced in and out of synchrony, expressing the complicated emotions involved in human paired relationships. They flirted, joined hands, hugged, separated, stomped their feet to attract their partner's attention. They ran away from and then toward each other, disintegrated into on another, fell to the floor , and finally ended where they had begun: seated on their knees side by side with one hand over their eyes like a blindfold.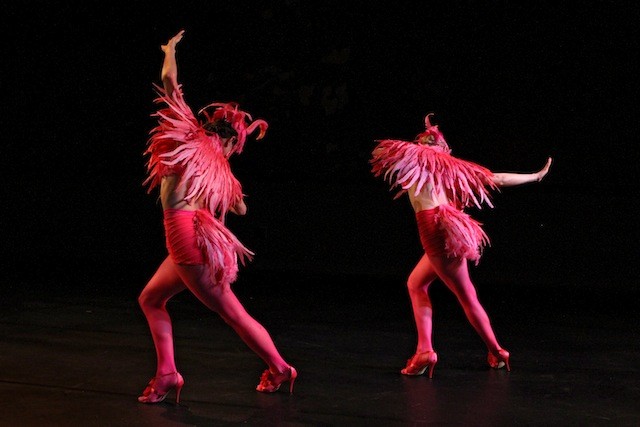 Pictured: Company SoGoNo; Photo Julie Lemberger
Flamingo Flamingo, the third piece was a humorous parody of Broadway and show dance,directed by Tanya Calamoneri, and performed by Erin Cairns Cella and Dages Juvelier Keates. Tanya Calamoneri is artistic director of Company SoGoNo, which has performed at various venues throughout New York, including the Brooklyn Museum, Lincoln Center Out of Doors, CAVE and Triskelion, as well as in Seattle, Chicago, and Kyoto, Japan. Calamoneri's work includes the NYIT award-winning Art of Memory..

At the beginning of Flamingo Flamingo,Cairns Cella and Juvelier Keates, partly hidden beneath dim lighting, slowly raised one leg and balanced on the other like, well, flamingos. They were dressed in flamingo headdresses (the long avian neck stretching up and curving toward their foreheads), pink feathered capes and tails, and pink fishnet stockings. In the shadows, the two executed a series of awkward, slow motion movements. Then the lights came on fully, causing them to blink forcefully, eyes -wide- open in surprise. When the music changed to "We Speak No Americano," they livened up. Sexy poses and "hey look at me" hip shaking were interspersed with humorous, teeth-baring grimaces that verged on the grotesque, hinted at rage, and highlighted the bizarre.

Let it Go by Red Dot Dance was choreographed by Alissa Horowitz. Brigid Green, Alissa Horowitz, Amanda MacLeod, and Katie Stehura performed, with music by Verte couverture, The Fucked Up Beat, and The Brian Jonestown Massacre. According to the program notes, the piece was inspired by "things people would like to let go," which are submitted to the blog: Let it Go.
Pictured: Alissa Horowitz; Photo Victor Lazaro
Let it Go began in silence, broken only by the rasp of masking tape being pulled from its roll, then applied to the stage in a jagged line. One of the performers traced this line with her body, alternating between movement and laying across it in awkward angles. Soon the other performers joined her, all dressed in khaki, cream, or beige pants, shorts, and cotton blouses. Behind them hung a clothesline drawn across the back of the stage on a diagonal. Clothes tags, presumably the ones on which the online submissions were written, hung from the clothesline. Three of the dancers began heavy, tense movements. The fourth read from the submissions, in which fear predominated: "fear of the unknown," "fear of success," "fear of commitment," "fear of being myself," etc. Afterwards, three of the performers used their hands like brushes, sweeping the entire body of a fourth performer. What started with ponderous movement grew gradually lighter, with increased energy and joy as the inchoate burden released from each of the performers.

The evening concluded with Iris Gets Ready for Her Date, a work-in-progress excerpt from the dance theatre work Iris Gets Ready. The piece was choreographed by Cynthia Berkshire, and performed by Berkshire and Nicole Touzien. According to her website, Iris Gets Ready serves as a "metaphor for a woman's deeper sense of herself" and exposes "the inner landscape of an uncertain, wounded and resolute woman."

Berkshire and Touzien took stage in front of a weathered white chair, a pair of beige patent leather pumps to one side of it, and beige bras strewn in heaps on the stage. Berkshire, her face obscured by a heavy brunette wig, lay on the ground topless, writhing as if an invisible force impeded her ability to stand. Touzien intermittently shone a flash light on parts of the stage while Berkshire performed. Yet most of the stage lay in shadows, while images were projected on a screen behind it: first, an image of an alarm clock; then a crimson-lipsticked mouth, moving with exaggerated sexuality; followed by a little girl in a swimsuit who was building a sand castle at the seashore. Beneath the little girl's image, Berkshire crawled, creating a powerful juxtaposition: the joy and carefreeness of a little girl contrasted with the mature woman prostrate and burdened, her muscles tense, her toplessness conveying beauty and vulnerability. Near the end of the performance, Touzien urged Berkshire to don an oversized bra, then coaxed her to put on one of the patent leather pumps. The two crawled together, then knelt next to each other, peered down their bras, looked at each other as if comparing, and laughed.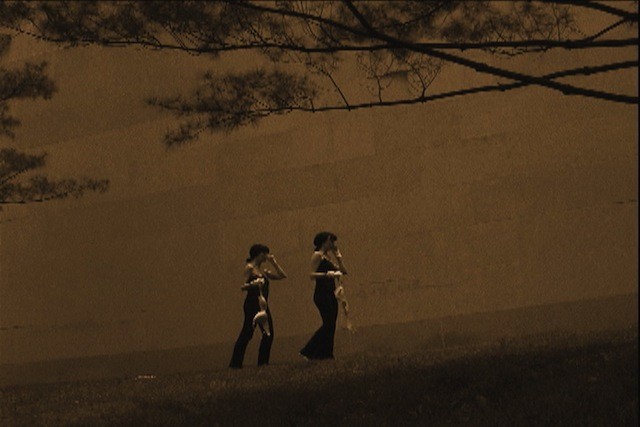 Pictured: Cynthia Berkshire and Nicole Touzien. Photo Jessica Sue Burstein
about Dixon Place :
Dixon Place began as a salon in artistic director Ellie Covan's Paris apartment in 1985, and was transplanted to her East Village living room in 1986. The organization bills itself as "New York's laboratory for performance, [which] supports the creative process by presenting original works of theater, dance, music, literature, puppetry, and performance." Many, if not most, performances at Dixon Place are works in progress, with about 700 artists presenting their work each year. Well known artists such as Blue Man Group, John Leguizamo, and Reno began their careers at Dixon place, which has also presented performers such as Martha Wainwright, Karen Finley, and Vivian Reid.