IMPRESSIONS: Dance Theatre of Harlem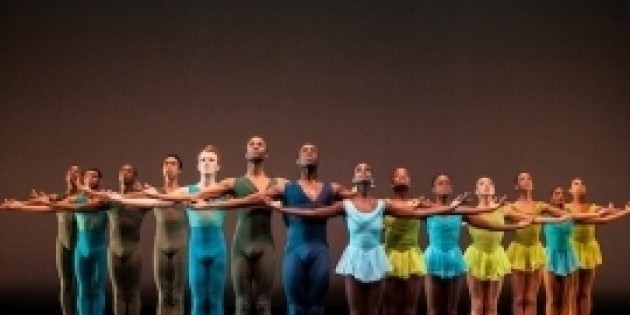 DANCE THEATRE OF HARLEM: AGAIN, A CONTENDER WITH CLASS
Dance Theatre of Harlem
Rose Theater – Jazz at Lincoln Center's Frederick P. Rose Hall
April 10 – 14, 2013
Performances seen:
Program B - Saturday evening, April 13 at 8:00 &
Program A - Sunday afternoon, April 14 at 3:00
April 16, 2013
 
---
Henning Rübsam for The Dance Enthusiast
In the six performances that packed Dance Theatre of Harlem's five-day run at Jazz at Lincoln Center's Rose Theater, Virginia Johnson, artistic director, programmed two major works, like bookends, in the two programs that re-introduced the company to New York.
CONTESTED SPACE
by choreographer Donald Byrd, which closed Program B, is a rare find.  It manages to celebrate both the classical idiom and the individual. 
AGON
, a Balanchine work that originally starred DTH's co-founder Arthur Mitchell, had done just that when it premiered at New York City Ballet in 1957.  Here, it opened a season that put Dance Theatre of Harlem back on the map after a near nine-year hiatus.  Downsized from a plus-40 member troupe to a group of 18 dancers, the verve and joy are alive.   
Donald Byrd's Contested Space ;Ashley Murphy and Samuel Wilson; Photo © Rachel Neville
CONTESTED SPACE
may be dark, but Ballet 101 it is not.  Set to an electronic score by Amon Tobin, contractions ripple through the body and launch the dancers through space.  Wiggles are not extraneous, but serve as cause for resulting movement that takes the dancers to the floor and into glorious overhead lifts.  The space is explored vertically and horizontally as the dancers push and pull one another across in dynamics that differ with each entrance.  Natasha Guruleva's urban costumes and stark lighting by Peter D. Leonard enhance the contemporary look.  But even if he occasionally borrows from other dance vernaculars, Mr. Byrd employs ballet vocabulary and inventively pushes its boundaries.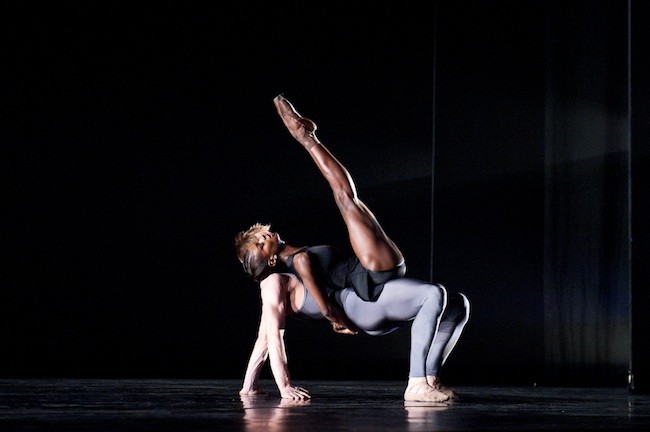 Donald Byrd's Contested Space ;Ashley Murphy and Samuel Wilson; Photo © Rachel Neville
Lissome Jehbreal Jackson slinks and slithers as he claims the arena and other dancers - with their backs toward center stage – prepare to enter the ring to fight for their share of the space.  Brawny Da'Von Doane and stylishly strong Samuel Wilson accentuate their material with refreshing individuality while Alexandra Jacob's pointe shoes pierce her confines in a manner that allows no further confinement.  Stephanie Rae Williams's hunger for space is paired with elegance and Ashley Murphy relishes each moment with catlike pounce and playfulness.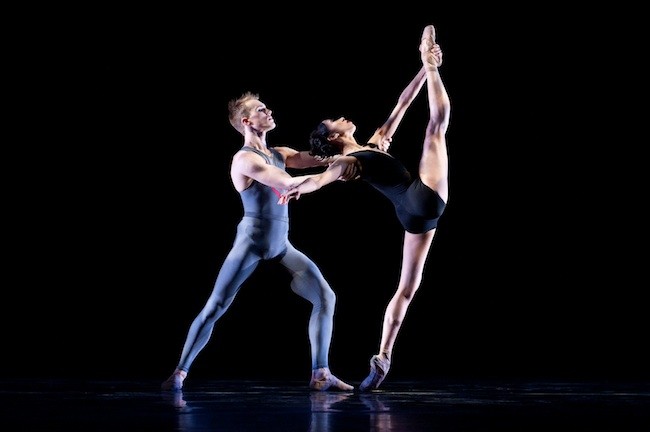 Donald Byrd's Contested Space;Samuel Wilson and Alexandra Jacob; Photo © Rachel Neville
Just when one is questioning the string of male-female duets, the configurations change.  Byrd is not afraid of much needed calm in what otherwise could be an overload for the senses.  At one point he has a couple exit and it takes a few seconds for them to reappear from an upstage wing. It creates the illusion that the dance continued offstage and thereby the space and the dance are extended beyond the visible.  Jenelle Figgins, Ingrid Silva, Taurean Green, and Anthony Savoy complete the fine cast.  
CONTESTED SPACE
is an important achievement that not only shows impressive technical abilities, but defines classicism for our time.
AGON
is the ancient Greek word for contest.  Just like
CONTESTED SPACE
, it feels Olympian. Without live music, I struggle with the recording and the limitations it sets for the dancers.  However, part of the fun in both contests is seeing the dancers at work. Experiencing limits is not necessarily a bad thing if the act of braving them is carried out with conviction. Thus Gabrielle Salvatto transcended in the closing Sunday afternoon performance.  
AGON
is a lesson in form and would be less memorable if the long and mysterious central pas de deux would not pulverize its very structure.  
Dance Theatre of Harlem in Robert Garland's GLORIA ; © Photo Matthew Murphy
If I ever want a house built, I might ask choreographer Robert Garland for advice. His new
GLORIA
to Poulenc's music is a carefully crafted construction that shows his concern as a teacher and his respect for the art.  I sense that he feels responsibility as the company's resident choreographer and  takes every movement seriously.  It is evident that dancers grow technically in his work and the nod toward the future by including very young dancers onstage is touching.  In his older
RETURN
(1999) set to songs by Aretha Franklin and James Brown, he lets the dancers loose and I am grateful for the sheer fun.  You would have to be a curmudgeon to not delight in Mr. Doane's "Superbad" gyrations.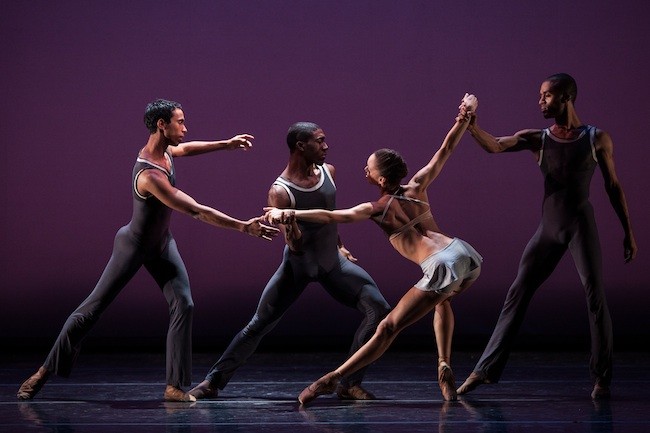 Chyrstyn Fentroy, Francis Lawrence, Da'Von Doane, and Anthony Savoy, Jr. in Robert Garland's Return; © Photo Matthew Murphy

To offer the "Black Swan pas de deux" from SWAN LAKE was a necessary political statement for this company of different colors.  Michaela DePrince was joyful and strong and her handsome prince, Wilson, showed refinement.
 
Helen Pickett's duet
WHEN LOVE
– in which Ms. Murphy and Mr. Jackson truly are lovable - occupied the female choreographer spot in a program in which Ms. Johnson had to think of everything from color to gender and from classic to contemporary.  She also seemed to think she had to appease the New York critics by including yet another Balanchine work,
GLINKA Pas de Trois
. One chance missed to showcase a dance of one of the other great choreographers of the past whose work is seen less often.  Let's just hope that female ballet choreographers and dancers of all colors are soon represented in every ensemble.  
The "Black Swan pas de deux" from Swan Lake ; Michaela De Prince and Samuel Wilson; © Photo Matthew Murphy
The condescending
FAR BUT CLOSE
by John Alleyne hammered home the black experience, but it had one redeeming quality: live music.  And Alvin Ailey's
THE LARK ASCENDING
(1972) looked somewhat anachronistic performed in point shoes. The women of the company who all made a strong impression in the other works need  stronger torsos to successfully negotiate the tilt balances.  Mr. Savoy, who distinguished himself through his expansive reach, partnered the lovely Chrystyn Fentroy.
A program to please everybody after as long an absence is impossible to achieve.  The gorgeous and costly
St. Louis Woman
production for the 2003 Lincoln Center Festival toured for one year before the company had to shut its doors.  To have this company back at one of the Lincoln Center stages was momentous.  It took years of fundraising and pertinacious organizational planning by executive director Laveen Naidu and his team, as well as consistent training by ballet master Keith Saunders and staff to lay the foundation for the company's rebirth.  
Ms. Johnson prevailed, the dancers excelled, and Dance Theatre of Harlem reclaimed - within merely five days - its rightful and vital place as one of the major companies in America.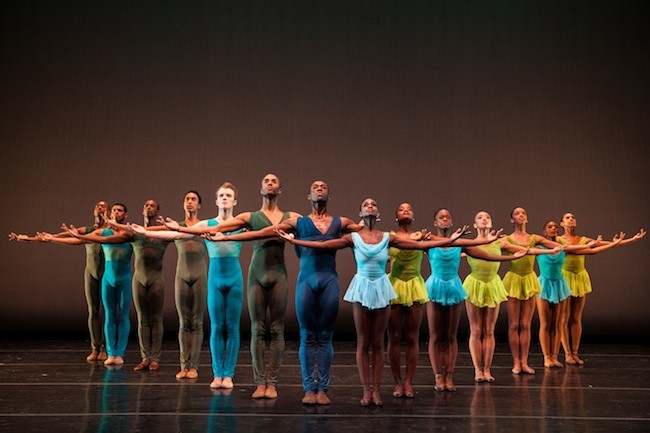 The Dance Theatre of Harlem in Robert Garland's Gloria; © Photo Matthew Murphy
---
The Dance Enthusiast Shares IMPRESSIONS/our brand of review, and creates conversation.
For more IMPRESSIONS, click here.
Share your #AudienceReview of performances. Write one today!
---
The Dance Enthusiast - News, Reviews, Interviews and an Open Invitation for YOU to join the Dance Conversation.