IMPRESSIONS: David Dorfman Dance — 1 of 2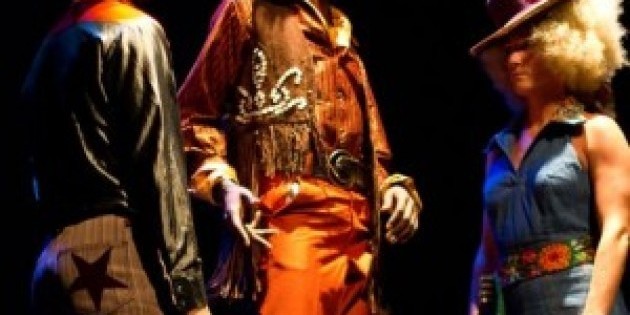 Prophets of Funk
IMPRESSIONS: David Dorfman Dance in Prophets of Funk
The Joyce Theater Tuesday, January 24, 2012 at 7:30 pm
New York
---
Conceived and Directed by :David Dorfman
Choreography and Text: David Dorfman Dance
Music: Sly and The Family Stone
Sound Design: Samuel Crawford
Media: Jacob Pinholser
Creative Consultant: David Kyuman Kim
Dramaturge: Alex Timbers
Lighting Director and Stage Manager: Dans Sheehan
Performers:David Dorfman, Kyle Abraham, Meghan Bowden, Luke Gutgsell, Renuka Hines, Raja Feather Kelly, Kendra Portier, Karl Rogers, Whitney Tucker
---
Trina Mannino for The Dance Enthusiast
The first time I saw David Dorfman I was in a college technique class and, to my surprise and embarrassment, I mistook him for a student's dad. Once I saw the man move however, I knew he was a great dancer. I couldn't keep my eyes off him, he looked like he was having so much fun. In Prophets of Funk he is no different.
Dressed in platform shoes, a baby blue blazer and red slacks, Dorfman commands the stage as he shuffles and stomps, flapping his arms alongside him like a funky hawk. His boyish charm can be seen rows back as he boogies downstage with a Cheshire cat grin.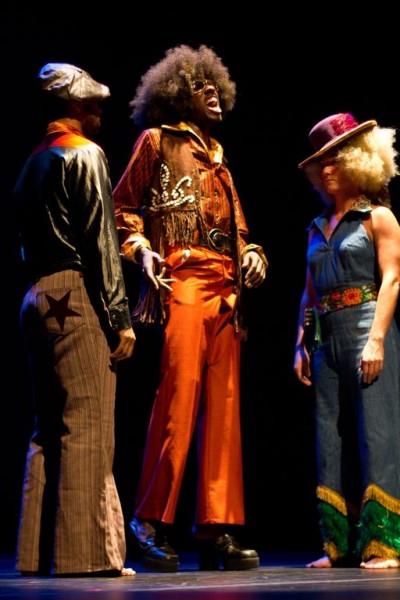 Prophets of Funk-Kyle Abraham, Raja Kelly, Whitney Tucker Photo Courtesy of Adam Campos
Channeling the life and work of the 60's and 70's music group, Sly and the Family Stone, Dorfman sets a fast and loose pace for his company of eight. The 55-minute work flies by. Bodies flip over one another. The dancers shimmy, gyrate, and "get down" across the stage. Raja Feather Kelly, in his fringe vest, afro and aviator sunglasses anchors the work as the front man, Sly Stone. Just when I think Dorfman has led us to a dance party that is going all night long, Kelly steers the funk forward singing "If you want me to stay" and encouraging the audience to stand up, cheer, and share the power of peace.
The work intertwines virtuosic dancing, humor and historical reference seamlessly. Kyle Abraham, the funny man, gives comedic relief in his golf cap and bell bottom pants as he shouts "that's my step!" whenever a fellow dancer breaks out into their signature dance move, be it a booty shake or a quirky foot scoot. Whitney Tucker in a chambray blue halter jumpsuit brings down the house with a soulful solo. I notice every one of her vertebrae undulate. She grooves like a serpent.
I find myself tapping my feet and whispering an enthusiastic "yeah!" when I see impressive dancing — and the dancing was impressive last night. But one of the most poignant parts of the evening was the audience participation. At the end of the show, the dancers pulled audience members onto the stage for an impromptu dance party. That group movement truly embodied what Sly and the Family Stone were about — unity, community, and freedom.
David Dorfman Dance is still at The Joyce Theater Go See.
performance schedule
Thursday January 26th & Saturday January 28th at 8pm; Sun January 29th at 2pm
For Tickets Click
here
To Read Christine Jowers' Dance Enthusiast Impression of David Dorfman Dance Click Here
---
---
The Dance Enthusiast Shares IMPRESSIONS/our brand of review, and creates conversation.
For more IMPRESSIONS, click here.
Share your #AudienceReview of performances. Write one today!
---
The Dance Enthusiast - News, Reviews, Interviews and an Open Invitation for YOU to join the Dance Conversation.