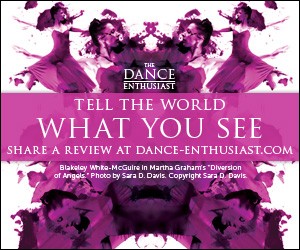 Related Features
IMPRESSIONS: Dorothy, Annie, Maria — Together at Joe's Pub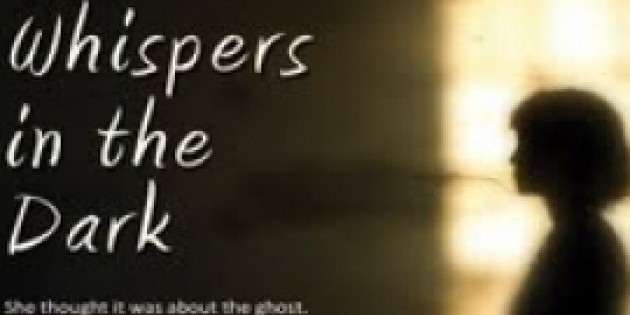 IMPRESSIONS: Dorothy, Annie, Maria: Together at Joe's Pub
Not Your Mama's Musical
DanceNOWNYC at Joes Pub, New York, NY
February 14-16 a 7pm
February 25th, 2013
---
The Whiz: Emerald City (excerpts)
Original production directed by Monstah Black and Nicholas Leichter; Choreographed by Nicholas Leichter, with additional choreography by Wendell Cooper; Music by Monstah Black with additional music, samples and interpolations by The Time, Survivor, Charlie Smalls, Mtume and Quincy Jones
Dancers: Lauren Basco, Wendell Cooper, Aaron Draper, Nicholas Leichter, and Dawn Robinson
ShowDown (excerpts)
Choreographed by David Parker Music and lyrics by Irving Berlin ;Costumes by Juliet Shore Dancers: Dylan Baker, Jeremy Bensussan, Jeffrey Kazin, David Parker, Nic Petry, Amber Sloan, Gregory Youdan, Jr., Andrew Sanoni; Arrangement & recording of "Old Fashioned Wedding" by Anna Ebbesen
Fräulein Maria (excerpts)
Conceived and choreographed by Doug Elkins; Music by Richard Rogers Lyrics by Oscar Hammerstein II ;Performed by Archie Burnett, Carolyn Cryer, Doug Elkins, Donnell Oakley, David Parker
---
Garnet Henderson for The Dance Enthusiast

When I heard that excerpts of Nicholas Leichter's The Whiz, David Parker's ShowDown, and Doug Elkins' Fräulein Maria were going to be sharing the stage at Joe's Pub, I knew I had to be there. Although I'd never seen any of the works live, they were reputed to be hilarious and inventive. Well, the rumors were true.

Joe's Pub is a delightfully unlikely dance space, and these three works used the pub to its best advantage. Full, sweeping movements made the postage stamp stage seem much larger without losing its intimate, cabaret-style feel. The audience is close enough to see every minute detail, every facial expression, and every flash of the eye. The playful blurring of the audience-performer line completely absorbs. It reminds me of the way I used to feel when seeing dance as a kid – I imagined myself right up on stage with the performers. At Joe's Pub, I am.

The show begins with excerpts of Nicholas Leichter's The Whiz. As the lights dim, the thumping bass of club music lets us know it is time.  Throughout the piece, tunes from The Wiz combine with high-energy dance music and the dancers deftly execute a mix of modern dance and hip-hop. Watching The Whiz is like watching a group of friends (who all happen to be great dancers) at a party. The dancers are having fun with each other, and their exuberant attitudes are infectious.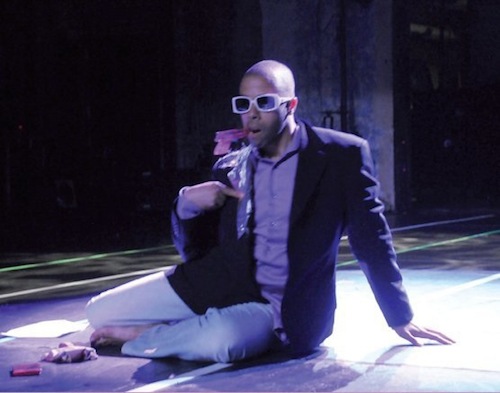 Nicholas Leichter in The Whiz; Photo ©
Steven Schreiber 

A highlight is Aaron Draper's solo to "Mean Ole Lion," one of The Wiz's most instantly recognizable tunes. As he performs in athletic shorts and boxing gloves, taking hits at an invisible foe, Draper manages to exude a lazy indifference while showing off. The work ends on an introspective note with another solo performed by Leichter. Although he dons a sparkly red hat and, of course, ruby red slippers, the dance isn't gaudy. It explores an idea central to all versions of The Wizard of Oz  – home, and how to find your way there.

Next on the program are excerpts of David Parker's ShowDown, a joyously funny look at love and show business to music from Annie Get Your Gun. In the beginning, the dancers move through different paces of romance. Some of them effortlessly strike poses that evoke a pas de deux while others fall or are pushed out of the way. There are also jazzy moves and some barefoot tap dancing. The dancers hold the audience in the palm of their hands, or perhaps, the arches of their feet. Their faces, as they react to each others antics, are just as expressive as their bodies and the comic timing is perfect.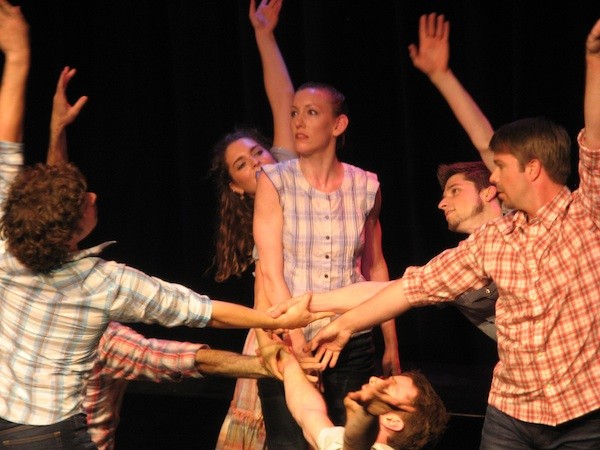 David Parker's ,ShowDown Photo ©

Steven Schreiber 

There's No Business Like Show Business is ShowDown's gleeful finale. Amber Sloan, the only gal in the piece, transforms from a struggling rookie to a star, relishing the attention of the audience and the male ensemble dancing with her. The number is quite a fitting conclusion and a wonderful statement about the entire program.

As something of a 'bonus track,' David Parker and Jeffrey Kazin perform a duet to "Old Fashioned Wedding." The tune was written for the revival of Annie Get Your Gun, and originally choreographed by Parker for his parents' wedding anniversary. Parker sings a romantic ode to the old fashioned wedding while Kazin harmonizes, demanding champagne, frills and drama. The piece ends in a tap dance show-down between the two, in which they compete with virtuosic steps and simple gestures - another fabulous bit of good old-fashioned show business.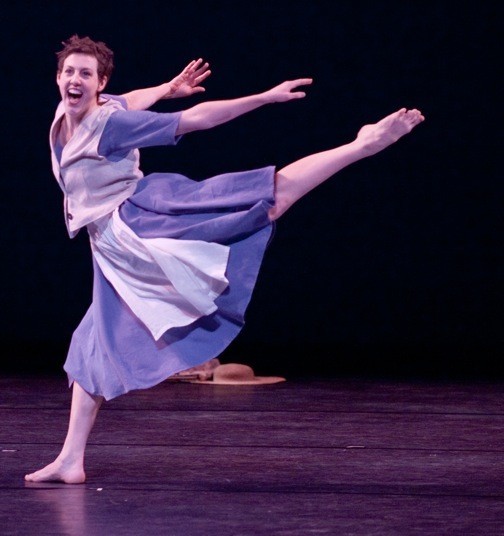 Donnell Oakley in Fräulein Maria; Photo © Christopher Roesing 

Excerpts from Doug Elkins' Fräulein Maria, his hilarious re-imagining of The Sound of Music finish the night. Performers often enter and exit by weaving their way through the audience at Joe's Pub, and Fräulein Maria makes special use of this device, as not one, but two Marias wander through the crowd. As Carolyn Cryer's Maria greets people and strays towards the bar, Donnell Oakley's Maria scolds her "clone "and practically drags her to the stage. Their playfully antagonistic relationship continues throughout their duet, during which the two comedians effortlessly display dynamic dancing.

David Parker appears again in Elkins' version of the coming of age song "I am 16 going on 17." This time, the large white choreographer, sporting a tiny pink frock, is the giggling young lady (Lisle) to Archie Burnett's more seasoned, mature character (Rolf.) In this dance, Rolf is no soon to be Nazi, but rather a large, African American, muscle bound bad boy seducer in a workman's uniform.  As Burnett struts about and lap dances, the "innocent" Parker steals scandalous peeks from behind "her" book. It is a wonderfully naughty and hilarious send up.

The final Fräulein Maria excerpt is a solo performed by Elkins to "Climb Ev'ry Mountain." This optimistic, inspirational tune is often forgotten to the catchier Von Trapp family songs, but Elkins infuses the piece with a fresh, witty energy. Wearing a black hoodie, adapted to mimic a nun, he exudes casual bravado, gesturing to the song's crescendos like a b-boy abbess.

With fantastic dancing, side-splitting laughs and a welcoming bar, we can only hope there will be more contemporary takes on great musicals happening more often at Joe's Pub. That's entertainment!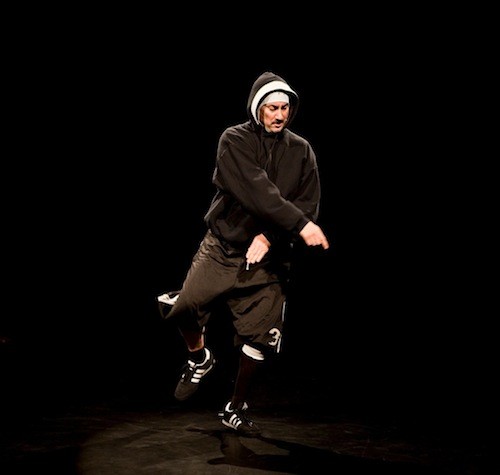 Doug Elkins in Fräulein Maria; Photo © Yi-Chun Wu 
---
The Dance Enthusiast Shares IMPRESSIONS/our brand of review, and creates conversation.
For more IMPRESSIONS, click here.
Share your #AudienceReview of performances. Write one today!
---
The Dance Enthusiast - News, Reviews, Interviews and an Open Invitation for YOU to join the Dance Conversation.