IMPRESSIONS: Dusan Tynek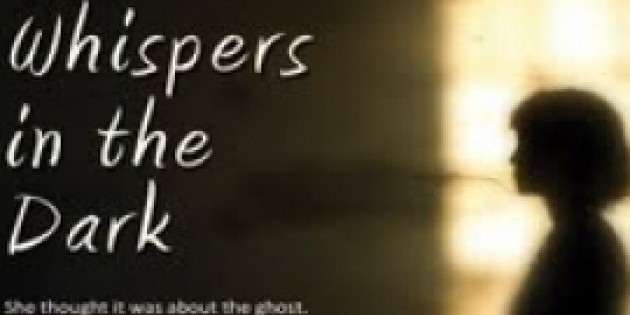 (DT)2 at Dance Theater Workshop-Wednesday June 2, 2010
Middlegame
Choreography: Dusan Tynek
Lighting Designer: Roderick Murray
Costumes: Karen Young for "Base Pairs" and "Transparent Walls", Dave Johnson for "Middlegame"
Music: Aleksandra Vrebalov for "Transparent Walls". Music for "Middlegame" is by J.S. Bach, Raymond Scott, Yann Tiersen, Carlos Paredes, and Vera Bila & Kale
Text: Cynthia Polutanovich
Dancers :Alexandra Berger, Ann Chiaverini, Emily Gayeski, Luke Murphy, Elisa Osborne, Satoshi Takao, Dusan Tynek, Aaron Walter
© Christine Jowers 2010
In Dusan Tynek's, MIDDLEGAME, his ambitious three premier season at Dance Theater Workshop, our eyes find many delightful places to travel. I savor the lifts and arches, the entrances and exits, the changes of facing and the unexpected groupings. I love noticing his use of pattern and being surprised by it.
Transparent Walls
– (first piece of the evening)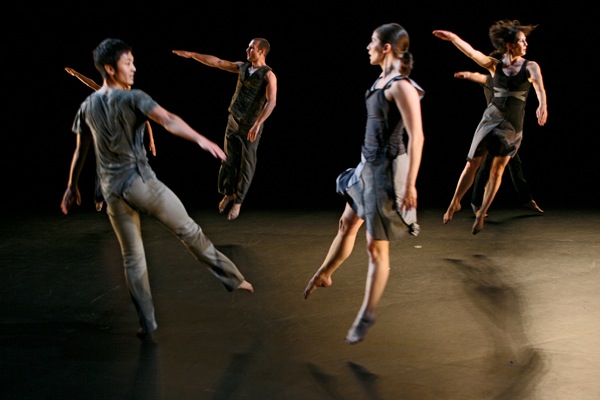 Photo by Julie Lemberger

I wonder, are we watching birds? Who are the soaring citizens inhabiting this tumultuous monochromatic world of grays and blacks? The dancers, their phrases and arrangements in space provide the color. Side tilts with loping jumps, athletic balletic technique, but, with weight and curves, compelled jogging, then running, then flying all while changing facings and directions. They seem to relate to one another creating a trio, or a pair or a quartet, then no more. One pattern, one grouping, quickly disintegrates into another as key phrases play out in all manner of iterations. The dancers scatter… as if in an air raid. The music cries and whispers. The dancers diverge and reunite, creating all form of swirling constellations. Most spellbinding, however, is their fearless sprinting and gliding in and out of what appears to be the vast nothingness surrounding the stage. Lighting designer Roderick Murray creates this intriguing illusion of endless space.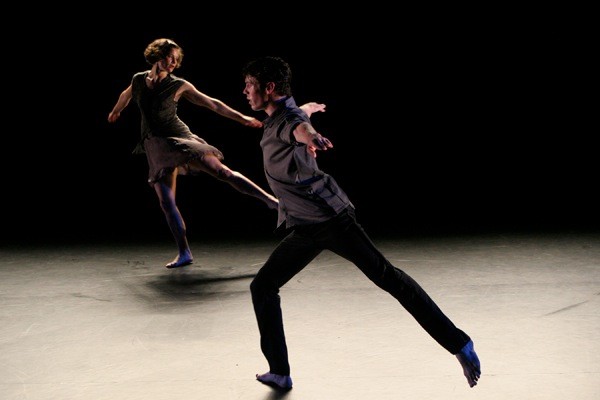 Photo by Julie Lemberger

The dancers scurry from the mysterious world we can see –the stage--where all the action is happening—to an even more colossal enigma, the void of space on its outskirts. Where are they going? What drives them? What is happening out there?

Then, out of the whirlwind, silently emerging from darkness, an embracing couple tread slowly towards us -- perhaps Adam and Eve.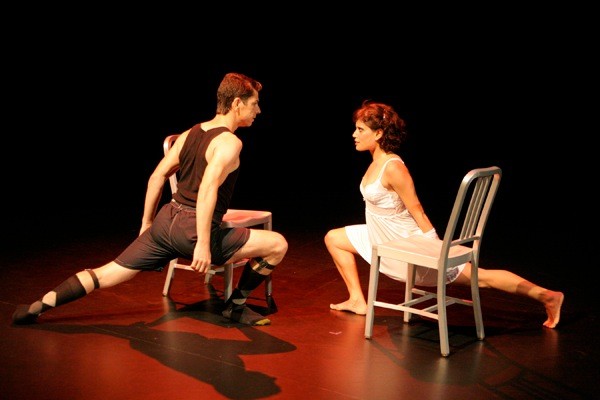 Photo by Julie Lemberger

Tynek explores huge themes - all the biggies- birth, death, sex, society and the individual, and then he takes on café life in the 19th century coupled with the idea of game playing: as in the strategic manipulations of chess and as in the manner that people toy with others lives. He employs pure movement for movements sake and also incorporates movement theater. He works with talented collaborators: a company of strong supple dance technicians, lighting designer, Roderick Murray and costumers, Karen Young and Dave Johnson. He explores music -using a gorgeous wind chamber ensemble piece, then, going spare and bare with recorded voice and metronome, and finally, playing with sound collage containing everything from Raymond Scott (of cartoon soundtrack fame) to Bach's "Goldberg Variations" to Yann Tiersen's " The Deutsch Mark is coming". Whew. He further challenges himself by using every dancer in his company in each piece and also dancing in the first work and the finale. Definitely not an underachiever.

Base Pairs (2nd piece of the evening)
 
Photo by Julie Lemberger

On a small table upstage, a metronome, like a tiny ancient pyramid, is brightly lit. It sings to us insisting time is passing, days are passing, and all is measured-- even and everlasting. Lucinda Child's voice (Tynek used to dance for this minimalist choreographic legend) accompanies the metronome making odd compelling observations about humanity and intimacy from a text by Cynthia Polutanovic. "The cells strangle themselves with longing for each other" and "according to our bodies everything is unromantic. The way you reach into my clothes is programmed." Her voice is resonant yet disconnected, think a feminine HAL in 2001 Space Odyssey.

The dancers in Speedo-like white unitards, cut just below the hip (not a look that many can carry off --even with terrific bods), move with a language of precision complexity and speed, much like a drill team, except their movement vocabulary is far richer and their performance quality far more business-like. There are curious printings on their outfits that remind me of Georgia O'Keefe's bleached cow skulls and angel wings.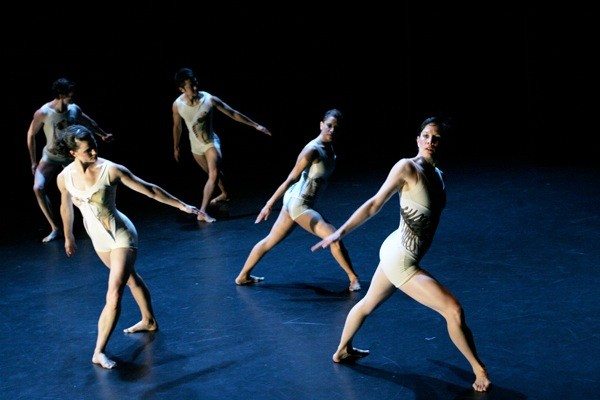 Photo by Julie Lemberger

The dancers fluidly travel through the beats of the metronome while Child's tape recorded voice, impartial as the instrument and dancers she accompanies, drones on about how we are just meat and bones. Suddenly, at the last minute, her disembodied voice registers emotion, a surprising longing. She wants to ravish her lover and be consumed by him, she wants to rewrite psalms. But the dancers and the metronome ignoring this deeply felt pang, continue their synchronized movements -- efficiently unconcerned and automatic.

Middlegame- (3rd piece of the evening)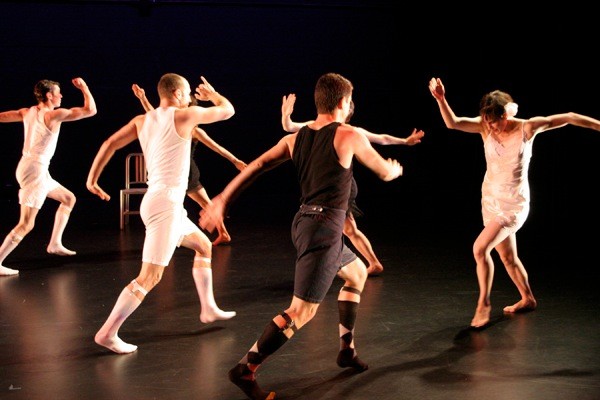 Photo by Julie Lemberger

My attention belonged to Tynek and his company until the last dance, titled like the evening, Middlegame. Instead of connecting to the inner life of the piece and to the various topics I knew the choreographer wanted to share: café life, chess and relationships, my pervasive thought while experiencing this work became, "these dancers cannot stand still and be." They were all great with the technically specific and extremely difficult physical tasks required in the first two pieces of the evening but the simplicity of being a character without something technically demanding to perform?
 
Photo by Julie Lemberger

Many actors I have enjoyed, people without the sophisticated movement repertoire of our dance tribe, can be far more interesting to watch in these kind of pieces than we are—and that bugs me. Perhaps it is because their imagination is honed, to get at the heart of these explorations. They work on presence, on concentrating with every cell in their body on the task at hand. They work on intention, asking, " why am I here?" " Who am I in this work and how do I change throughout it." So when one stands still, it is not just waiting for the next movement to begin, it is its own movement and important as anything else in the work.

While Middlegame contains interesting patterns and shifts, playful at moments, with fun props, and costumes, and while I appreciate Tynek's delving into another genre of movement, I still wondered who and what I was looking at. Was there supposed to be sexual tension? How are we supposed to tell? When someone swivels his or her hips? Or because of their make-up? When was the mood supposed to be giddy, when was it serious? Who are these people, my dancer friends from ballet class, or inhabitants of another century in a location other than Dance Theater Workshop? Does everyone know where they are? I felt that with the addition of props, the adjustments of chairs, and the turnarounds in styles of music (and there was a smorgasbord) the cast and myself, as an audience member, were bit perplexed about what was happening.

It is a challenge to be simple. A powerful sense of intention and clarity on stage can affect more deeply than the highest kick or the most intricate combinations of movement.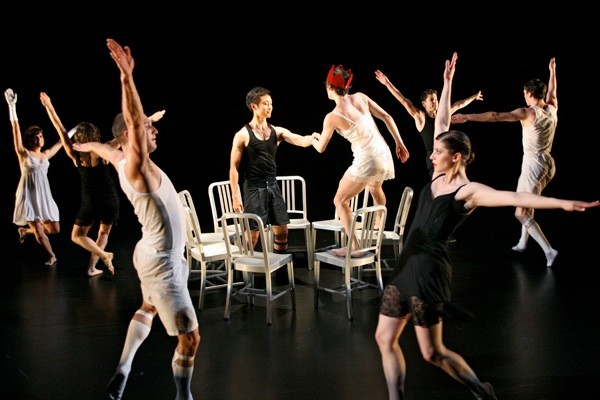 Photo by Julie Lemberger
---
The Dance Enthusiast Shares IMPRESSIONS/our brand of review, and creates conversation.
For more IMPRESSIONS, click here.
Share your #AudienceReview of performances. Write one today!
---
The Dance Enthusiast - News, Reviews, Interviews and an Open Invitation for YOU to join the Dance Conversation.