IMPRESSIONS: EmmaGrace Skove-Epes in "Rounds"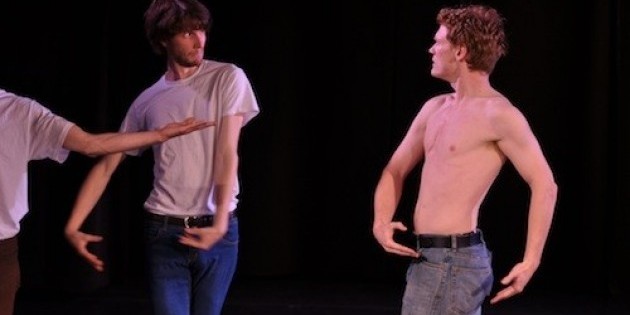 A Choreographer Emerges in Brooklyn
IMPRESSIONS: EmmaGrace Skove-Epes 
ROUNDS Presented by Spoke the Hub @ Gowanus Arts, Brooklyn, NYC- November 17th, 2011
Concept and Choreography: EmmaGrace Skove-Epes in collaboration with performers
Performers: Sunder Ashni, Karesia Batan, Daniel Bieber, Dasha Chapman, Joel Clark, Rachel Goldstein, Gyrchel Moore, Rhiannon Murphy, Jesse Phillips-Fein, EmmaGrace Skove-Epes, Ian Turner, Nadia Tykulsker
Lighting: Diana Bayne
Costumes: Ronnie Yoked
---
©Tara Sheena 2011 for The Dance Enthusiast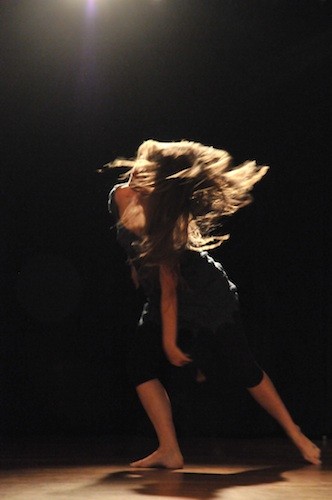 EmmaGrace Skove-Epes-Photo Courtesy of the Choreographer
"I'm not actually all that sure how I feel about starting the piece this way, but I'm going to go with it," EmmaGrace Skove-Epes informs us. We are the audience during Skove-Epes' first evening-length dance production,
ROUND
S, a product of a 50 -hour space grant awarded to her through the Brooklyn-based arts organization,
Spoke the Hub
. 
The emerging choreographer presents work that is humorous, direct and ethereal.  

In Run On, a solo Skove-Epes choreographed and performs, she shares a glimpse of her inner monologue --breaking up quirky, hoppy phrases with bits of narration. At one point, she wonders aloud, "Am I performing this idea of who I am onstage?"  Pondering feelings commonly shared by performers, Skove-Epes effectively draws us into her questions. She is at times timid, at times vulnerable, but determined to be entertaining.
A Lesson In French
finds a trio of ale "non-dancers" reading didactic English descriptions of traditional French ballet terminology. As the performers recount basic ballet terms such as "plié", "tendu", and "frappe" they depict, quite literally, the translations: to fold, to stretch, and to strike. The men express "plié"(to fold) by actually taking off their white t-shirts and folding them. This novice dancer cast gives their alpha-male all to the performances and, by virtue of their wide-eyed discoveries, we learn while giggling. In a medium where humor is often satirical or grating, Skove-Epes gives us a piece that is laugh-out-loud funny.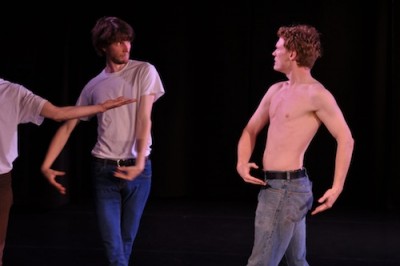 A Lesson In French-Photo Courtesy of the Choreographe
The focal point of the evening is the 45- minute opus, ROUNDS, a dance for eight women. As the performers blow into glass bottles filled with water of varying levels, gossamer vibrations fill the space. Grychel Moore's languid arm gestures mirror the atmosphere in a stunning opening solo. Phrases of movement dictate the sounds produced by the bottles as much as the sounds produced by the bottles dictate the movement. Though the musical score lends a celestial tone, the choreography is grounded by Skove-Eypes' dynamic rhythmic structure. As ROUNDS concludes, I find myself immersed in this community of women.
 
Rounds -Photo Courtesy of the Photographer
---
The Dance Enthusiast Shares IMPRESSIONS/our brand of review, and creates conversation.
For more IMPRESSIONS, click here.
Share your #AudienceReview of performances. Write one today!
---
The Dance Enthusiast - News, Reviews, Interviews and an Open Invitation for YOU to join the Dance Conversation.