IMPRESSIONS: Focal Point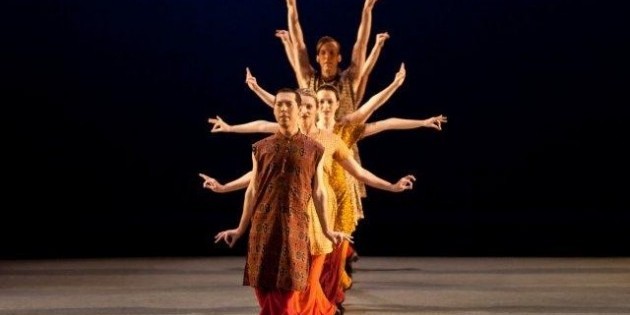 IMPRESSIONS: Focal Point
Performance Curated by David Parker
January 11th, 2013 Ailey Citigroup Theater
8:00PM
Performances by: Darrah Carr Dance, Michelle Dorrance Dance, Nicholas Young and David Parker/The Bang Group
January 15, 2013
---
A Smorgasbord of Sound

The first evening of Focal Point, Gotham Arts Exchange's newest and only artist curated dance production, was a performance not to be missed. This night of dance, curated by David Parker, celebrated percussion in a variety of unexpected ways: from tap dance to technology, from clapping, flopping, and bare feet to fusions of Eastern and Western sounds; there was even bubble wrap.

The most groundbreaking use of rhythm was found in Soundmovement Dance Company's Environments. Choreographed by Nicholas Young, Environments included a technological set consisting of a computer connected to pedals, which Young pushed with his tap shoes in between a furiously fast and syncopated solo.

By tapping on a wooden rectangle and seven smaller squares, all of which had sensors, Young created different pitches and sounds. His manipulations along with vocalization, instrumentation and clapping created a multi-layered musical score contributed to, not only by Young, but also by his four dancers and the versatile musician Gregory Richardson.

In addition to the unparalleled sound, Young and his dancers reveled in their individuality. Some flailed their arms while others kept them at their sides. In one section, all of the dancers tapped the same rhythm but executed different steps to do so. Young contorted his face with passion, allowing his steps to flow while his female counterpart smiled sweetly. The dissimilarity of each artist only made the work stronger — a true celebration of the performing spirit.

Individuality was vividly embodied by Michelle Dorrance's Company in Jungle Blues. Dorrance and her ten dancers  recalled the Jazz Age with music by Branford Marsalis. Their mismatched twenties garb and distinctly drawn characters — the bickering couple, the tipsy lady and the Lothario — pulled us into their raucous night at a speakeasy.

In Dorrance's other presentation Two to One/The Twelve Eight, the incorporation of contemporary dancer, Mishay Petronelli, in bare feet was distracting. Despite Petronelli's unusual mix of hip hop, contemporary and tap, her duet with Dorrance was a predictable battle. When the ensemble darted across the space with a raw and tenacious quality, Petronelli's role appeared ancillary to the group's unison and call and response choreography.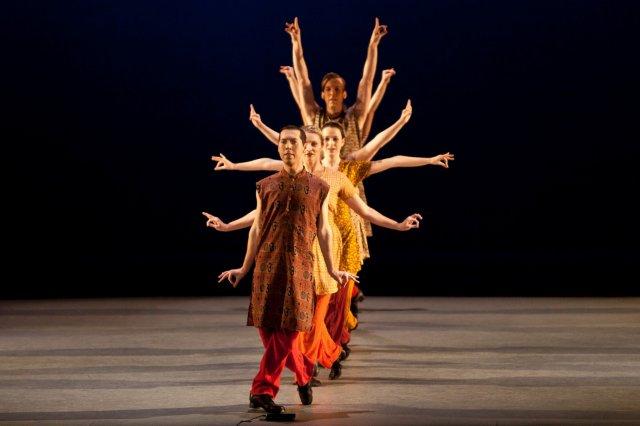 Darrah Carr Dance's Ryan McCarthy, Melissa Padham, Caitlin McNeill & Timothy Kochka; Photo by © Matthew Murphy

The two tap ensembles weren't the only fastidious percussive movers on the program. Darrah Carr Dance Company performed their Bessie-nominated work Dingle Diwali choreographed by modern dance choreographer (and Irish step-trained) Seán Curran. In this performance, the company, known for their blend of traditional Irish step and contemporary modern dance, wove Indian influences into their work with brightly colored tunics (created by Curran) and Sheila Chandra's music. Intricate footwork and expressive upper bodies along with the artists' ability to play with the complicated meters of Eastern fusion music revealed a high level of musical and performance sophistication.

The evening would not have been complete without works by David Parker, particularly his off kilter Nut/Cracked. Parker reminded us that rhythmic choreography does not always require tap shoes or clapping. Who would have thought that slurping a noodle in time with the music or belly flopping on a bed of bubble wrap could sound so delicious?
For more information on Focal Point and other Gotham Art Exhange programs click HERE

 
---
The Dance Enthusiast Shares IMPRESSIONS/our brand of review, and creates conversation.
For more IMPRESSIONS, click here.
Share your #AudienceReview of performances. Write one today!
---
The Dance Enthusiast - News, Reviews, Interviews and an Open Invitation for YOU to join the Dance Conversation.