Related Features
Advertise With Us
Make an impression — place an ad on The Dance Enthusiast and receive thousands of eyes on your work every week. Learn more. 
Contribute
Your support helps us cover dance in New York City and beyond! Donate now.
IMPRESSIONS: From Paris — Satchie Noro's "Les Absents"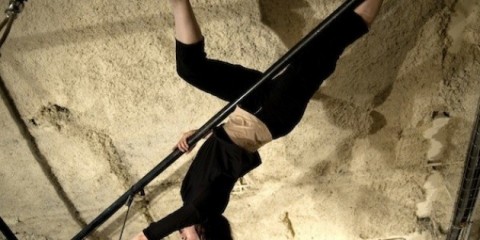 IMPRESSIONS: Satchie Noro's Les Absents
(

The Missing)
Theatre Paris-Villette, Paris
April 14, 2012
---
Choreography and Performance: Satchie Noro
Music: Fred Costa
Lighting and Production manager: Thierry Arlot
Costume: Silvain Olh, Maryse Jaffrain
Advisor: Yumi Rigout
Production Manager: Stephane Lebaleur
---
© Ann Moradian for
The Dance Enthusiast with Photos by
Frédéric Kiehn
Satchie Noro's Les Absents
Photo by ©Frédéric KIEHN
We enter through the back door of the Paris-Villette Theatre squeezing down a narrow stairway into the depths of the building's old cellar. We are here to witness Satchie Noro's performance
,
Les Absents. A limited audience of 15, none of us have removed our coats: it is almost as cold inside as outside. Lights roll gently over the ragged wall surfaces and in between stone archways, creating the illusion of an unending labyrinth.
Noro appears - half in darkness, half in light- casting shadows in the distance. She seems like a giant insect with feet en pointe and arms inserted into the sleeves of, what look like, beautiful bamboo crutches.body is encased in a dress of wooden squares that are linked together loosely. They flap and clack as she moves. When we follow her deeper, through the building's small chambers and odorless arches, we are allowed to sit down:our coats are still firmly clutched around us.  
---
The beauty of art
lies not only in our opinion of it,
but  in the degree that it reminds us of our humanity...

Art re-calls us to our lives.
A space has been created out of pipes, hanging lights and wooden planks - like a rat's idea of playground. But Noro isn't a rat.
My friend thinks Noro is going through a metamorphosis from insect to chrysalis as the performer spins on a hanging lamp and steps out of her percussive shift. Later Noro continues her performance in simple black dance clothes, minus the pointe shoes.  
---
I  zone in and out as the piece progresses.The visual beauty of such a rugged space, and Noro's smooth ability as an acrobat intrigue me. I wonder how, or why, she is willing to do four performances in a row in a space this cold, and on a floor that is - despite the huge swath of muslin covering it - hard, broken, uneven concrete.
Satchie Noro's Les Absents
Photo by ©Frédéric KIEHN

The idea of her squeezing in between the top of her metal playground and the ceiling, swimming in that little space with just enough room to get through was fascinating.  I couldn't help but wonder how many times she scraped her skin on the rough ceiling in rehearsal. (Just one of the thoughts that passed through my wandering mind.)
 
After the insect part at the beginning, I don't really feel any connection -- it is as if an important part of Noro has been left behind with her armor. She isn't sincerely with us anymore. By the end, Noro renders a smiling, jumping, little girl who spins through the encumbered space. But her smile is truly not that of a joyous girl; indeed ,it belies the depth one senses buried in this beautiful Franco-Japanese woman.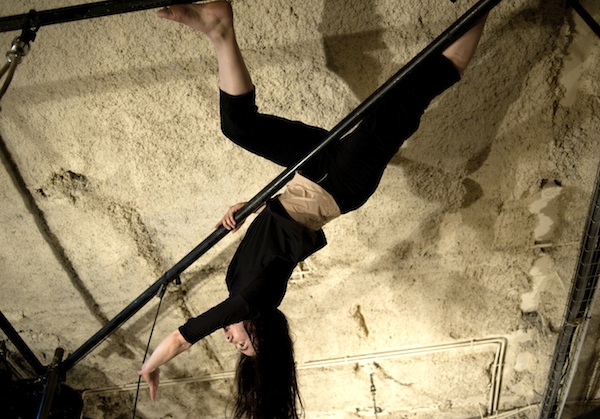 Satchie Noro's Les Absents
Photo by ©Frédéric KIEHN
---
The performance lasted 30 minutes. Afterwards, my friend and I headed off in search of a warm drink. Making the time to chat in a café is truly one of the most pleasurable aspects of life  in Paris. What is surprising, perhaps, is that we talked for almost two hours about the performance, finding references in the evening to our own nightmares and dark, unconscious depths. 
When all is said and done, the beauty of art lies not only in our opinion of it, but  in the degree that it reminds us of our humanity and our range of possibility. Art re-calls us to our lives. For me, Les Absents was an evening well spent.

---


 
---
The Dance Enthusiast Shares IMPRESSIONS/our brand of review, and creates conversation.
For more IMPRESSIONS, click here.
Share your #AudienceReview of performances. Write one today!
---
The Dance Enthusiast - News, Reviews, Interviews and an Open Invitation for YOU to join the Dance Conversation.