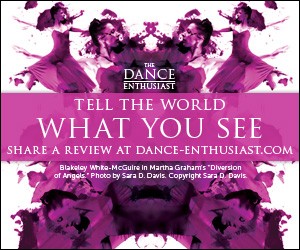 Related Features
IMPRESSIONS: Hiroaki Umeda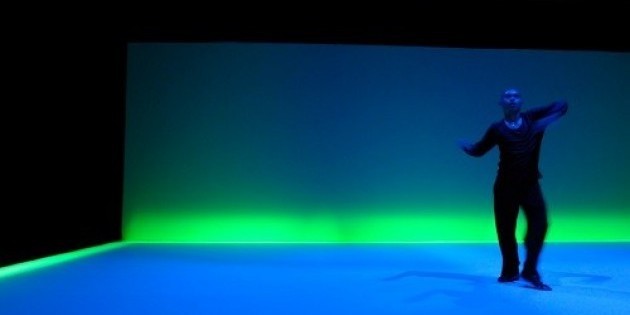 Traditions Collide
IMPRESSIONS: Hiroaki Umeda
Haptic and Holistic Strata
Choreographed by Hiroaki Umeda
Presented by REDCAT ,Los Angeles, CA
February 14-16, 2013
March 5, 2012
---
Kelly Hargraves for The Dance Enthusiast
(Note: Hiroaki Umeda will be performing at New York Live Arts from March 7-9th, 2013 at 7:30 pm for tickets and info click here)

I happened to sit next to a recent dance school grad at the REDCAT in LA for a performance of Haptic and Holistic Strata by Japanese artist Hiroaki Umeda. I remarked how much I have always loved Japanese Butoh and was looking forward to this piece, to which the young (possibly Japanese) man scoffed, "I expect this to be as far away from Butoh as it can be."

His comment certainly set a framework for me to view the two solos by Umeda. Was I being too presumptuous expecting all that came out of Japan to grow from Butoh roots?

Since Umeda's fluid body has been equally trained in the studio and in the street, I suspect my audience mate's assumption was that his work would be based more in his American hip hop training than his Japanese cultural roots. (In fact, a viral internet clip of a piece that highlighted Umeda's "street" style had attracted a decidedly "un" modern dance crowd to the REDCAT.)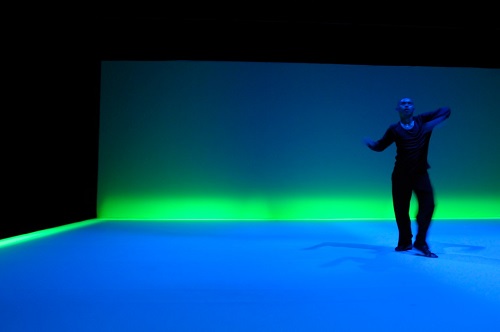 Hiroaki Umeda in Haptic; Photo Shin Yamagata

When Umeda starts Haptic , a solitary body in loose black clothes stands still in one spot upper stage right. With his feet glued to the floor, we sit ready for an outbreak of flow and vigor. But the artist rarely takes any steps, generally doesn't move from his spot, always faces the front and certainly shares no virtuosic jumps or turns. Instead, a tension builds which very slowly turns into an all encompassing quiver on one side of Umeda's body:his right arm and leg and jolt out in isolations that continue throughout the piece. These small random movements are reminiscent of a robot firing up and then powering down.

Umeda moves ON the music, following the rhythms and beats like a street dancer, which isn't so easy to do with the highly static electronic soundtrack created by his company S20.

Trained as a photographer, Umeda calls his practice polydisciplinary. Like his post-war Japanese predecessors (who worked not only with internal motivation and sustained tension, but also with the sense of the body as part of a visual art installation) Umeda designs his moving body as a part of an overall canvas, a human screen for a video installation.
Hiroaki Umeda in Holistic Strata, Photo Courtesy of Hiroaki Umeda

In his second solo, Holistic Strata, a video composition lights the backdrop and stage floor with variations appearing on the performer's body. Umeda is a human canvas for the massive and majestic video projections - a convergence of small dots that resembles the cosmos and moves in rapid transforming patterns with an intensity that we can feel. In fact, looking away from Umeda is disorienting and can cause convulsions. He becomes a necessary focal point: the calm in the storm. His still or slightly moving body is the repose, not at all incidental. He HAS to be there.

Umeda masterfully builds a dramatic tension that pulls the audience into his all encompassing sonic, visual and kinetic web. He lets the vision release into silence and stillness, only to ramp it up again after we have had a moment to exhale. It is visual programming unlike anything I've ever seen before on stage- entrancing, inspiring, even exhausting.

Where most performers try to integrate their stage movement with a video that appears on the large screen behind them- a pairing which rarely works- Umeda and his team have the confidence to allow the performer to erase himself.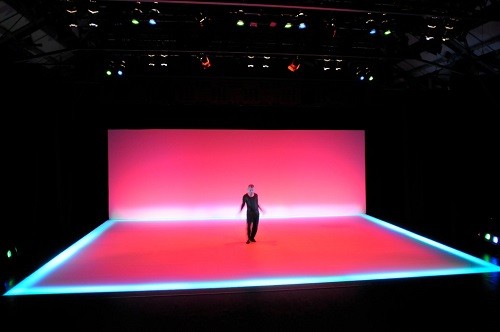 Hiroaki Umeda in Haptic; Photo Shin Yamagata
---
The Dance Enthusiast Shares IMPRESSIONS/our brand of review, and creates conversation.
For more IMPRESSIONS, click here.
Share your #AudienceReview of performances. Write one today!
---
The Dance Enthusiast - News, Reviews, Interviews and an Open Invitation for YOU to join the Dance Conversation.