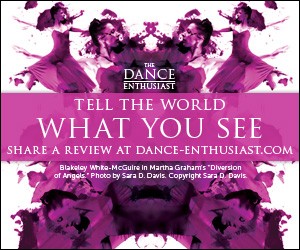 Related Features
Advertise With Us
Make an impression — place an ad on The Dance Enthusiast and receive thousands of eyes on your work every week. Learn more. 
Contribute
Your support helps us cover dance in New York City and beyond! Donate now.
IMPRESSIONS: Jane Comfort's Faith Healing
Joyce SoHo, New York CityOctober 27-31, 2010
Direction: Jane Comfort Choreography: Jane Comfort and Company
Text: Tennessee Williams; additional text by Jane Comfort
Music: Richard Landry Brooks Williams
Sets and Costumes: Liz Prince Lighting Design: David Ferri
Cast:
Amanda: Mark Dendy
Laura: Heather Christian
Tom: Sean Donovan
Gentleman Caller: Matthew Hardy
Woman in the Movies: Leslie Cuyjet  
---
Elizabeth England 2010
Choreographing a Play
There is a danger in creating a performance based upon another. The second piece can seem merely derivative of the original, without its own power, or, devotees of the first can grumble that the second changed so many elements of their beloved masterpiece as to render it unrecognizable. The artist must walk the line between creating a piece that stands on its own and maintaining its essential kernels.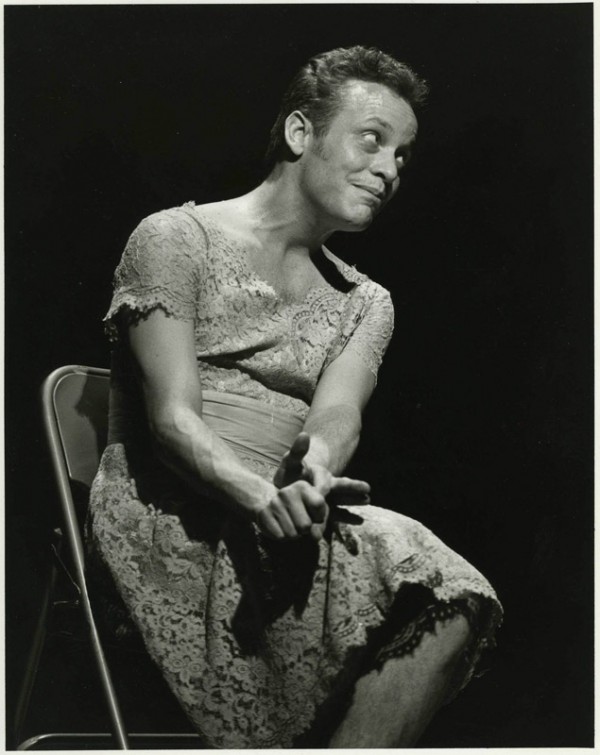 Mark Dendy. Photograph by Johann Elbers.
PHOTOS FROM JANE COMFORT'S ORIGINAL PRODUCTION of FAITH HEALING 1993
In
Faith Healing
, a dance theater piece based upon Tennessee Williams' "The Glass Menagerie", (
http://en.wikipedia.org/wiki/The_Glass_Menagerie
) Jane Comfort conserves the brilliance of the play while using her own tools to draw out its key themes. In her translation from the script to dance, Comfort offers her audience a new portrayal of the characters as they struggle through their family dramas.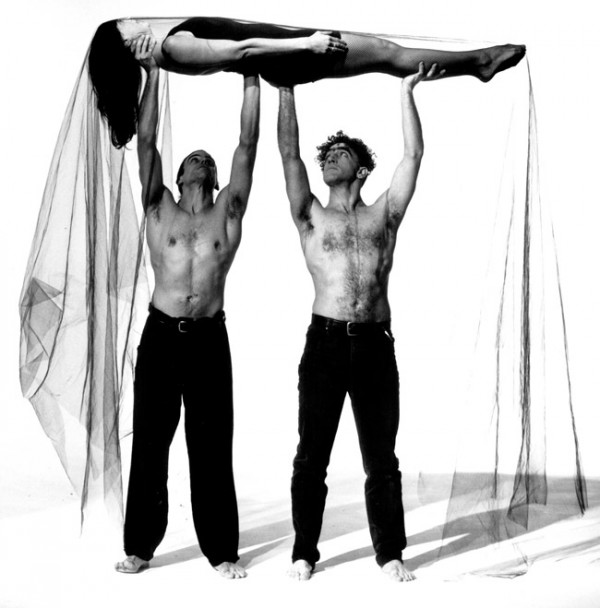 Photograph by Arthur Elgort.
PHOTOS FROM JANE COMFORT'S ORIGINAL PRODUCTION of FAITH HEALING 1993
In an early dinner scene, when Amanda Wingfield, the matriarch, (played by Mark Dendy) lectures her son, Tom (performed by Sean Donovan), on digestion and table manners, the dancers impassively hand jive. As tension builds between Tom and his mother these gestures reveal their attempts to go through the motions of civility. The hand- jives return at different points in the performance, to highlight the lies the family tells themselves as their barely contained feelings bubble under the surface.
Nancy Alfaro and David Neumann, the original cast of Faith Healing. Photograph by Arthur Elgort.
PHOTOS FROM JANE COMFORT'S ORIGINAL PRODUCTION of FAITH HEALING 1993
Another motif repeated throughout the performance is that of Laura (played by Heather Christian) who drapes sheer netting over her head while slowly dancing alone beneath it. In the play, Laura is a painfully shy young woman obsessed with her glass animal figurines. Comfort capitalizes upon the abstraction dance grants her to show Laura as existing both in the "real" world and in her own reality through the motif of the netting, which like glass, possesses both translucent and obstructive qualities.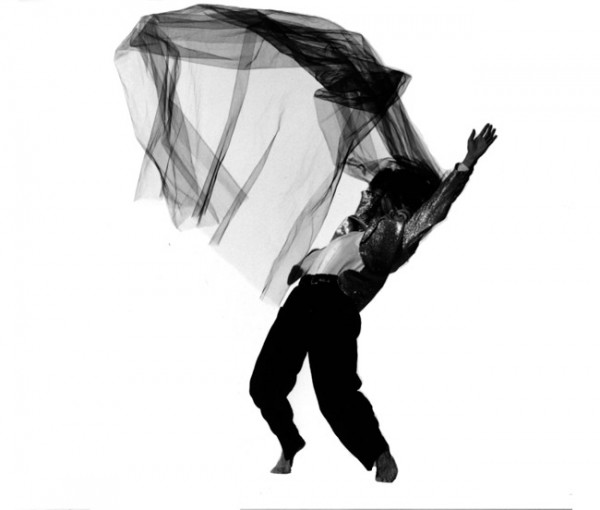 Photograph by Arthur Elgort.
PHOTOS FROM JANE COMFORT'S ORIGINAL PRODUCTION of FAITH HEALING 1993
The most delightful elaboration in Comfort's work is the addition of scenes from popular movies. In the original story, Tom escapes his banal warehouse job and his nagging mother, by going to the cinema to vicariously live out his need for adventure. Comfort expands upon this idea by incorporating scenes from popular films to dramatize the characters feelings.
Three episodes in particular stand out for their eloquence. For Tom, it is during a nasty fight with his mother, when he suddenly turns to her and mouths "Hasta la vista, baby" lip –synching with a recording of Arnold Schwarzenegger in
Terminator2
. For Laura, it is when she plays the part of Lois Lane as Superman takes her flying, a touching wish for freedom from a character so painfully shy that she vomits when she tries to attend business school. For Amanda, the faded Southern belle struggling to keep her family alive, it is the nightmare scene from
Gone With the Wind
where Scarlet O'Hara awakens, terrified, to be comforted by Rhett Butler.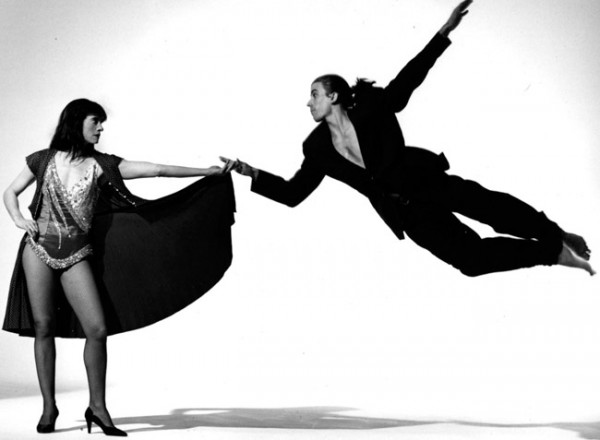 Nancy Alfara and David Neumann. Photo by Arthur Elgort.
PHOTOS FROM JANE COMFORT'S ORIGINAL PRODUCTION of FAITH HEALING 1993
In his play, Williams turns the troubles of one poor family into an epic saga through his words. Comfort does the same with the juxtaposition of fragments from Williams' play and popular movies.
Comfort's attention to the possibilities of live performance offers her audience a fresh valence through which to understand Williams' play, and seventeen years after
Faith Healing's
debut, I am grateful for the chance to have seen it live.  
---
Footnotes:
All performances of Faith Healing at the Joyce SoHo were live-streamed. To view a recording, visit
http://www.ustream.tv/recorded/10566470
.]
For Other writings on Jane Comfort's
Faith Healing
-
http://www.nytimes.com/2010/10/30/arts/dance/30comfort.html
http://www.offoffoff.com/dance/2010/janecomfortfaithhealing.php
---
The Dance Enthusiast Shares IMPRESSIONS/our brand of review, and creates conversation.
For more IMPRESSIONS, click here.
Share your #AudienceReview of performances. Write one today!
---
The Dance Enthusiast - News, Reviews, Interviews and an Open Invitation for YOU to join the Dance Conversation.