Related Features
Contribute
Your support helps us cover dance in New York City and beyond! Donate now.
IMPRESSIONS: Les Slovaks Dance Collective in Opening Night (A New York Premiere)
Baryshnikov Arts Center: Jerome Robbins TheaterNew York, New York – Oct. 20, 2010 at 8pm
Choreographers/Dancers:
Milan Herich, Peter Jasko, Martin Kilvady, Anton Lachky, and Milan Tomasik (The Company)
Composition and Accompaniment: Simon Thierrée
Set Design: The Company
Costume Design: Mat Voorter and Pepa Martinez
Lighting Design: Hans Valcke and Joris De Bolle
Technical Director: Joris De Bolle
---
©Hannah Krafcik 2010
Six men stood onstage staring earnestly out at the influx of audience members. As the crowd finally settled down into a quiet and expectant state, these men burst into song--assumedly a Slovakian folk song--their robust voices resonating throughout the theater. Their accompanist, Simon Thierrée, separating himself from his group, made way to a chair on the side of the stage where he began playing a series of looped melodies and harmonies on his violin. The remaining Les Slovaks commenced a mischievous performance of dancerly camaraderie.
Each man performed a display of individualized gestures before joining one another in a somewhat off-kilter slapstick revelry. They charmed the now giggling crowd with mysterious glances and side bursts. Sometimes their antics morphed into a simple game of follow-the-leader infused with personable interactions and movement-based "inside jokes". Even Thierrée stepped away from his station to perform an impressive and witty solo, eliciting even more laughter. Though their interactions were rowdy and unstable, the players were consistently and undeniably athletic and agile.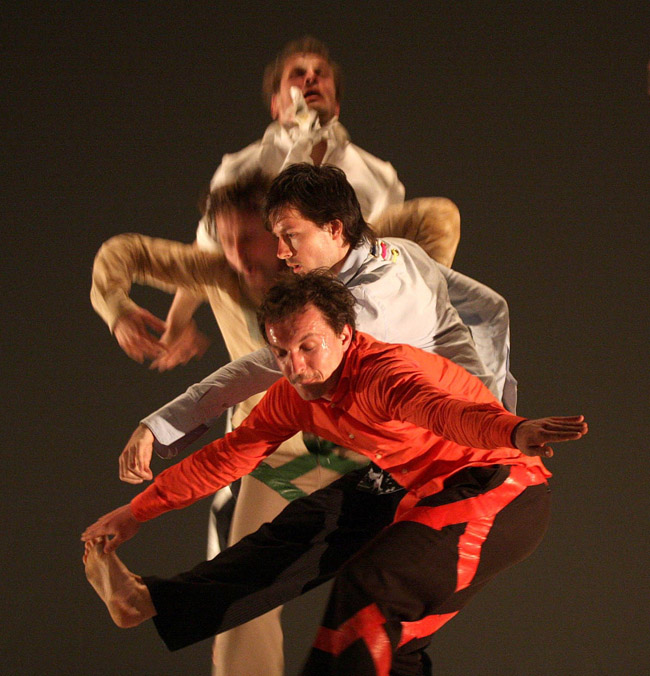 Opening Night 3:
Les SlovaKs Dance Collective
"Opening Night"
Pictured (from bottom up): Peter Jasko, Milan Tomasik, Martin Kilvady, Milan Herich
Photo: Pablo Sánchez del Valle
All movements in this work—both the musical and the corporeal—were underpinned by flavors of folkloric Slovakia. Though Les Slovaks spoke, they never addressed the audience in English; instead, they combined wit and modern dance practices to transcend the prominent language barrier and share their personal histories.  
Opening Night 1:
Les SlovaKs Dance Collective
"Opening Night"
Pictured: Martin Kilvady, Peter Jasko just behind holding his hand; background Milan Herich carrying Milan Tomasik
Photo: Noro Knap
In essence, Les Slovaks Dance Collective's performance of
Opening Night
illustrated how contemporary dance with a sense of humor can become a conduit for communication across cultural divides.  
---
The Dance Enthusiast Shares IMPRESSIONS/our brand of review, and creates conversation.
For more IMPRESSIONS, click here.
Share your #AudienceReview of performances. Write one today!
---
The Dance Enthusiast - News, Reviews, Interviews and an Open Invitation for YOU to join the Dance Conversation.