Related Features
Contribute
Your support helps us cover dance in New York City and beyond! Donate now.
IMPRESSIONS: Lime Rickey International's "Future Faith" at Abrons Arts Center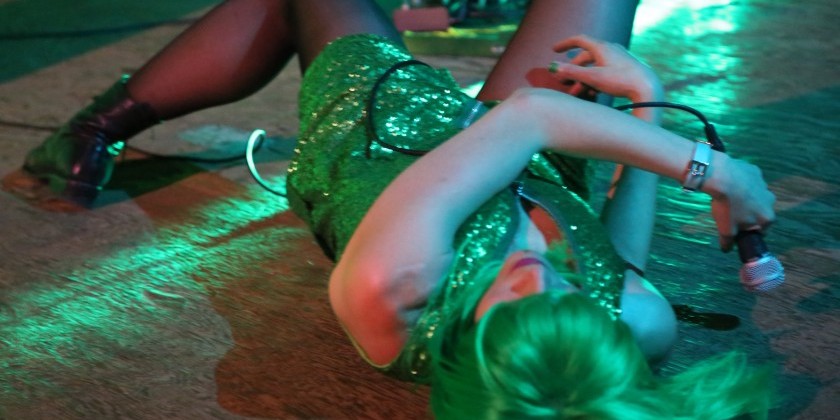 March 8, 2019
Choreography, composition, and performance: Lime Rickey International (Leyya Mona Tawil)
Live lighting: Emese Csornai // Costuming: Scott Tallenger
Set: Tim Clifford // Audio Tech: Ian Douglas-Moore
---
The sound — often dissonant and sometimes deafening — won't be what you remember. Instead, what will burrow in your memory is a simple, subtle action of hands fluttering forward and back, like the gentle swish of a fan. This gesture appears intermittently through Lime Rickey International's Future Faith, which had its world premiere at Abrons Arts Center. 
Lime Rickey International is the alter ego of Leyya Mona Tawil, a Syrian-Palestinian-American performance artist who creates and executes scores blended from sound and movement. Sporting a lurid green wig and a futuristic go-go costume, she wanders and warbles throughout the Underground Theater, a concrete-coated bunker of a space with the word toilet affixed to one wall. Sometimes, she pauses, once on the balcony for a gestural solo, but she doesn't linger. The roaming feels personal, as if Tawil is seeking something or someone.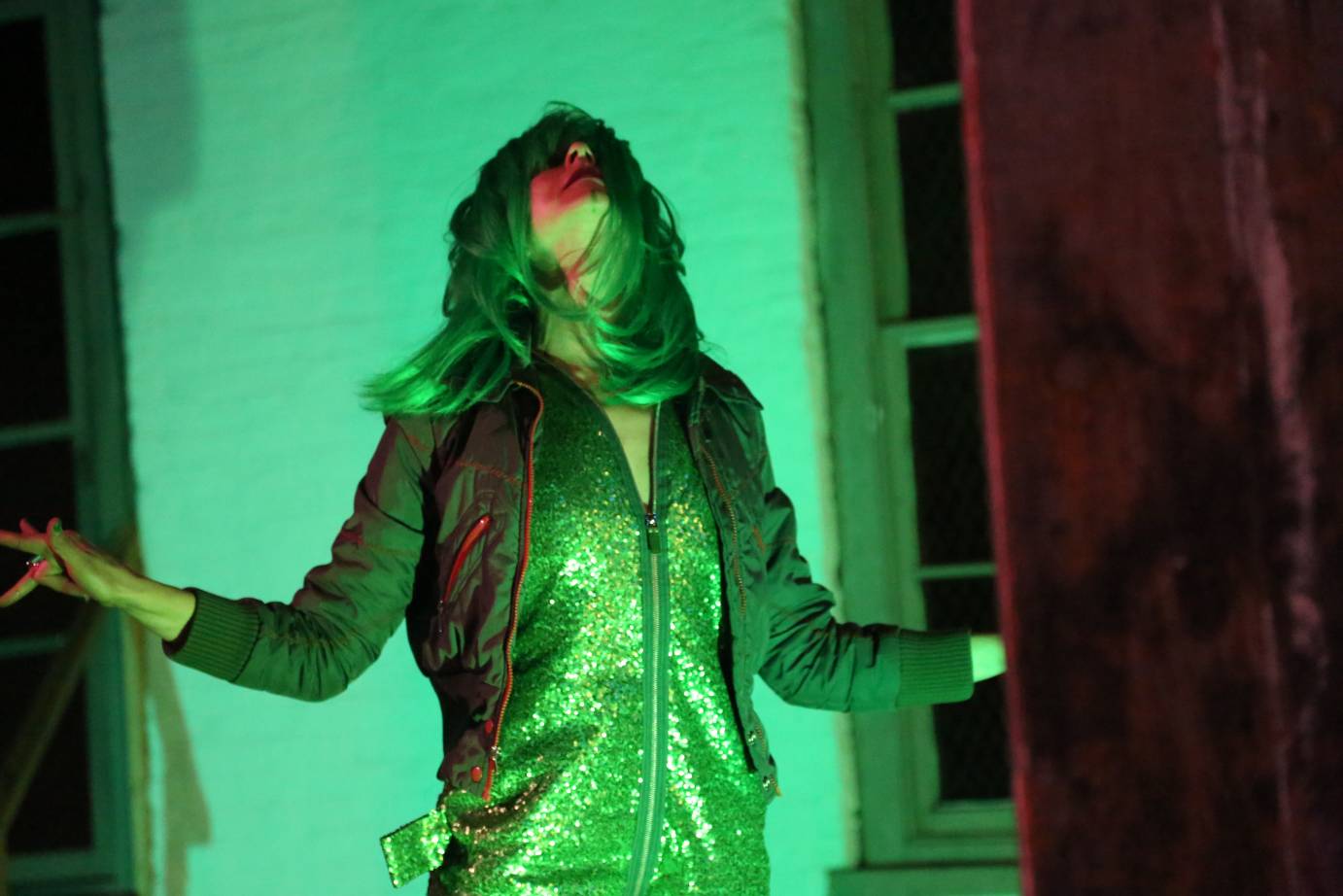 Lime Rickey International's Future Faith at Abrons Arts Center; Photo by Brian Rogers
She is a practitioner of Arabic folk forms, specifically dabke (a circle and line dance that's popular at celebratory gatherings) and tarab (both a type of art-music and the emotional response to music). These influences reveal themselves in repetition and rhythmic motifs. Regardless of the artistic preoccupations that accumulate over the forty-five-minute piece, the temperature stays mostly cool.
The folk-dance-meets-club-dance choreography unspools at a languid pace. Tawil lifts and articulates her knees while her arms sweep and then halt as in stop-motion photography. The actions increase in texture as she adds hip gyrations and flops of the torso where her head grazes her legs. She moves, literally, from stationary and planar to peripatetic and multi-leveled. Near the end, she succumbs to the ecstatic, trance-like possibilities of rhythm and repetition with a blitz of fervid stomps.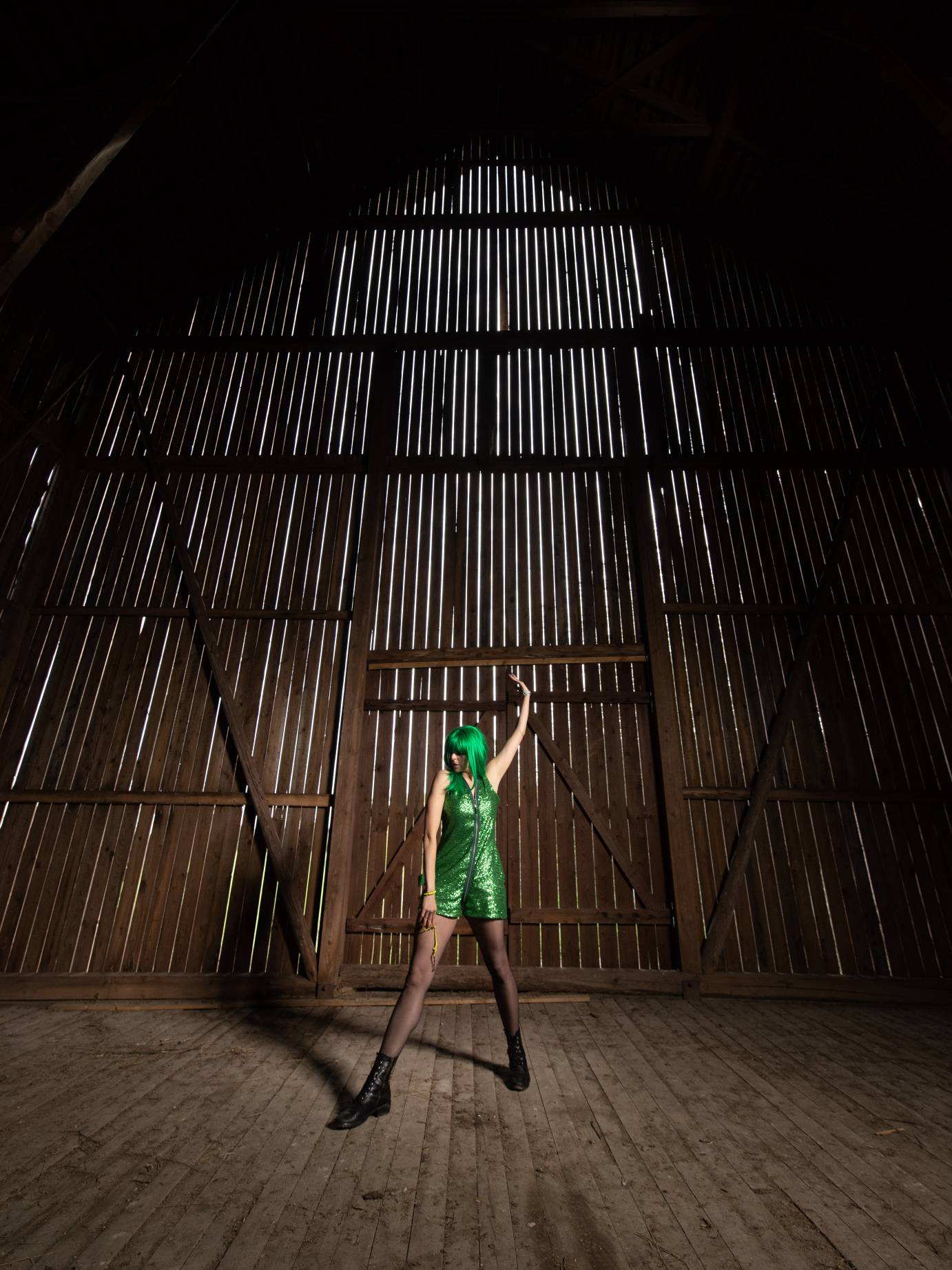 Lime Rickey International; Photo by Vesa Loikas Photography
The soundscape is more din than music. As if she's a mad scientist, Tawil works a soundboard that rests center stage, a tangle of wires snaking from it. One time, she takes a microphone and scrapes it against a concrete wall. The rasping from that bounces around, never landing but always hitting.
The theater grows thick with noise, sound presenting itself as an invisible but unwieldy weight. As such, the droning and blaring and screeching become an anesthetic. The louder it gets, the less I notice. Every once in a while Tawil interrupts the hubbub with a brief incantation. Silence of the stars, she croons in a quiet soprano, like it's a lullaby. Maybe it means something or maybe it's supposed to be more of the same, but I hear it.  
---
The Dance Enthusiast Shares IMPRESSIONS/our brand of review and Creates Conversation.
For more IMPRESSIONS, click here.
Share your #AudienceReview of performances. Write one today!