IMPRESSIONS: MARIA COLACO DANCE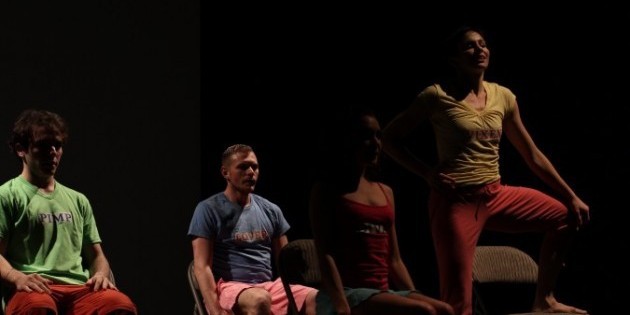 "EYE CANDY"
IMPRESSIONS: Maria Colaco Dance in Eye Candy
February 17, 2011 at The TANK
Cast: Tim Chester, Maria Colaco, Nic Grelli, Casey Mauro, Julia Planine-Troiani, Meryl Thurston
©Liz Gorgas for The Dance Enthusiast 2011 Photos by Bill Walsh courtesy of Maria Colaco Dance
"Eye Candy," a full length work of dance-theater choreographed by Maria Colaco utilizes a blend of cheap come-ons, dating disasters, anecdotes, and quirky musical choices to inspect, reflect, and ultimately skewer the all too-human pursuit of love and the heart's attempts to stave off loneliness. The dancers, as we first see them, wear garishly colored shirts imprinted with a word that serves to sum up their romantic modus operandi; there is a "pimp," a "lover," and a "vixen," amongst others. The sway of the girls' short skirts gives sass to the choreography, which runs the gamut from complex partnering to schoolyard games, and even a lively round of musical chairs.

Despite the presence of two male performers, "Eye Candy" most successfully explores the women's point of view. The men serve to play stand-in to better showcase the nuances of their female counterpart's joys, disappointments, and neurosis. Meryl Thurston's cringing reaction to her bespectacled blind date (Tim Chester) is an athletic show, as she lifts, hoists, and attempts to escape her besotted suitor while Ette James croons over the sound system. Casey Mauro is a vivacious treat, especially when her pattering monologue about trying to "be one of the guys" is delivered despite the fact she is bounced and jostled by the macho chest bumping of Nic Grelli and Mr. Chester.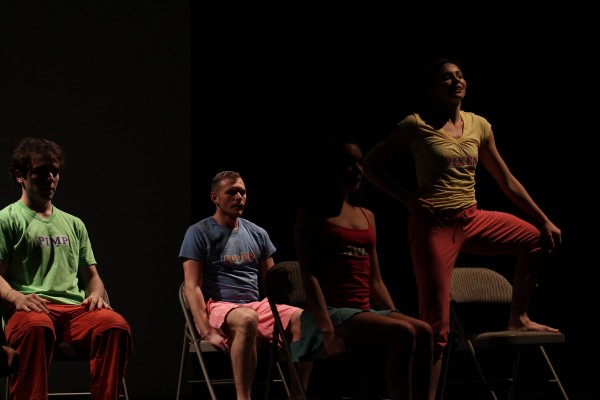 In one of the more poignant moments of the evening, Julia Planine- Troiani plays a once shining-eyed bride now trapped in the emotional redundancy that is an unsuccessful marriage; the rote ritual of taking hands with her husband is broken when he stops reaching out and she realizes he, quite literally, no longer stands with her.


The space itself, while nicely intimate, proved problematic for this show. There were moments wherein the performers interacted with the audience; however these proved to be among the least successful. The lighting (listed in the program as designed by "The TANK") rendered any who dared step away from the stage into a blackened silhouette. Any dialogue not spoken in complete silence was washed away by the humongous speakers perched to face the watchers as music belched at ear-splitting levels. The cast gamely tried to combat these obvious shortcomings with incredible verve, infusing every moment with indefatigable energy, but this is a show for which a connection with the audience is absolutely vital and to lose this with poor lighting and abusive volume levels was to lose the essence.
---
The Dance Enthusiast Shares IMPRESSIONS/our brand of review, and creates conversation.
For more IMPRESSIONS, click here.
Share your #AudienceReview of performances. Write one today!
---
The Dance Enthusiast - News, Reviews, Interviews and an Open Invitation for YOU to join the Dance Conversation.