IMPRESSIONS: Mana Kawamura/Kawamura the 3rd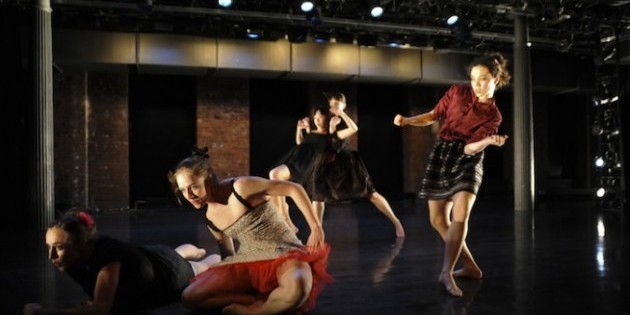 Premiere of "Pandora-deluxe-" at FLICfest II at Irondale Center
IMPRESSIONS: Mana Kawamura/Kawamura the 3rd
At FLICfest II at Irondale Center
Premiere of Pandora-deluxe-
January 26th, 2012
---
Choreographer: Mana Kawamura
Performers: Christiana Axelsen, Meredith Fages, Mana Kawamura, Morgelyn Tenbeth-Ward, Suzanne Thomas
---
One To Watch
Cory Nakasue for The Dance Enthusiast
I love the Irondale Center venue; the former Sunday School in Fort Green has a haunted mansion vibe that wears its well-appointed LCD monitors and other modern touches well. The theatrical setup of the venue reminds me of a funky, sepia-toned Danspace Project at St. Mark's. Mana Kawamura's Pandora –deluxe-, with its themes of nostalgia and a sense of longing for a simpler time, fits well in the space.
The "FLIC" in FLICfest stands for Feature Length Independent Choreography. The festival is in its second year, and I hope there is a third. It saddened me to look around at all the empty seats in this quirky venue that is hosting such a high caliber of talent, as in the case of Kawamura's Company, Kawamura the 3rd.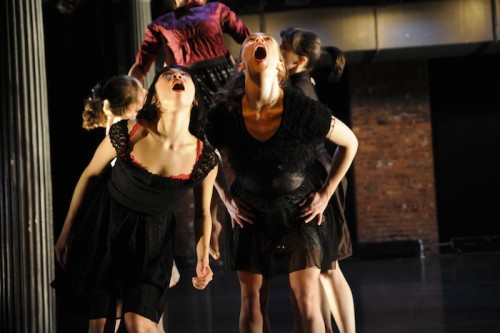 "Pandora-deluxe" Courtesy of Mana Kawamura
I've been following Kawamura's work for a few years, and one of the most charming hallmarks of her work is her ability to build intricate tableaux out of nowhere and at a moment's notice.Her pieces contain moments of photography or instant sculpture that speak volumes. I attribute this ability to her uncanny sense of spatial organization and a keen eye for detail. Pandora... is not the strongest piece I've seen from Kawamura. It had problems making it to its feature length finish line.
As expected, the piece was chock-full of inventive, surprising, and remarkably executed movement that generously illuminated the unique character of each performer. The five young women, mouths open, hands clasping at fireflies (?), mostly costumed in ruffles with heavily rouged cheeks, evoked a sense of youthful innocence. But,this general impression of a general mood was not quite enough to sustain an hour's worth of choreographic manipulations—no matter how stunning the choreography or how captivating the performances.
A specific sense of purpose and an original sound score in place of the choreographic padding and pre-recorded music could take Pandora... to a glorious new level. I hope Kawamura continues to work on it and I hope I see more people at FLICfest next year.

The festival is incredibly useful for up-and-comers like Kawamura, who need the support to make the transition from skilled choreographer to dance artist with a mission.
---
The Dance Enthusiast Shares IMPRESSIONS/our brand of review, and creates conversation.
For more IMPRESSIONS, click here.
Share your #AudienceReview of performances. Write one today!
---
The Dance Enthusiast - News, Reviews, Interviews and an Open Invitation for YOU to join the Dance Conversation.