IMPRESSIONS: New York City Ballet's 21st Century Choreographers and All-Balanchine No. 2 Programs
January 23 – March 4, 2018
David H. Koch Theater
Pictured above: New York City Ballet in Gianna Reisen's Composer's Holiday
For tickets, call the box office at 212-496-0600 or buy online at nycballet.com
---
New York City Ballet appears to have decided that in order to attract new audiences while maintaining devoted longtime fans, it must bifurcate its repertoire into "new stuff" programs and "old stuff" programs. The thematic programming that crept in a decade ago became this season an opportunity for almost total segregation of the works of George Balanchine, the company's co-founder, from the rest of the repertory. Of seven mixed bills on offer during the winter season, only one gives audiences a chance to see a Balanchine ballet alongside a work made in this century. If you want to see the season's one premiere, you won't see any Balanchine while you are at it.
This new model is much like that of ballet companies that offer full-length story ballets from the 19th century for ballet traditionalists alongside programs of more recent works for non-traditionalists. The fallacy of using this as a model at City Ballet, though, is that fans of Balanchine aren't traditionalists. They're modernists. And, indeed, many of the ballets he created 60 and 70 years ago look a lot more modern than the 21st-century work.
Take The Four Temperaments, for example, which the company performed superbly on an "All-Balanchine No. 2" program on January 27. As principal dancers Teresa Reichlen and Tyler Angle said in a pre-show talk, this 1946 work is grounded in "raw invention," with unconventional movements and knotty partnering unfolding to Paul Hindemith's sometimes ominous, sometimes jaunty, always broodingly mysterious score. The postwar ballet's starkly modern vocabulary is rife with beauty and a dusky sexiness, but all of it seems to take place on a knife-edge.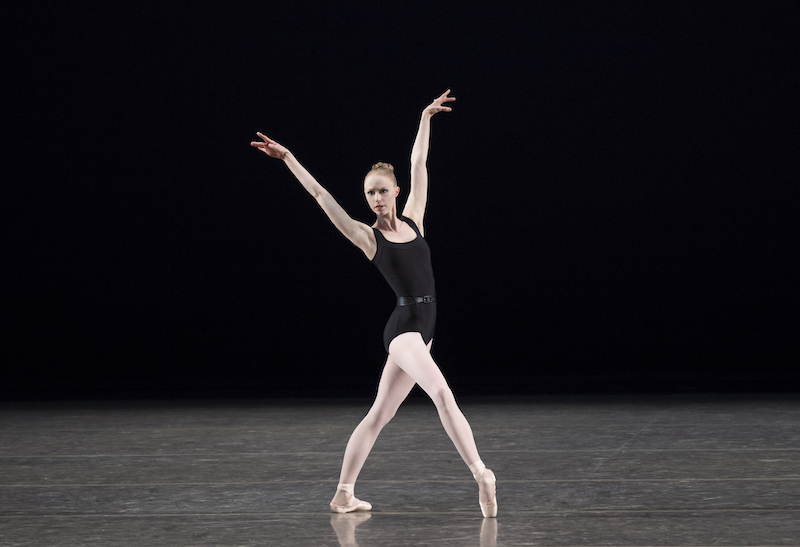 Teresa Reichlen in George Balanchine's The Four Temperaments; Photo: Paul Kolnik
With geopolitical tensions mounting, world events again feel as though they are taking place on a knife-edge. And so The Four Temperaments resonated with me on this viewing not just as a pure-dance masterpiece, but as a ballet eerily evocative of our time: Its depictions of lone, questing soloists pitted against implacable, massed forces from the corps de ballet sent shivers down my spine. The ballet's signature pelvis-led sky-scraper kicks for the women might have been inspired by the Rockettes, but as the women marched steadily toward limp, caved-in Sean Suozzi (musically and emotionally just right in his Melancholic solo), I felt a creeping sense of impending doom.
Had The Four Temperaments been on the Art Series program I saw the night before, I would wager that no one in the audience would have guessed that it was any older than the four post-2000 ballets.
Art Series Night: 21st Century Choreographers program
NYCB's three Art Series evenings during the winter season are designed to woo a younger audience to the ballet. Strangely, though, the targeted young people are millennials from the downtown art scene. Tickets for these evenings are much reduced at only $30, and include free entry to an afterparty. The night I attended, a festive, party atmosphere reigned, and there was plenty of creative urban chic on parade.
If NYCB wants to attract a younger generation, reduced ticket prices are a must, and for this reason these nights are a welcome idea. What I don't understand, though, is the rationale behind using a hip installation artist as a lure to the ballet: Each winter for the past few years, the company has invited a popular downtown artist to transform the theater's vast Promenade into an art installation. At this year's edition, downtown artist Jihan Zencirli created a zany, colorful balloon-based installation perfect for Instagram photo ops.
New Yock City Ballet's Art Series Night; Photo: Christine Jowers
The one work on the "21st Century Choreographers" program that can justly be called a 21st-century masterwork is Justin Peck's 2012 Year of the Rabbit, set to a rousing score by Sufjan Stevens. The women's short-skirted blue dresses with white piping, designed by Peck, made me think of 1920s Coco Chanel bathing dresses on the Riviera. The work's mood is fittingly sunny.
Peck is adept at creating interesting full-stage pictures even as individual dancers are doing different things. In this work, a common motif has five women and five men from the corps arranged along a diagonal upstage while a soloist interacts with them downstage. Academic ballet steps melt into more casual movements and gestures, and the partnering in the corps at times forms architectural constructions, with legs and arms used like beams bridging the ten into one shape-shifting formation after another.
The casting in this work was also wonderful. Ashley Bouder brought teasing wit and buoyant élan to fast jumping sequences, while long-limbed Teresa Reichlen and Jared Angle were well matched in the ballet's central pas de deux. Reichlen's intelligent modesty and deep-felt musicality has made her one of my favorite dancers – she was wonderful as well in The Four Temperaments: cool and laser-focused, but also larger than life as the prime mover in the ballet's clockwork universe.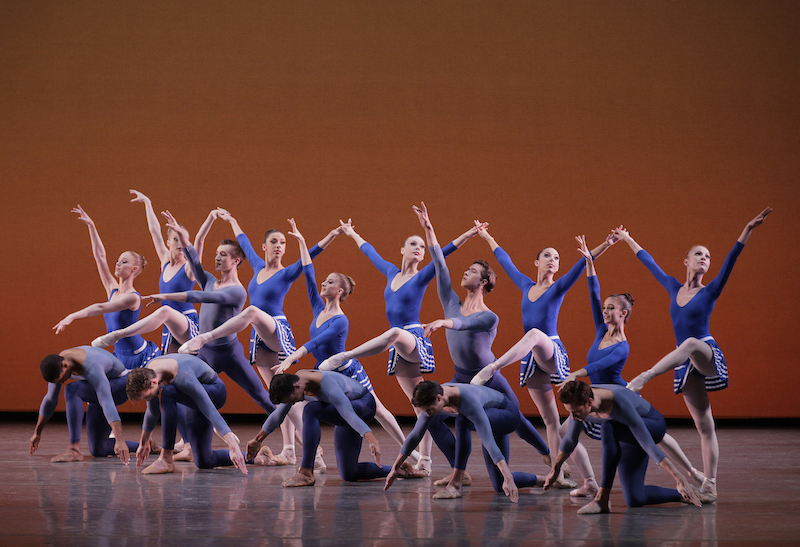 New York City Ballet in Justin Peck's Year of the Rabbit; Photo: Paul Kolnik
Of the other works on this program, I was charmed by the whimsical humor of Gianna Reisin's Composer's Holiday, to a violin-piano score by Lukas Foss. I discovered after the show that Reisen is an apprentice with Ballet Semperoper Dresden and not yet 20, which made the work, new in September, all the more impressive. It's a brief work, not a major opus – but this was a virtue in a program that was very long.
Certain images stay in the mind, enhanced by interesting lighting effects – as, for example, when petite corps dancer Emma Von Enck is held aloft to walk straight toward the audience over the bodies of a group of silhouetted dancers below.  She is lit up by a pink-tinted spotlight just as the dancers toss her in the air. As she floated down in her nimbus of pink light, she resembled a delicate flower falling.
Angelin Preljocaj's 2013 Spectral Evidence, to music by John Cage, was the most dramatic and mysterious work on this program. I found its episodic structure hard to follow as a cohesive narrative, but individual sections had wonderful moments. Spectral Evidence was also a good vehicle for the company's most charismatic male dancer, Amar Ramasar. In a red-lit solo to frenzied drumming, he emerged as the hero of the work — but not necessarily a nice one. The ballet's four men were dressed in impeccably cut suits designed by Olivier Theyskens, who dressed the women intriguingly in filmy long white cotton dresses with a splotch of crimson along the back. The costumes seemed to suggest innocence threatened by violence — or a violation — yet to come.
New York City Ballet in Angelin Preljocaj's Spectral Evidence; Photo: Paul Kolnik
Saturday at the Ballet With George: All-Balanchine No. 2 program
The all-Balanchine evening was presented on City Ballet's annual "Saturday at the Ballet With George" event, timed each year to coincide roughly with the choreographer's birthday, January 22.
It opened with Divertimento No. 15, choreographed to a Mozart score by that name. This work looks far more traditional than The Four Temperaments, but it was made almost a decade later. The opening movement for the entire cast establishes the work's elegantly chivalrous tone. In one of my favorite moments, the women, dressed in yellow tutus festooned with pale blue, do a simple swiveling step in time to a syncopated rhythm — a simple step that captures the essence of the musical passage.
The second movement features a theme and variations in which the two male demi-soloists establish the theme (Daniel Applebaum and Andrew Scordato, both excellent). Their duet was followed by five fiendishly difficult variations for the women and one for the leading man, Chase Finlay. This is perhaps Finlay's best role: I saw his debut in it several years ago, and since then, he has acquired an impressive elegance and ease in jump sequences that require restrained grace instead of knock 'em dead virtuosity.
Among the women, Lauren King, dancing the first variation, Ashley Laracey, in the third, and Megan Fairchild, in the sixth, particularly stood out. King negotiated her solo's quick changes of direction and fast petit allegro with precision and lightness, all the while traversing a large swath of the stage. Fairchild, a longtime principal, gave a magnificent performance in her famously fast variation. To a whirring pizzicato in the music, her feet and legs moved with sewing-machine speed in picky footwork and quick relevés.
New York City Ballet in George Balanchine's Divertimento No. 15; Photo: Paul Kolnik
When performed well — as it was here — the Andante section of this ballet is among the most heavenly pas de deux in the ballet canon. In fact, it is not a single pas de deux but a succession of five for the leading men and women. Mozart's music unfolds in a long single lyrical line – silken and full of love and beauty. Balanchine mirrors that long lyrical line so that, even though the dancer-pairs wash in and wash off the stage, the current of fluidity never breaks.
This cast succeeded at that, and their performance of it was one of the best I have seen in recent years. The two other leading women were principal dancers Sterling Hyltin and Abi Stafford.
The dancing in Chaconne was the evening's only disappointment. This late Balanchine work (NYCB first danced it in 1976) is difficult to pull off successfully, not just because of the steps but because of an unusual atmosphere that Tyler Angle intriguingly described as "an early-classical fantasy with raw invention on the scale of The Four Temperaments but in a very different way."
Set to the ballet music from Gluck's 1762 Orfeo ed Euridice, Chaconne opens with women in sheer long dresses and hair down who surely represent the opera's Realm of the Blessed Spirits. As they leave the stage, the central couple commences a pas de deux that seems to take place in the same heavenly sphere. I saw Sara Mearns' magnificent debut in this role three years ago. At this performance, though, everything was off, starting when her partner, Adrian Danchig-Waring, allowed her to fall forward while on pointe with her head nearly at her ankles; worse, he seemed oblivious to the fact that she could not right herself without help. Later, he was in her way again as she tried to dance in her go-for-broke, enormously scaled manner. It's too bad that Russell Janzen, who made his debut alongside hers, was not cast again last Saturday.
Chaconne moves from heaven to earth in its third section, with a highly classical suite of dances. Mearns, rattled by the mishaps in the opening duet, didn't seem able to fully recover her aplomb, and Danchig-Waring, though he has good petit allegro work and dances with admirable lightness, dances too lightly here, where attack and sharpness should alternate with softness. The best dancing came from Erica Pereira and Troy Schumacher in a playful, jump-filled pas de deux, and from Emily Kikta, Claire Kretzschmar and Scordato in a lute-strumming pas de trois.
Sara Mearns in George Balanchine's Chaconne; Photo: Paul Kolnik
Here/Now/Tomorrow: A Postscript
In the past couple of years, I have found myself pulled in two different directions at NYCB. The dancing, especially at the principal and soloist levels, is the best it has been in years. Many of the current principals are not merely great technicians, they are interesting dancers who radiate distinctive personalities, especially among the women. To name just three: There is cerebral, tall, quietly romantic Reichlen; Dionysian, go-for-broke, exquisitely musical Sara Mearns; and Tiler Peck, a technical wunderkind whose musicality has a wonderful element of surprise. (She was phenomenal in the Sanguinic section of The Four Temperaments.)
On the other hand, I am unhappy about many decisions being made by people with a lot more power in the company than the dancers: decisions like the bifurcated programming, the sky-high ticket pricing with little variation whether one is sitting in the orchestra or the fourth ring; and, most of all, the marketing. Each season brings a new marketing indignity. This year, in the company's 2017-2018 season brochure, the photo captions identify not just the dancers' names, but the brand of clothing they are wearing, whether it be a Chloe maxi skirt, a Bloch bodysuit or a Calvin Klein tank top.
Will some of these things change for the better now that Peter Martins has departed the company amid an investigation into allegations of sexual misconduct and physical abuse? Or will they change for the worse? Many dancers are nervous about what lies ahead, and I feel nervous too.  The board's decision to put the company under the interim custodianship of three recently retired company members and current company member Justin Peck is not reassuring, as it suggests the desire for a puppet leader controlled by the board, which, as far as I can tell, does not have the best interests of either the dancers or this hallowed institution in mind.
---
The Dance Enthusiast Shares IMPRESSIONS/ our brand of review and Creates Conversation.
For more IMPRESSIONS, click here, and for a feature on the state of ballet, click here.
Share your #AudienceReview of performances for a chance to win a prize.