IMPRESSIONS: Nicholas Leichter Dance at Joe's Pub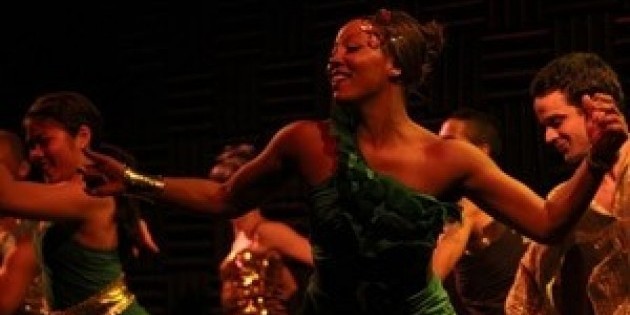 Nicholas Leichter Dance
The Whiz: Emerald City
Choreographed by Nicholas Leichter
Original songs by Monstah Black
Part of the Dancemopolitain series produced by Dancenow/NYC

© Cory Nakasue 2010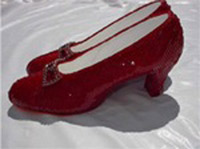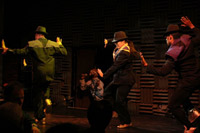 Nicholas Leichter Dance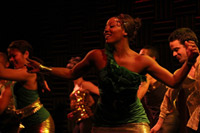 Nicholas Leichter Dance
Guiltless Pleasures
I felt almost guilty everytime I wanted to take a sip of my scotch and soda—almost, or, take a bite of my bruschetta, because for a split second, I would have to look away from the stage; but herein lies the beauty and the challenge of Dancenow/NYC's Dancemopolitan series, and Nicholas Leichter's
The Whiz: Emerald City
handles this unique challenge beautifully.
Any well-behaved dance audience knows that it's just rude to fiddle with your program or shift in your seat during a live performance— and could you do your best to stifle that cough, please? So, the initial reaction to wait staff taking and delivering orders during a program vacillates between confusion (the aforementioned guilt over divided attention), and delight at the relaxed atmosphere and cohesion of enjoyable experiences.
Nicholas Leichter and company bring big, theatrical dance to a stage so tiny that it has to explode into the cabaret dining area, the bar, and, even peel itself from the walls of Joe's Pub. This take on the 1970s musical "The Wiz", is at once a satire on the cult-favorite and a celebration of urban subcultures. This fabulous funk odyssey is served up with giant afro wigs, glitter and the original soul stylings of Monstah Black, the nucleus of this booty-shakin' groove-fest.
The Whiz: Emerald City
sparkled most during reimaginings of songs like "Mean Ol' Lion" danced by a prize-fight-ready Aaron Draper with uncanny bodily articulation, and Monstah's erotically charged reworking of the Tin Man's "Slide Me Some Oil." Audience (and wait staff) participation were met with highly vocal approval, and there wasn't much that interrupted the great pace of the show, all set to a rhythm that people could eat, drink and, dance in their seats to …guilt-free.  
---
The Dance Enthusiast Shares IMPRESSIONS/our brand of review, and creates conversation.
For more IMPRESSIONS, click here.
Share your #AudienceReview of performances. Write one today!
---
The Dance Enthusiast - News, Reviews, Interviews and an Open Invitation for YOU to join the Dance Conversation.