IMPRESSIONS OF: ABT ( and Pauline Koner)
IMPRESSIONS OF: Pauline Koner and ONEGIN
Pauline Koner Centennial – May 17, 2013 - 92nd Street Y, "Fridays at Noon"
American Ballet Theatre at the MET - Onegin (Revival – new production) –
Saturday, May 18, 2013 at 2pm & Monday, May 20, 2013 at 7:30pm
---
By Henning Rübsam for The Dance Enthusiast


Pauline Koner was undoubtedly one of the 20
th
century's great performers. A centennial tribute organized by Evelyn Shepard and David K. Manion at the 92
nd
Street Y in New York City showed different choreographic works by Koner performed by dancers of the Limón Dance Company, 360 ºDance Company, and Dancefusion. Best of all was an excerpt on film of Ms. Koner dancing in José Limon's masterwork
The Moor's Pavane.
Her perfectly timed gestures cut through space like a sword, her emotions palpable even through the distance of screen and time.
Pauline Koner in José Limon's La Malinche. Photo @ Walter Strate.
The Moor's Pavane
, presented as a revival last fall by American Ballet Theatre at New York City Center, is unfortunately not part of the company's repertoire during its spring season at the Metropolitan Opera House. Thankfully there is another ballet to fill the expressive non-farcical void.
John Cranko
's
Onegin
is based on the epic poem by Alexander Pushkin and the role of Tatiana is a meaty one that requires a performer of Koner's dramatic acuity to hold the ballet together. The great
Marcia Haydée
created the role in Stuttgart in 1965, and since then it has been a favorite for some of the most important ballerinas. The famed London Festival Ballet's production in the 1980's had an especially impressive line-up when Haydée reprised the role and
Eva Evdokimova
,
Natalia Makarova
,
Ekaterina Maximova
, and
Lynn Seymour
all gave celebrated interpretations. Balletomanes will be excited to know that
Onegin
enters the Bolshoi's repertoire this summer and that Paris Opera Ballet's finest Tatiana,
Isabelle Ciaravola
, will give her farewell performance at Palais Garnier next March in the role that made her an
étoile
.
American Ballet Theatre's new production is not the most sensible one. The colors of the costumes blend in too often with the set; nevertheless, the story holds one captive despite the pastiche of incidental Tchaikovsky tunes arranged by then Stuttgart Kapellmeister Kurt-Heinz Stolze. Cranko ,who choreographed dances for the opera
Onegin
for London's Royal Opera House production in 1952, had been given the task
to not use
music from the opera. I wonder if Stuttgart's general manager of the opera and dance companies wanted to set Cranko up for failure. Conductor Ormsby Wilkins takes some of the tempi so slow that it throws yet another wrench into the proceedings. Charles Barker gives the score more of a life.
The story is simplified. Tatiana, a bookish girl falls in love with a visitor, the suave and snooty Onegin. He does not take her seriously, tears up her love letter and hands it back to her, then bored out of his mind, flirts with his friend Lensky's heartthrob, the sprightly Olga. Lensky becomes enraged, moans, duels and dies. Onegin leaves. Tatiana marries a man of means, and emerges an elegant and considerably happy lady. One day Onegin returns, sees what a catch Tatiana would have been and declares his love for her. Tatiana, still in love with him after all these years, does the proper thing and shows him the door. Tears. Curtain.
Marcia Haydée and Ray Barra in John Cranko's Onegin. ©Photo is by Alo Storz.
There is much to love in this ballet, especially the two main pas de deux between Tatiana and Onegin; one a dream, in which Tatania sheds her girlishness to become a woman and the final one where the grown-up Tatania rejects the man who rebuffed her earlier. Both duets challenge the dancers in their use of sweeping overhead lifts and falls to the ground. Here Cranko shows wondrous invention. And, there is a healthy dose of traveling all around the stage space. Yet as much as I delight in the development of character and passion in the two pas de deux, I am also captivated by the respect and care in yet another pas de deux, the dance for Tatiana and her husband. In juxtaposition to the relationship with Onegin, this union is one of dignity expressed in upright dancing, more vertical lifts and consequently a restraint in the use of space. The husband named Gremin, in both opera and the ballet, is portrayed (by Roman Zhurbin and James Whiteside respectively) to possess a noble heart. It is this virtue that connects Tatiana to him.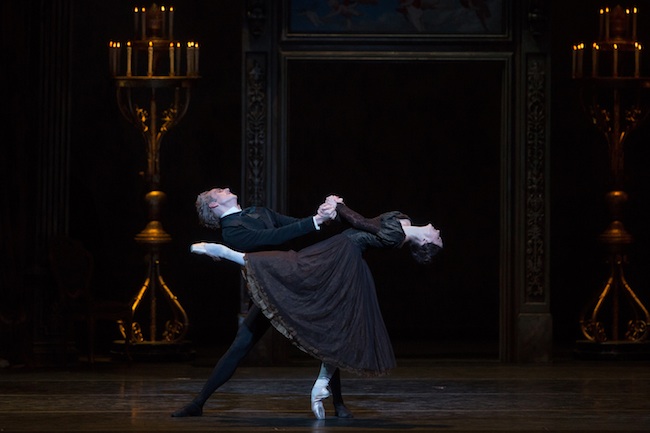 Polina Semionova and David Hallberg in Onegin. Photo © Marty Sohl.

Lensky's solo before the deathly duel is an introspective marvel. Danced with utmost grace by Joseph Gorak and with equal dramatic effect by Jared Matthews in Monday's cast, it makes the death of this character deeply upsetting. Why did he die? Because the ballet/opera/poem is called
Onegin,
of course,even though in the real scheme of action the ballet perhaps should have been called
Tatiana
.
Still, with all the good there is also plenty of bad. The ridiculous pas de trois between Olga (danced by lovely Yuriko Kajiya), Onegin and Lensky before he drops the glove goes on for far too long. Did I say 'drops the glove'?
That is what should have happened.
Yet for dramatic effect Lensky whips the glove across Onegin's face. An aristocrat in Czarist Russia would have had to kill the culprit right there on the spot. A duel would never have been considered.
Diana Vishneva and Marcelo Gomes in Onegin. Photo: Gene Schiavone.
Cranko presents another idiosyncrasy, which sadly amounts to idiocy: the peasants dance with Lensky and Olga! If they could have "danced altogether" there would have been no need for the Revolution of 1917. By then, of course, it was too late for dancing. Goofy gestures for the dotty elders in the ballroom scene might have been entertaining at one point, but are overdone and cringe inducing. And, Russian ladies who end a dance bowing to their men while half- sitting, half- kneeling on the floor were unthinkable until the word oligarch entered our consciousness. (As a side note: Boris Eifman's modern take on the story has his Tatiana marry an oligarch whom she stays with since she fears his revenge should she leave him.)
ABT's Russian Tatianas, Polina Semionova and Diana Vishneva, are polished artists. David Hallberg, whose million-dollar legs give Semionova reason to fall in love with the haughty character he portrays, partners her exquisitely. Semionova is almost too adorable and Hallberg's emotional and physical restraint seems not always authentic. If the story showed gaps despite glorious feats during Saturday's matinee, Monday's handsome Marcelo Gomes makes Vishneva swoon and the two fill in the arc of the drama through felt physicality. Vishneva might act too mature in the beginning, but her commitment to the character is evident and she lives and suffers the repercussions of his and her choices. Here is a partnership that goes beyond the technical aspects of dancing. When Gomes as Onegin enters Vishneva's room in the end of the third act, he does so without hope. He has nothing to lose. And he gives his all. I'm reminded of the great, innately dramatic, young
Carlos Molina
who forever made a mark on the role and the ballet when he proved to have the same insight and maturity as Onegin in ABT's last production alongside
Susan Jaffe
's, Tatiana, a dozen years ago.
I was sorry to miss ballerina Irina Dvorovenko's farewell from ABT on Saturday evening. That she chose the role of Tatiana goes to show what a spell Cranko's work continues to put on ballerinas and audiences alike.
Irina Dvorovenko takes a curtain call after her final ABT performance. Photo: Marty Sohl.
And American Ballet Theatre at the Met Continues

Click
here
for more about the season