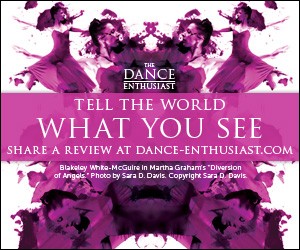 Related Features
Advertise With Us
Make an impression — place an ad on The Dance Enthusiast and receive thousands of eyes on your work every week. Learn more. 
Contribute
Your support helps us cover dance in New York City and beyond! Donate now.
IMPRESSIONS OF: Boyzie Cekwana and Panaibra Canda Work: The Inkomati (dis)cord as part of "Crossing the Line"
Performance at New York Live Arts, September 25th, 2013 - 7pm
Performers: Amelia Socovinho, Boyzie Cekwana, Maria Tembe, Panaibra Canda
Find Deirdre Towers @spiffmoves on Twitter
Spoken word, delivered initially with dispassionate distance by Boyzie Cekwana, an imposing man in combat boots and an orange construction hat squashed over a white paper mask, dominates this show. Interestingly, the press release prepares you for that focus by describing the two leads as the "two leading voices in contemporary dance in Africa, South African Cekwana and Mozambican Panaibra Canda." Our eyes wander from the speaker's naked chest to the rear wall where his words are projected for us to savor and consider, to the 8 by 10 white sheets of paper strewn carefully on the stage, to a voluptuous amputee dressed in pink and purple. Another man slowly arranges 4 strips of wood into a rectangle that he raises to frame the four actors. The builder puts his foot through the frame as though to say "Here we are, framed, but free to tell you what we think."
The Inkomati (dis)cord -Photo by Ian Douglas
The Inkomati (dis)cord might make playwright Sam Shepherd flash on his youth in NYC's experimental theater of the 1960s. Hats off to The French Institute who supported this seventh edition of Crossing the Line, co-curated by Lili Chopra, Simon Dove and Gideon Lester, for giving us a chance to see just how far African dancers have strayed from their traditional dances and western contemporary dance. Virtuosity and entertaining spectacles are all shrugged away in deference for spare images and provocative questions posed by inimitable personalities.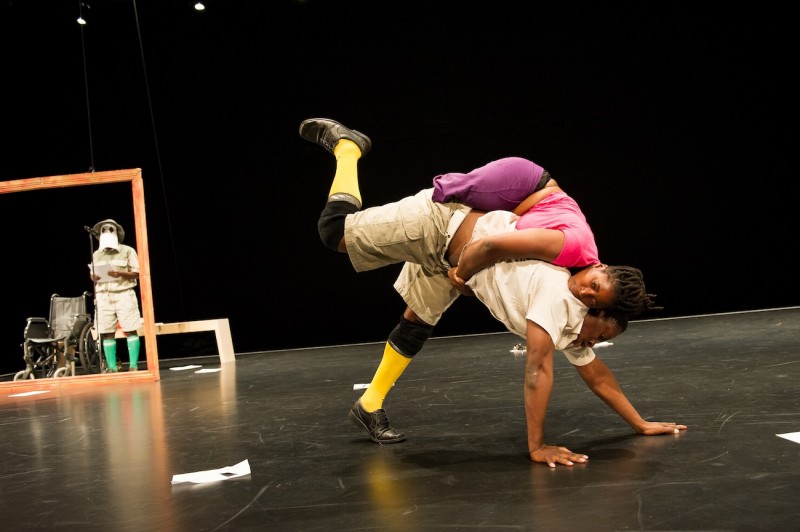 The Inkomati (dis)cord Photo by Ian Douglas
Maria Tembe, the amputee, is as graceful and courageous as David Toole, the amputee star of DV8's "The Cost of Living" and Vicky Marks "Outside In" but she has the soulful look of someone who has loved helplessly. Her duet with Panaibra Canda, swaying dangerously from his back or chest, is nerve wracking and unforgettable. Will she go flying? Will she ever get a chance to rest? Finally, the two sit facing offstage right, their chests heaving in sync.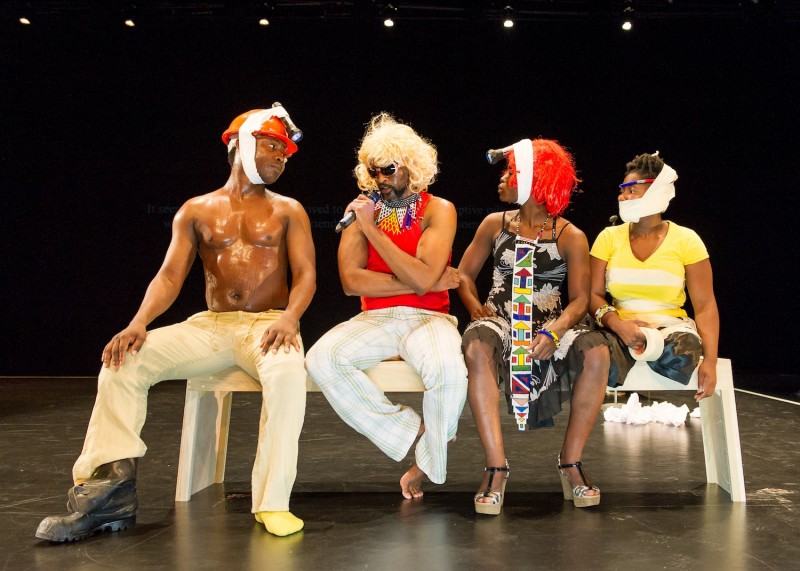 The Inkomati (dis)cord Photo by Ian Douglas
The four actors share a bench and a microphone as they translate,in English and Portuguese, the confessions of the amputee whom we saw wrap her mouth and body in masking tape. While the ending was abrupt, the evening offered a thrilling sense of how one survives impossible circumstances with common sense, (if you don't have a passport and visa to legally enter a country – simply cross the river dividing the countries by swimming very deep.) humor and no small amount of existentialist musings.
For More Information
On the New York Live Arts 2013-14 Season- Click 
Here
On FIAF Crossing The Line 2013  - Click
Here
For More of The Dance Enthusiast's Impressions - Click
Here