IMPRESSIONS OF: "Dark Lark" Kate Weare Company at BAM Fisher
The inaugural BAM Fisher Artist In Residence 2013- at 2013 Next Wave Festival
Choreography by Kate Weare
Dancers: Jacquelyn Elder, Douglas Gillespie, Leslie Kraus, Luke Murphy, T.J. Spaur
Composer and Cellist: Christopher Lancaster
Costume Designer: Sarah Cubbage
Lighting Designer: Brian Jones
Set Designer: Kurt Perschke
---
Just how would a butterfly feel between your toes? Tamed? Trapped? Stunned momentarily so that it would follow your bidding? Leslie Kraus silently poses that question after she enters between the tents upstage and stalks knowingly towards the cellist Christopher Lancaster who sits barefoot, back to the audience, with brilliant butterflies on the floor. While a playful notion, Kraus moves with the plastic insect so deliberately and seriously that we are led to believe that it would fly away at any moment.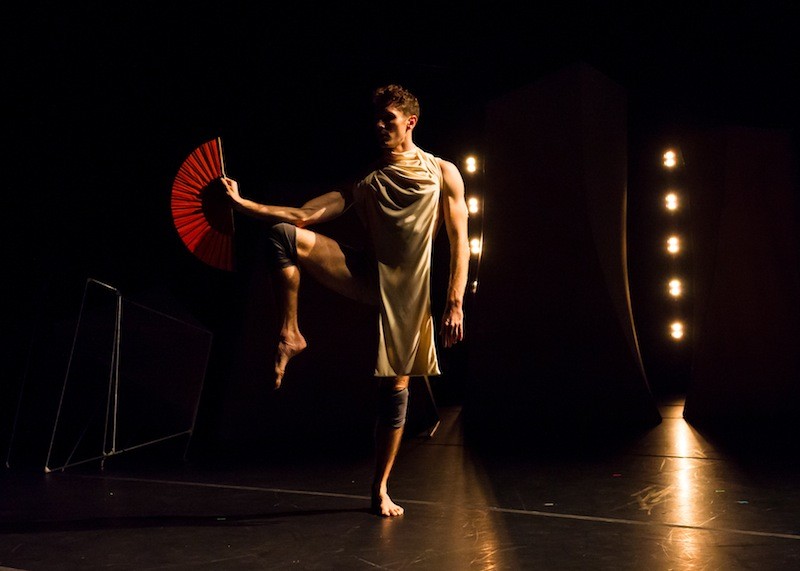 T.J. Spaur in Dark Lark. Photo by Ian Douglas.
Her walk at the opening is bewitching, but shy compared to the transformative stride mid-piece of Douglas Gillespie once he dons his outrageously decorated high heels. He rules un-affectedly, his limpid eyes mesmerizingly steady, stirring our blood. Another man rushes to his aid supporting him by the hip to facilitate Gillespie's diagonally slanted, circular turn that ultimately becomes airborne. This duet concludes with the re-appearance of Jacquelyn Elder, whose vulnerable presence seemed sadly primitive next to the supreme confidence of the two men.
From that point onward, Dark Lark triggers so many thoughts and sensations that even the cellist seemed unable to contain himself. Imagine a conductor wanting to jump out of the pit onto the stage, but can't. Lancaster draws us in s as he violently pivots his cello like a ballerina on point. This electro-acoustic musician explores the possibilities of the cello, while accompanying dancers, answering and echoing their energy, attack, and emotional rhythms, coaxing and goading them on to ever-greater heights. Now, he has hit a high stride as a composer.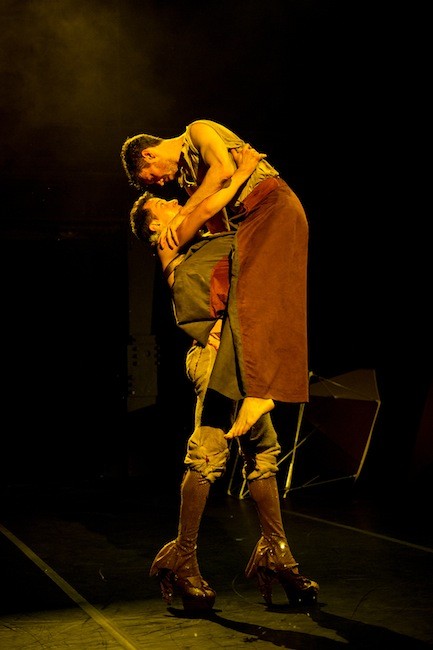 Douglas Gillespie and Luke Murphy in Dark Lark. Photo by Ian Douglas.
This strong performance indicates that choreographer Kate Weare, the inaugural BAM Fisher artist in residence of 2013, has struck on an inspirational source that won't run dry – sexuality. While alluding occasionally to the art and props of seduction, Weare does her best work mining the electricity generated in coupling, with dancers as responsive and alert as tuning forks. With minimal contact, the dancers, all superb, connect in way that send waves of subtle energy out to the viewer. How she does that is her secret.
Her company founded in 2005 "is committed to creating dances that explore a contemporary view of intimacy." What is a contemporary view of intimacy? Perhaps we are less concerned with swapping stories, and sharing beds, and more fascinated by a chance to witness and help someone gain an evolved sense of self. If that be so, then Weare is heaven-bent to discover something that could give us all hope.
Leslie Kraus and Luke Murphy in Dark Lark. Photo by Ian Douglas.
Follow Deirde Towers on Twitter @spiffmoves