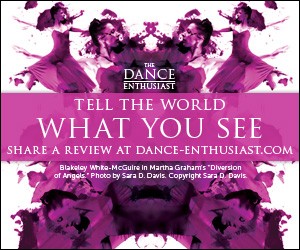 Related Features
IMPRESSIONS OF: "Fragments" C.I.C.T./ Theatre des Bouffes du Nord
C.I.C.T./ Theatre des Bouffes du Nord
Fragments
Baryshnikov Arts Center (BAC), New York ; April 30, 2013 8pm

Director: Peter Brook and Marie-Hélène Estienne ;Performers: Jos Houben, Kathryn Hunter, and Marcello Magni ;Lighting Designer: Philippe Vialatte
---
Erin Bomboy for The Dance Enthusiast
Dance and theater often occupy separate territories. Theater uses words to convey meaning while dance manipulates movement. But in reality, dancers act and actors move.
C.I.C.T./ Théâtre des Bouffes du Nord's Fragments reveals how blurred the line between theater and dance truely is . Using pithy texts by Samuel Beckett, three performers — Jos Houben, Kathryn Hunter, and Marcello Magni — employ painstakingly choreographed actions to enhance the emotional impact of the scripted words.
Come and Go features the three performers attired like elderly British matrons — sensible trench coats, thick-soled lace-ups, and felt hats. Sitting side by side on a bench, they engage in droll small talk before one rises for a brief constitutional. Her friend then whispers a juicy tidbit to the other about their strolling cohort. The audience infers the secret is dire due to the distressed faces of the gossipers, but never learns its exact nature. Highlighting a circular structure, each of the performers takes turns playing the gossiper, the recipient of the gossip, and the subject of the gossip.

Fragments l to r Jos Houben, Kathryn Hunter, Marcello Magni; Photo © Ralph Rapley
The brilliance of
Come and Go
lies in each performers' ability to convey a unique character in the dramaticule's concise 121 words. Hunter stoops her shoulders and collapses her chest, yet fixes her gaze firmly ahead; her melancholia is threaded with hope. Magni cocks his head and purses his lips priggishly when it's his turn to go for a walk. He rightly suspects that once out of earshot, he will become the topic of his friends' prattle. Houben, the original instigator of the gossip, bulges his eyes and stretches his rubber mouth in a show of daffy smugness, pleased at the horror his gossip has elicited. The vignette ends with the three linking arms like the "Little Swans" from
Swan Lake
, physically validating their immutable friendship and the ring-like framework of the play
.
In Act Without Words II, Magni and Houben take turns mimicking men of opposing temperaments moving through an average day. Magni embodies a grumpy misanthrope, Houben a pie-in-the-sky optimist. Each man begins cocooned in a voluminous, white sack. When a slender rod drops on Magni (a visual alarm clock), he stumbles out of his sack, his body tense with immediate frustration. Life's small aggravations — inadvertently kicking his hat over his head, eating a rotten carrot, and putting his pants on backwards —cause his sour mood to exacerbate to red-hot indignity. During his evening prayer, Magni shakes his clasped hands heavenward, haranguing his god for both real and imagined injustices.
On the other hand, Houben, performing roughly the same routine as Magni, bounces into the day, executing calisthenics punctuated with hip bumps and pulling on his pants with showgirl leg flicks. He conquers minor exasperations with a dopey grin and a careless shrug. The point is made wordlessly: It's not life; it's you.
These unique character portrayals, crafted through the performers' exquisite physical sensitivity, thoroughly enrich Beckett's absurdity.
Rough for Theatre I, Rockaby, and Neither also appear on the program.