IMPRESSIONS OF: Jack Ferver- "All of a Sudden"
a piece about making a piece
Jack Ferver's All of a Sudden
Abrons Arts Center at the Henry Street Settlement on May 2nd, 2013 at 8pm
Performers: Jack Ferver, Joshua Lubin-Levy, and Jacob Slominski ;Set: Marc Swanson; Music: Roarke Menzies; Costumes: Reid Bartelme
Lighting: Jack Ferver and Joshua Lubin-Levy
---
Erin Bomboy for The Dance Enthusiast
Jack Ferver's
All of a Sudden
, created in collaboration with dramaturge, Joshua Lubin-Levy, is a piece about making a piece. Drawing inspiration from the strain of working with friends who double as your collaborators,
All of a Sudden
smudges the boundaries between performance and reality.  
Jack Ferver; Photo Al Hall
Opening with a scene inspired by the camp classic Showgirls, Ferver and co-performer Jacob Slominski trade barbs and quote key lines from the movie. It's a riot if you recognize the source material. A classic double act, Ferver asserts himself as the extravagant banana man while Slominski plays an earnest straight guy. The two perform a splashy Vegas-themed duet studded with chest pumps and shoulder rolls before abruptly breaking character. The premise becomes clear: We are watching a quasi-fictitious rehearsal.
Lubin-Levy sits in a chair downstage, intently watching the action and offering pointed observations. Eager for feedback, Ferver, in a teal romper, and Slominski, sporting humdrum pedestrian clothes, show Lubin-Levy a sketch from the movie Suddenly Last Summer in which Catherine (played by Elizabeth Taylor) is given truth serum to extract the secret of her cousin's murder. Molding the grim dialogue into wicked satire, a scene — which describes the ragtag band of cannibals who kill Catherine's cousin — mutates into a nonsensical game of charades. During the climactic confession, Slominski's cell phone buzzes and they abandon the scenario. The audience, absorbed in the moment, is left hanging.
Alternating between zany comedy and insular beauty, the hour show is jam-packed. There's a vignette on Tupac Shakur, a monologue by Slominski on his insecurities at the gym, and absurdist riffs on the tedium of the rehearsal process. True to its title, shifts in tenor occur rapidly. Often, we struggle to keep up.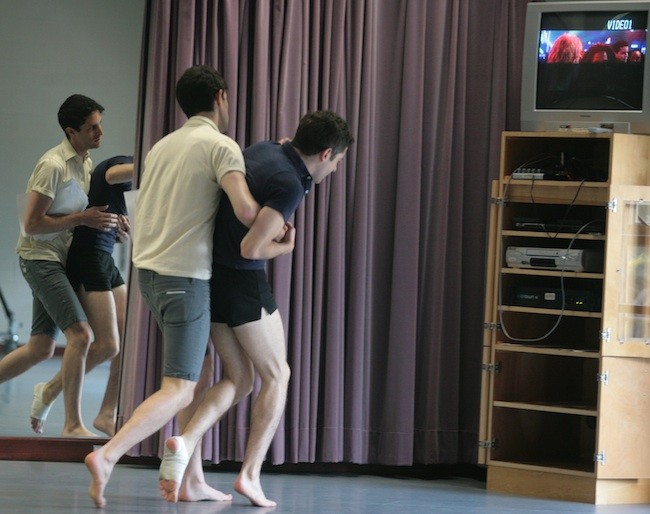 Joshua Lubin-Levy and Jack Ferver; Photo Al Hall
The concept of disappearance snakes through the piece. Lubin-Levy, during an exchange with Ferver, quotes scholar
Peggy Phelan
, "Performance's being becomes itself through disappearance." While Lubin-Levy drones on about the validity of Phelan's assertion, Ferver and Slominski perform a dreamy duet lavish with deliberate pacing, languorous leg lifts, and slow motion dips. Time lags; it seems inconceivable that this moment will eventually evaporate into memory.
Ultimately, both Slominski and Lubin-Levy depart from the action — Slominski in a fit of pique and Lubin-Levy for practical reasons. Ferver dances in a waning spotlight, cyclically balancing and twisting before striding off stage.
All of a Sudden stops, but doesn't end as we replay and reassemble it, savoring the many layers of Ferver's spirited creation.